Search
Follow Us On
---
By Airbozo at 2008-05-01 16:51
So I have been online sporadically the last week or so and wanted to fill you in on what has been going on.
My company won a couple of contracts in the last few months and one of them is HUGE! Due to the scope of the large contract we won, our company was elevated to a tier 1 supplier which triggered an internal audit of our QA and procedures. PANIC!
I have spent the last month preparing our department and building and configuring a Document Control Server to move all our documents to. Even though we are a computer company and have been in business since 1973, several of the QA manuals were composed on a typewriter!?! Several other required documents did not even exist...
By jdbnsn at 2008-01-17 03:32
With the new look came some new features, and with new features came more new features, and with all the new features popping up here and there, it can get pretty confusing what's what and what to do with everything. Don't worry folks, if you've been fearing change, or are just new to the forums and don't know how to do everything, this tutorial will get you up and running in no time.
By Drum Thumper at 2007-11-23 04:40
By Luke122 at 2007-11-22 00:53
As a technical person, I sometimes overlook the obvious difficulties that people can face with their computers or technology. One thing in particular is the learning curve associated with new technology.

I bought my parents a home theatre a few years ago, and though I found it to be quite easy to use, and very straightforward, my parents have had no end of difficulty learning to use the system. Now that they are finally getting the hang of it, HDTV has arrived on the scene, and the possibility of changing the system yet again looms on the horizon, casting an ugly shadow.
By Crimson Sky at 2007-11-21 22:45
By Airbozo at 2007-11-20 19:00
OK I did not post this in the tech section because I really don't need help. I am just commiserating on the death of my Z-board...

Last night while sneaking around in BF2 Special Forces Ghost town, playing as an anti tank soldier, I had just used the grappling hook to get me and my sniper to a good perch. There were already a few baddies up there who did not see/hear us coming. Snuck up behind one of them and took him out with a knife, my sniper partner did the same with the other guy, just as another squad member spawned on him, the surprise of it all made me jump up and start firing, while avoiding his attempts to slay me, I was hammering the keys, got off an anti tank round right at the baddies feet! In my excitement I did not realize that the "strafe right" button on my BF2 special keyset (a freebie, oh so long ago), stopped working. I kept trying to move right, but no go. BF2 was done with me for the night.


Tore apart the keyboard this morning and found a couple of burned traces on the plastic membrane. Guess it's time for a new keyboard.

By Crimson Sky at 2007-11-20 15:38
Well it's been almost a week since the launch of the new TBCS website, and I could not be happier with the results. The creditable efforts of all involved have gone way beyond my expectations. From the new Wiki to the forums and the upcoming gallery, I know we have a website that will grow with us as we move forward as an online community into the future.


Many of you have have noticed a lack of modding projects coming out of my shop over the last year or more. After I completed Doom 3: Project Mars City, I felt it was time to explore other creative outlets. I've done quite a bit of soul-searching and have found a place for my creativity that I believe will benefit myself as an artist, and also deliver multimedia content to a hobby that I've embraced over the last several years. Airguns.


I've been busy over the last several months building a small studio and an indoor target range in the Catskill region of upstate New York. This will be the headquarters of Paul Capello's Airgun Reporter; a web-based review show that will focus on the sport of airguns and airgun hunting. I'll be reviewing everything airgun related, from break barrel target shooting and hunting rifles to c02 pistols and accessories. Here is a 2 minute special intro to the new show I shot some weeks ago:


Paul Capello's Airgun Reporter Intro



The Air Lodge is almost 80 feet long. This is a lighted and temperature controlled indoor target range. Temperature controlled in that I have a forced-air jet heater inside!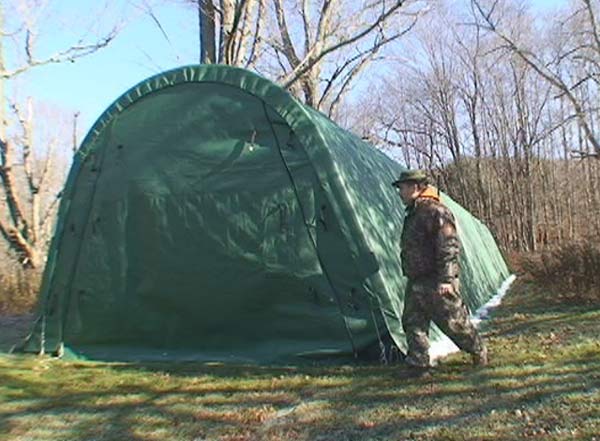 The studio set under construction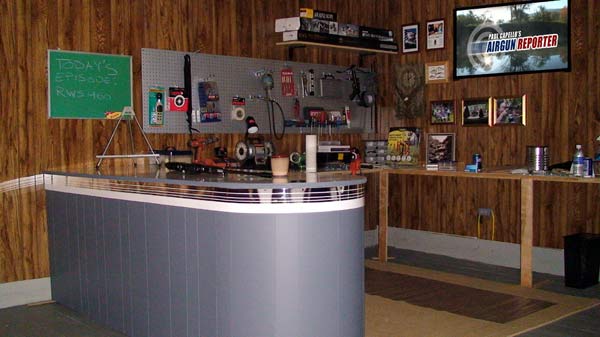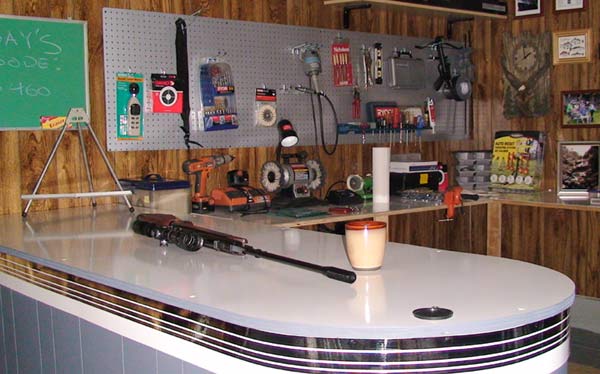 As an artist, it's important to follow your instincts whether its with a particular work, or when traveling in a completely new creative direction.
Peace
Paul.C
By DaveW at 2007-11-20 11:22
One of the first things that people said to me when I opened up the new site was surprising. I was expecting a flurry of bug reports, but instead I got something much more interesting. I got `I read your blog, you didn't need to worry!'.

When we launched, my blog had already been pushed to the second page, so I was surprised at this. If you guys are reading this, then I guess I might actually try to keep it updated. So I'm going to try and keep this updated once a week, which should give me plenty of time to come up with something interesting to say.

I was reading a British modder's mag the other week called Custom PC, who printed an article about the TIP-3000 two months ago. They run a funny little competition where you need to take a photo of the magazine when you're on holiday, and the best photos get the prize. They have a little map that shows how many places they've been.

So here I was looking at some guy in Bermuda or something, looking at a magazine with me in it. It started me wondering, just how many people all over the world have seen it? It was pretty cool having people who I haven't spoken to in a long time sending me e-mails, telling me they liked the mod. It set me down a path of wondering how many people have actually seen it?

Well, on TBCS, it's pretty simply, right? You just take a look at how many people have seen your mod (32,749 for the TIP-3000). But after that, things get weird. There's the magazine, so how many people have seen that? I couldn't get figures from the Custom PC site. Then you have to consider other places. It's also on the Custom PC website, and how many people see that? And what about other websites? Well, i'm a TBCS lad, so naturally you'll only find my worklog here.

But that doesn't mean that it's not been on other sites. I've had numerous people who have asked me about the mod, and if they can talk about it on their site. Naturally, I say they're welcome to, assuming they post a link back to the original worklog.

And that isn't even counting other sites who haven't even asked my permission! A year ago, a TBCS member found that some Russian website has reproduced a large number of our worklogs without asking permission. As you can imagine, a lot of members flipped, but no-one could speak Russian! All the pages appeared to have a link back to the original worklogs, so everyone accepted that it was most likely just a fansite of some sort. I know a guy who speaks Russian (in fact, I know a few) so I asked him to translate-it's pretty much a Russian modding fansite, translating worklogs and leaving links.

In fact, I even found that a blog about my mod had been dugg twice. Strange, isn't it? I think it's telling that when you put TIP-3000 into google, i'm the top 4 of around 1000 results.

All the same, it makes me wonder how many people across the globe have seen the TIP-3000, and of me as a result. I get plenty of e-mails asking about the mod, and I always take the time to respond. It's nice to know that so many people enjoy my work, even if I think it's amateurish at best.

So in that note, what are you waiting for? Grab yourself a slice of that pie! Start a worklog on TBCS, and let the world know about you!

-DaveW
By jdbnsn at 2007-11-20 01:28
By jdbnsn at 2007-11-17 17:04
#10 You must be the change you wish to see in the world.
Mahatma Ghandi

#9 Anyone who has never made a mistake
has never tried anything new.
Albert Einstein.

#8 The Athenians, alarmed at the internal decay of their Republic, asked Demosthenes what to do.
His reply: "Do not do what you are doing now."
Joseph Ray

#7 Every generation laughs at the old fashions,
but religiously follows the new.
Henry Davod Thoreau

#6 I demolish my bridges behind me...then there is no choice but to move forward.
Firdtjof Nansen

#5 Happiness does not depend on outward things, but on the way we see them.
Leo Tolstoy

#4 Imagination is more important than knowledge.
Albert Einstein

#3 "Talking about music is like dancing about architecture."
Steve Martin

#2 "Dost thou love life? Then do not squander time, for that's the stuff life is made of."
Benjamin Franklin

#1 The objective of war is not to die for your county, but to make the other bastard die for his
General George S. Patton

Notice that Einstein made it in there twice? Isn't he just the cleverest little dickens? Oh crap, almost forgot two bonus quotes from my all-time favorite writer:

"If the opposite of pro is con, then what is the opposite of progress?"

and last but certainly not least,

"It's not that there is too high a concentration morons around here, it's just that lightning is not correctly distributed"

Rest in piece Mark Twain, we definitely miss you.

Powered by vBulletin® Version 3.6.8
Copyright ©2000 - 2013, Jelsoft Enterprises Ltd.
thebestcasescenario.com