And Now I present to you:
Edit - Here's Where I'm At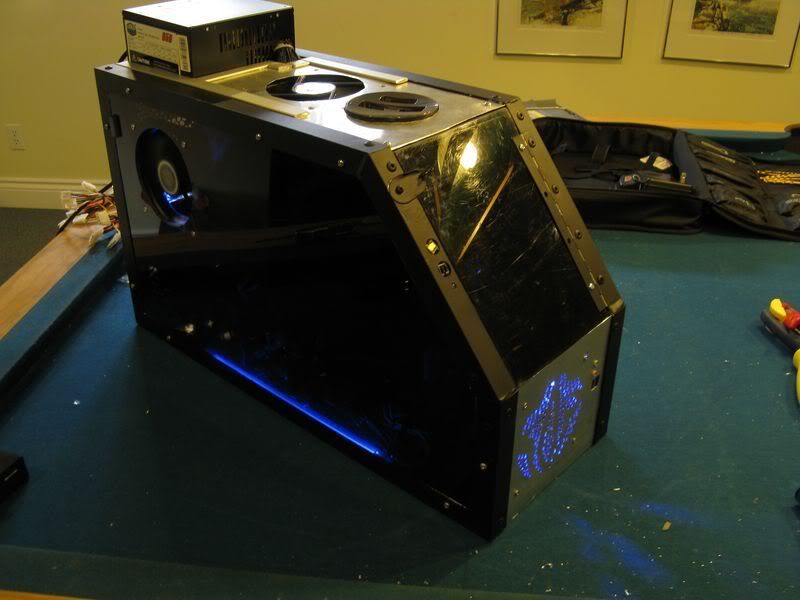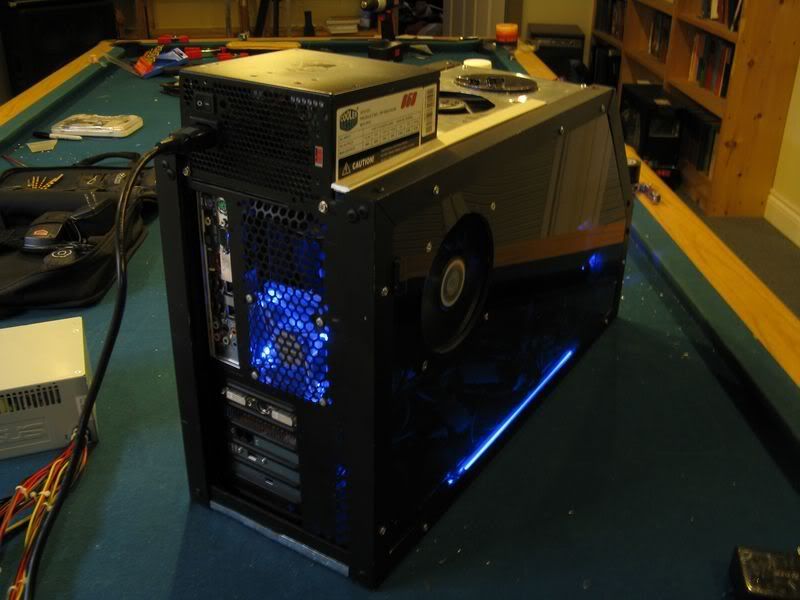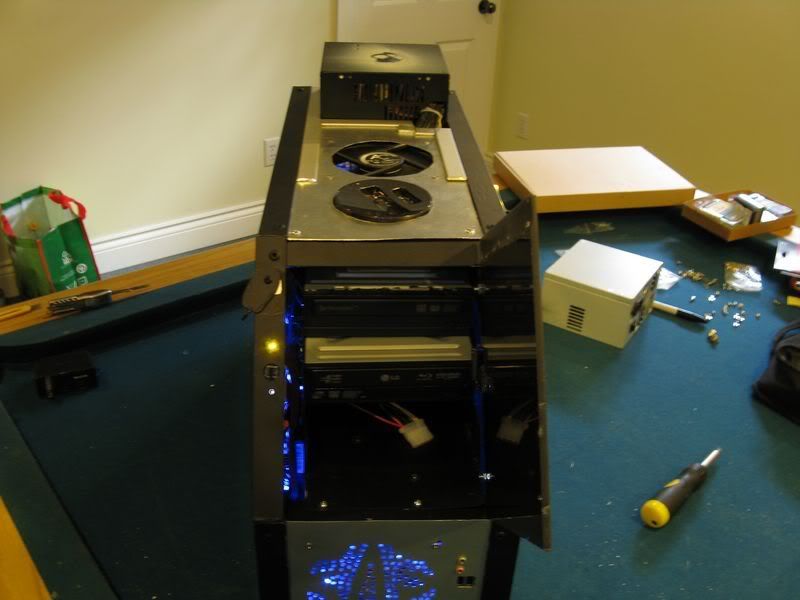 And in the dark: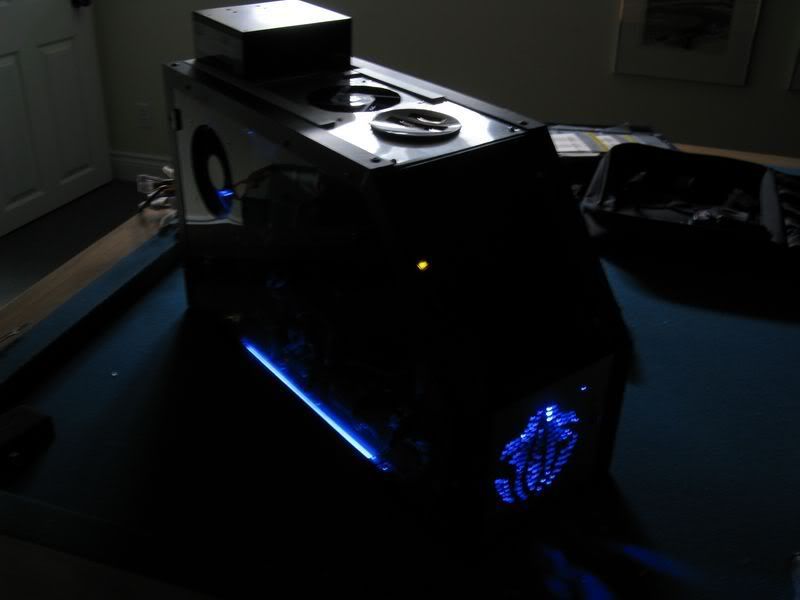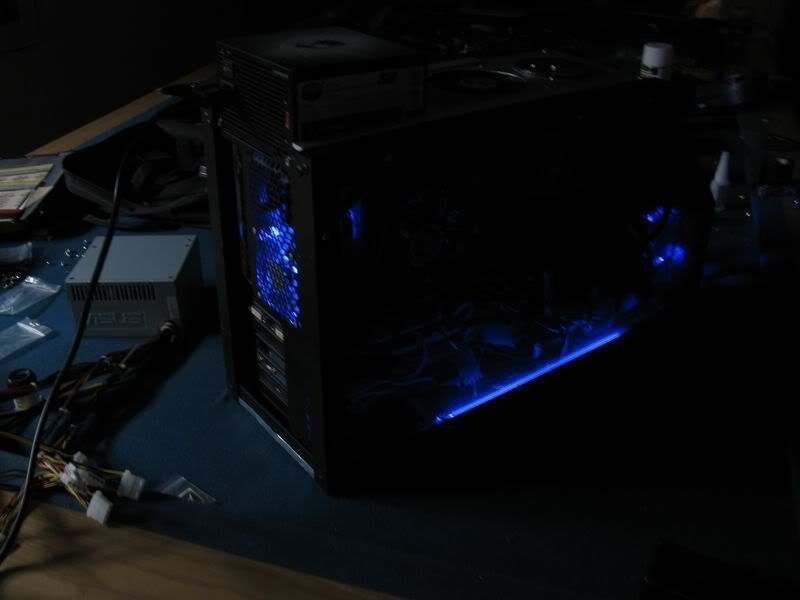 Some of you may have seen the idea for this case in the Idea's Zone under the title "First Case Build," so here are the pictures of the SketchUp's I posted there:
I'm not much for introductions so I commence.
Update 1: A Beginning
I went supply shopping yesterday and picked up several metal supplies:
You can see there some sheet aluminum, and some angle. The angle looks really flimsy, which is what I thought when my dad suggested I use it, but once you have a complete shape this stuff is really strong. It's also easy to work with - I can cut it with snips, and solder it together - and it is dirt cheap at $4 CAD for 24 feet.
I also picked up the cheapest case I could find, and several fans, as well as a Zalman CNPS-9500A CPU cooler:
The first thing I did with this build was actually learn to solder the angle: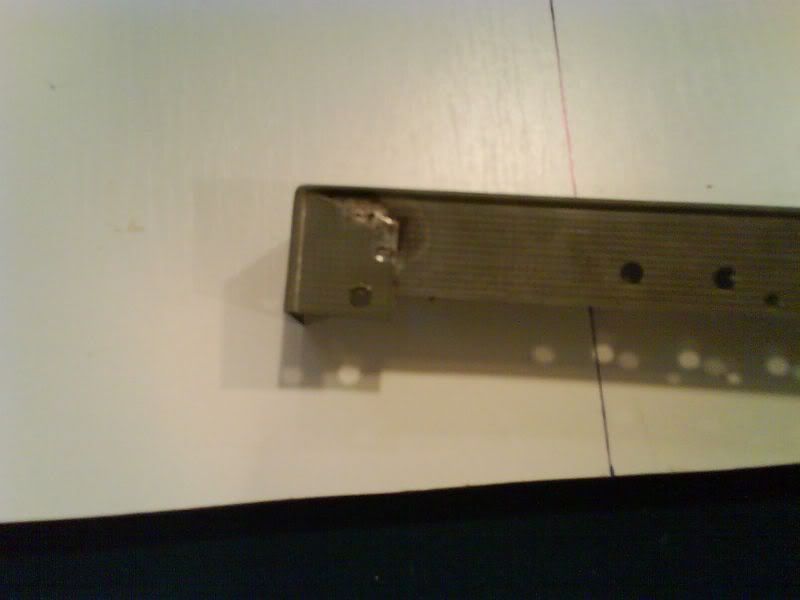 Not the most attractive join in the world, but it's strong, took 3 minutes to do, and you won't even see it with the sides on.
And now the main reason for me doing this build; my current case:
As you can see by the horrible tangle of wires inside, there is almost no room for anything in this case, and because of this it's 45 C inside with the side panel on.
So here is the new victim, the cheapo case I bought for this build:
It's not a horrible looking case. I almost feel guilty for the fact that I'll be destroying it.
Once I got the side panels off I knew I had some work to do to dismantle this thing:
I have never seen more rivets in my life.
But I got them all out:
And I also got some USB and audio ports, as well as switches. Nice.
With the case apart I proceeded to begin making the frame for this case:
I checked every angle and side length to verify that it was all correct.
I have no work pictures for the side frame, I was to busy working to get my camera out, so here is one finished side: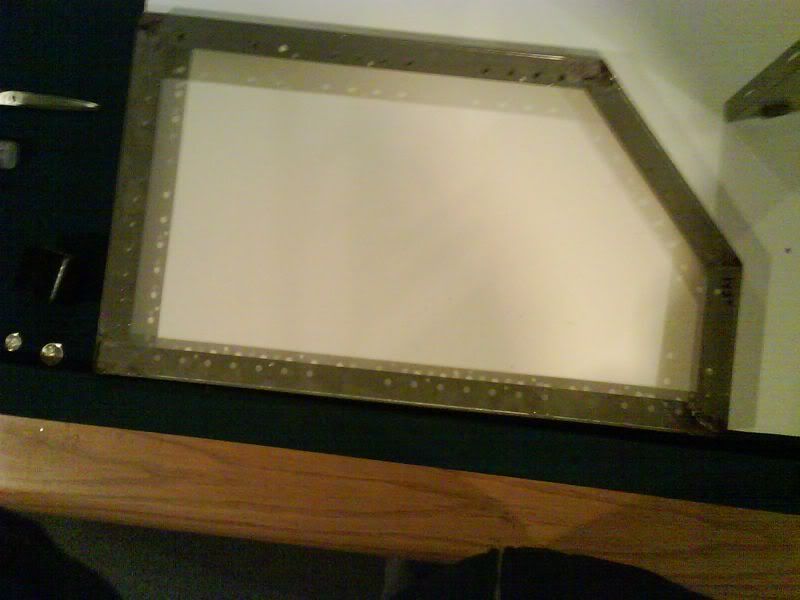 If you look closely you'll see that I was off by the slightest with one of my angles, so the top slopes down at about 3 degrees. But it's not noticeable and it could work, so I'll leave it as it is, and make the second identical to it.
Once again with no work photos, here is the second side sitting with the first:
I just could not get them to stand up straight.
Anyway, the mobo tray is far to big for my case:
So I marked off my cuts.
And then set out with a grinder:
Much better, but it still needs some work.
So I grinded, and filed those edges smooth, and test fitted it into my frame: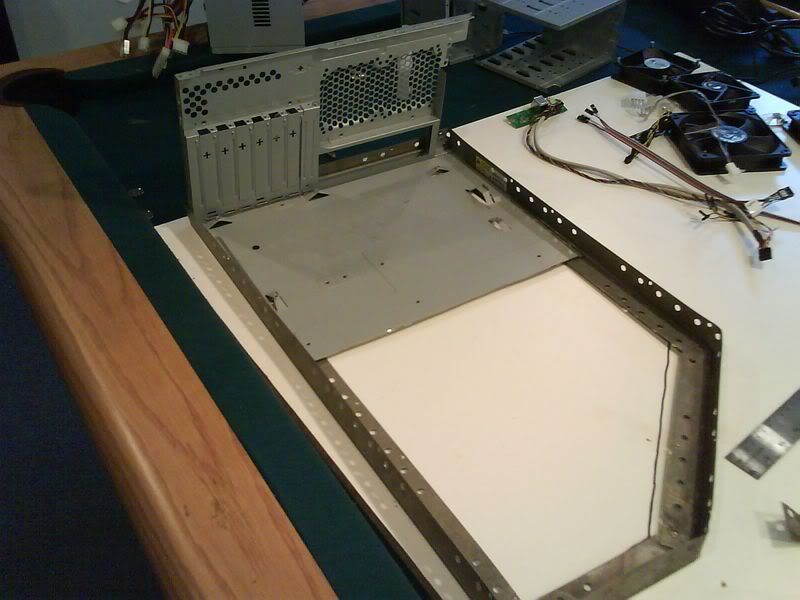 Perfect fit :)
Well that's all the work I've done so far. I'll probably have another update ready in a few hours, I want to get the sides of the frame together tonight.
Cheers