Follow Us On
---
[Review] Lamptron FC5v2 4 Channel Fan Controller
Welcome to the TBCS Community Forums forums.

You are currently viewing our boards as a guest which gives you limited access to view most discussions and access our other features. By joining our free community you will have access to post topics, communicate privately with other members (PM), respond to polls, upload content and access many other special features. Registration is fast, simple and absolutely free so please, join our community today!

If you have any problems with the registration process or your account login, please contact contact us.


08-31-2011, 12:48 PM
| | | | |
| --- | --- | --- | --- |
| | Its not cool till its watercooled. | | |

[Review] Lamptron FC5v2 4 Channel Fan Controller
---
The Lamptron FC5v2 is the second fan controller by Lamptron that I am reviewing. The first was the
Lamptron FC6
which is a newer model than the FC5v2.
Introduction
It seems like everyday there is another fan controller coming out but which ones are the best? This fan controller is feature packed and will surprise everyone. Lamptron did it right this time. They listened to user feedback from their previous fan controllers and made some great improvements like a solid faceplate, crisper display, more power per channel and the option to display voltages.
Specifications
Dimensions: 5.25 drive bay
Power Output: Up to 30W per channel
DC Input: + 12V(Standard 4-Pin Connector)
DC Output: 0V - 12V DC
Control Channels: 4 pcs
Display Color: Red, Yellow, Green, Cyan, Blue, Purple, White
Features
New and Improved LCD
CNC milled from blocks of 3/4" thick solid aluminum
User's choice of displaying colors
Four knobs to control four 3pin channels
User's choice of displaying Celsius, Fahrenheit, or Voltages for the bottom line readout
Packaging
Just like the FC6, the box is simple and tells you all about the device.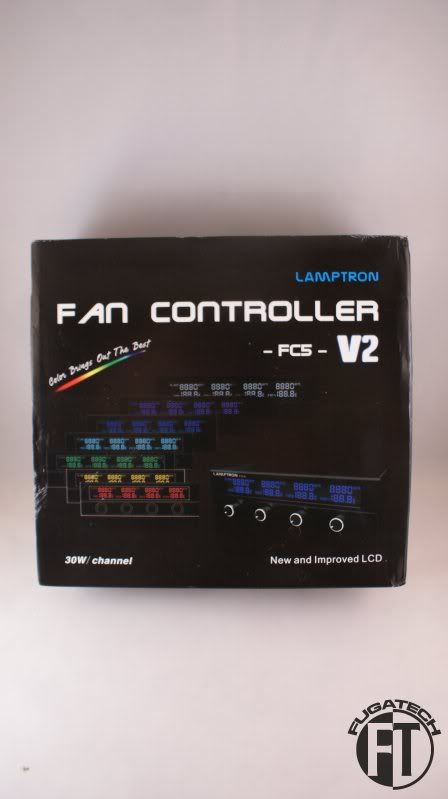 The bottom gives you a brief description about the device and shows you what is contained inside the box.
The top gives you the specifications, features and what colors are available.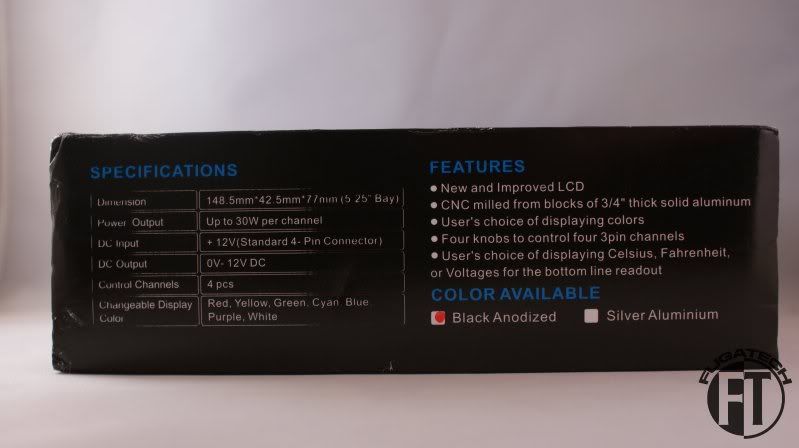 Whats Inside
You can see that the contents are very well packaged. The foam is cut to fit to provide a snug fit for the controller and accessories.
Contents include:
1x Fan Controller (Rehobus)
4x Fan Cable Extenders (524mm long)
1x Molex Power Extender (195mm long)
1x Jumper
4x Installation Screws
4x Sensor Cables (725mm long)
1z Installation Guide
A Closer Look
The front of the controller is very clean looking. If your not a fan of cap screws being visible like they are on the FC6, then this controller is for you.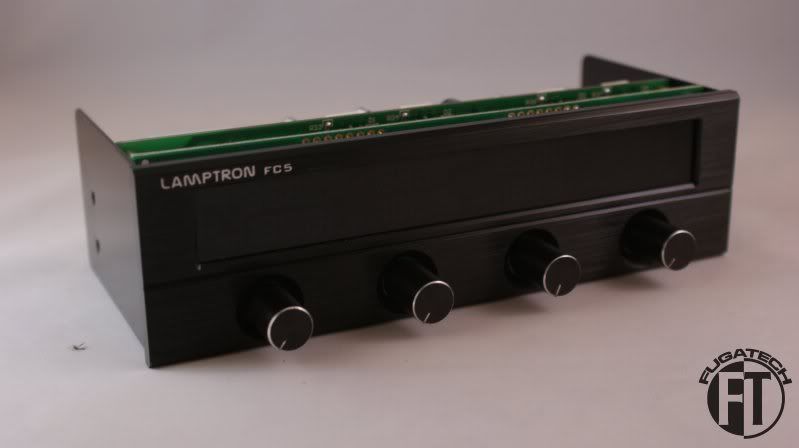 They only marking on the front is the LAMPTRON FC5 logo.
We will now explore the different parts connections that are located on the back of the fan controller.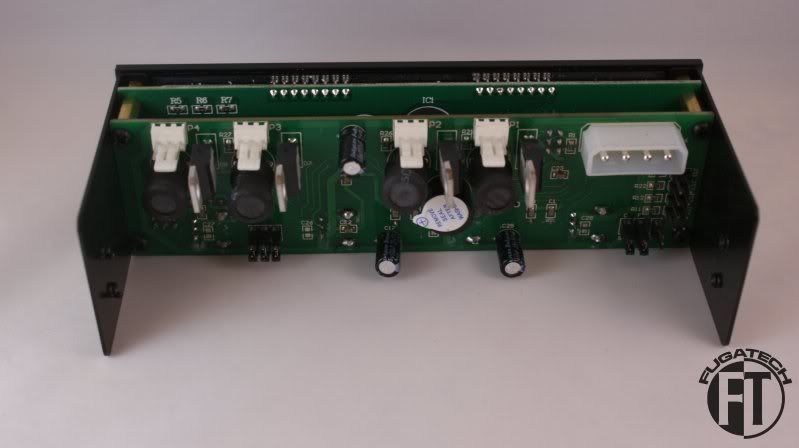 In the top left of the board you will see 4 fan connections. They are labeled as P1 through P4 from right to left. Keep this reverse order in mind when connecting your fans.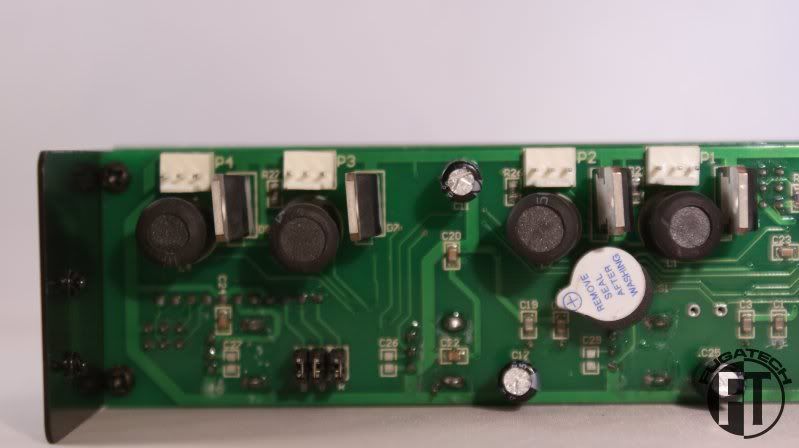 Under the fan connections, you will see 3, 2 pin connections that have jumpers on them. You will use these to change the colors of the LCD display. The jumpers are Blue, Green and Red in that order from left to right.
Now on the right side of the board, you will see the molex connector at the top. This supplies the controller with the necessary power. Under that you will see 4, 2 pin connectors. This is where you will connect the temp sensors. They are labled channel 1 through 4 from top to bottom. Below these connections you will see yet another set of 3, 2 pin connectors. The far left 2 are for what you want to display on the front panel. Celsius, Fahrenheit or Voltage.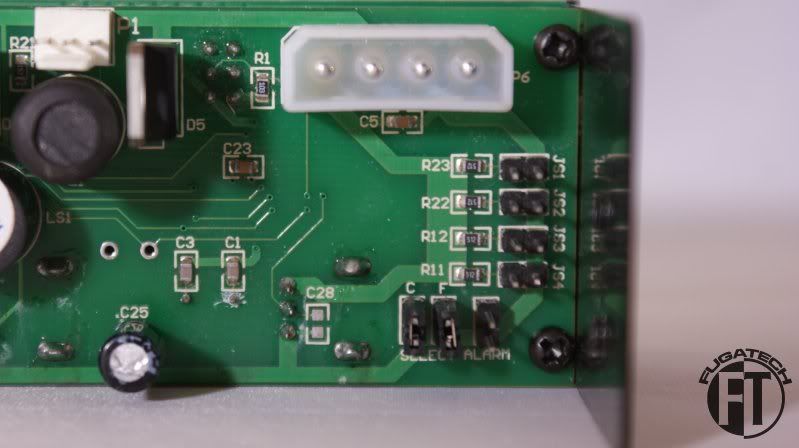 Again Lamptron has done a great job with their instructions page. It is a 8 1/2" x 11" piece of laminated paper that contains everything you need to know to setup your new fan controller. On the back it gives you detailed instructions on how to change the LCD character colors, change the temp settings to Celsius, Fahrenheit or Voltage, how to activate the alarm function and how to connect the temp sensors.
Here is what the controller looks like when powered on in each color.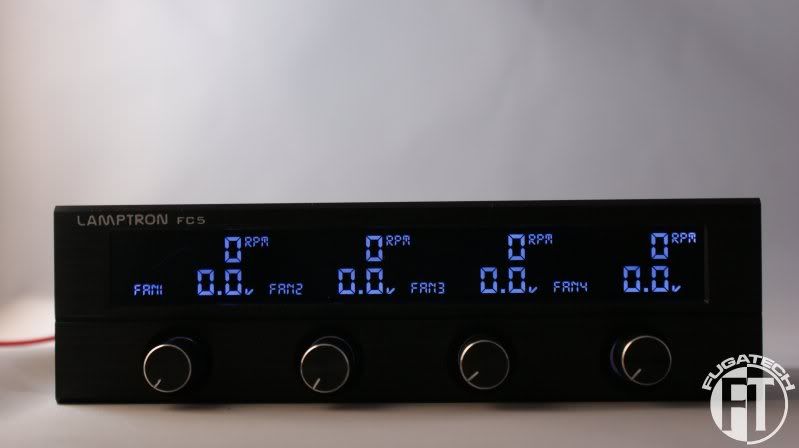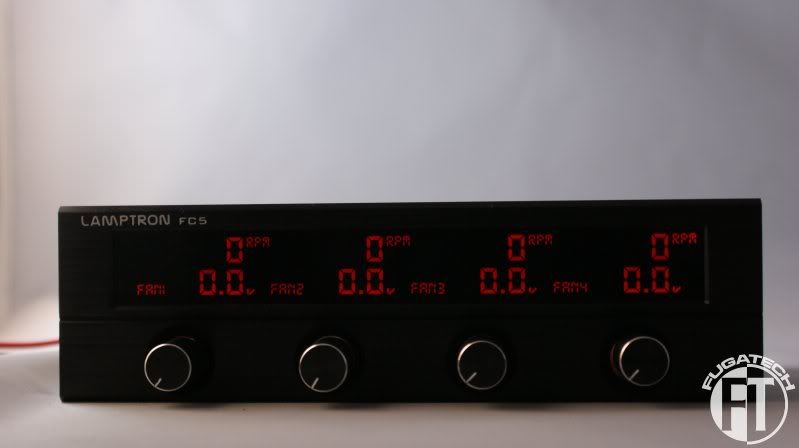 I was a tad disappointed at how close the blue and purple turned out in the photo. You can defiantly tell the difference in person but I could not capture it well enough. Also the first color is supposed to be white but that color is more gray/blue. That is also how it looks in person so it is not a malfunction of my camera.
I installed the FC5v2 in a spare PC I had and set it beside my current rig which has the FC6 installed in it. You can see how much crisper the FC5v2 looks over the FC6.
Just to make sure it wasn't my camera messing with me again, I took close ups of each controller.
FC5v2
FC6
Conclusion
Pros:
7 Color choices
Crisp and bright LCD display
0-100% RPM Control
Clean look
Voltage display option
Cons:
White color isn't a true white
The FC5v2 has more features and is more powerful than the FC6 so I can conclude that Lamptron is doing it right. I give this device a solid 5/5. I was impressed with the FC6 and even more impressed by the FC5v2.

02-22-2012, 11:54 PM
| | | |
| --- | --- | --- |
| Fresh Paint | | |

Re: [Review] Lamptron FC5v2 4 Channel Fan Controller
---
Quote:
Originally Posted by
Fuganater

The FC5v2 has more features and is more powerful than the FC6 so I can conclude that Lamptron is doing it right. I give this device a solid 5/5. I was impressed with the FC6 and even more impressed by the FC5v2.
You did a good review, but I wouldn't give this unit 5 stars. My experience with this controller may have been unique.
I've had two FC5v2's. The first developed a short it's second controller circuit after a week. After replacing it under warranty with a second FC5v2, I concluded the display was insufficient. It was only legible when viewed straight-on, and that's not how my PC's oriented to my workspace.
I did a lot of research -- didn't want too much bling and liked the feature set of the FC5v2, and really wanted to like this controller -- but in the end, I removed it from the chassis and passed it to a builder friend.
Best,
G's Left Nut

| | |
| --- | --- |
| Posting Rules | |
Powered by vBulletin® Version 3.6.8
Copyright ©2000 - 2013, Jelsoft Enterprises Ltd.
thebestcasescenario.com