Follow Us On
---
Project: 'Troy's Pinball' - Arcade Sequel Build
Welcome to the TBCS Community Forums forums.

You are currently viewing our boards as a guest which gives you limited access to view most discussions and access our other features. By joining our free community you will have access to post topics, communicate privately with other members (PM), respond to polls, upload content and access many other special features. Registration is fast, simple and absolutely free so please, join our community today!

If you have any problems with the registration process or your account login, please contact contact us.
| | |
| --- | --- |
| | |

06-01-2012, 08:52 PM
| | | |
| --- | --- | --- |
| Anodized | | |

Re: Project: 'Troy's Pinball' - Arcade Sequel Build
---
I carefully measured and then drilled all of the necessary holes into both side panels, now the Alum-angle frame for the 40" LCD has mounting holes and there is an Alum-angle support piece for the back box. Last but not least I used a hole saw and cut out all four of the flipper button holes, below are a pair of buttons test fit.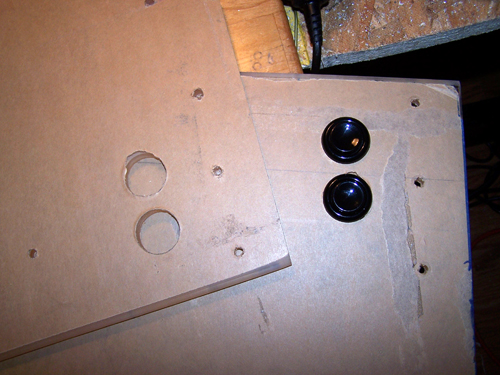 The bottom part of the table is almost ready for paint, next up are the side panels of the back box. Below is an opposite side view of both sides, I installed Alum-angle onto all of the side edges except the front.
I found a great deal on four 120mm fans, they were seven bucks apiece with free shipping and come with a black fan grill, mounting screws and a fan controller, on top of that they look nice.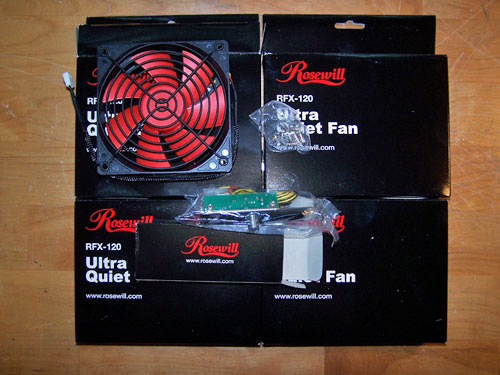 I bought 8GB of DDR3 and a 120GB SSD that is supposed to be whip quick according to everything I've read about it.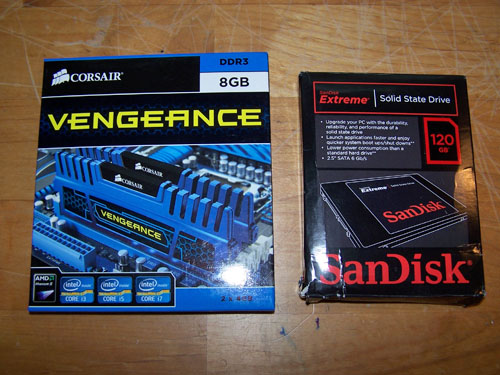 I am pleased to announce that AMD is officially on board as a hardware sponsor and want to thank them for supplying my digital pinball project with a sweet quad-core Zambezi processor.

The 36" roll of light diffuser film I ordered arrived, I am going to put it between the acrylic and the LED strips to help spread the light out. The following picture shows the test fire and it gives a good view of how it looks live.

06-08-2012, 07:40 PM
| | | |
| --- | --- | --- |
| Anodized | | |

Re: Project: 'Troy's Pinball' - Arcade Sequel Build
---
I drilled a couple holes in the back sides of the alum-angle side braces to allow the wiring from a pair of SMD LED strips to poke through, then I soldered the wires together onto longer wires.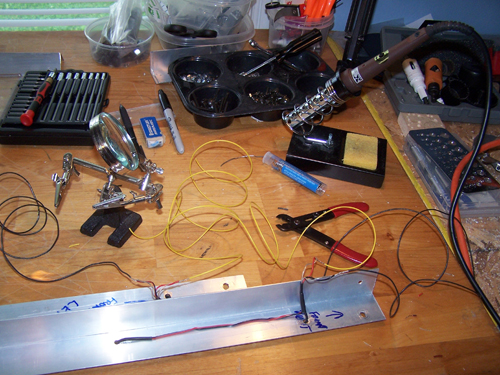 Below are the finished products all wired and sleeved, both are now ready to be installed.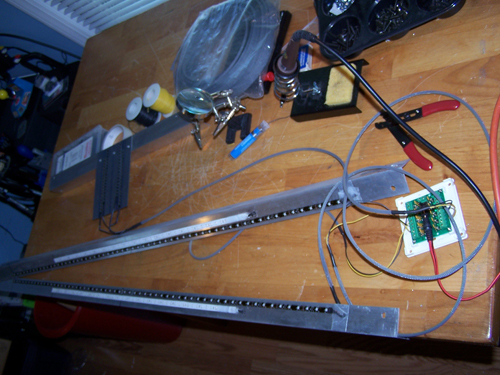 Time to build and attach the back box... I used a couple C-clamps to hold the side panels in place and then marked and drilled the attachment holes.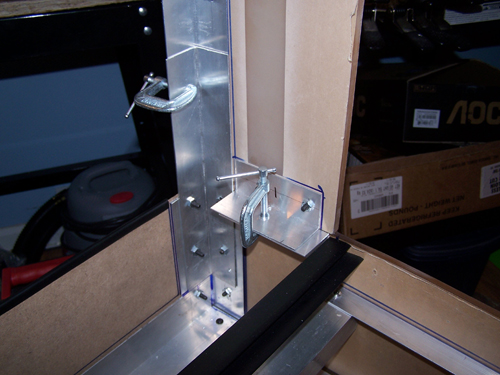 With the back box attached and the fresh cut top panel in place for a test fit, it is finally starting to look like a pinball machine.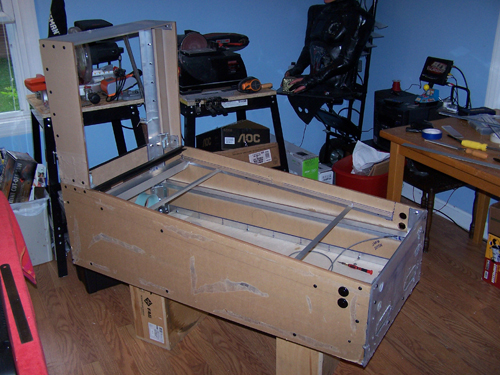 Here is a look at the attached top panel from behind the machine, below it is a length of alum-angle attached to the black plastic trim piece that will hold the playfield glass in place.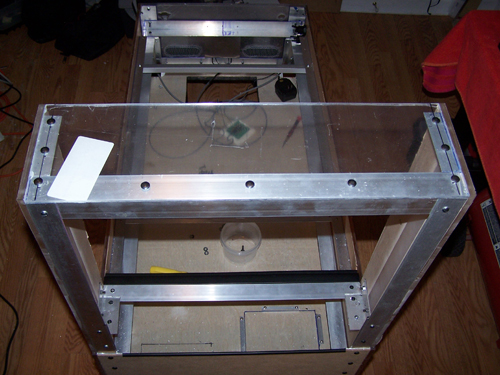 06-09-2012, 12:56 AM
| | | | |
| --- | --- | --- | --- |
| | Administrator | | |

Re: Project: 'Troy's Pinball' - Arcade Sequel Build
---
I love this mod more and more with each update!

Can't wait to see it all up and running
__________________

06-15-2012, 09:44 PM
| | | |
| --- | --- | --- |
| Fresh Paint | | |

Re: Project: 'Troy's Pinball' - Arcade Sequel Build
---
This is a sweet looking setup. can't wait to see it done.

06-16-2012, 02:18 AM
| | | | |
| --- | --- | --- | --- |
| | Undead Pirate | | |

Re: Project: 'Troy's Pinball' - Arcade Sequel Build
---
This is too cool. Can't wait for a video of it running.

Will there be acclerometers for tilt?
__________________

06-16-2012, 04:38 PM
| | | |
| --- | --- | --- |
| Anodized | | |

Re: Project: 'Troy's Pinball' - Arcade Sequel Build
---
Quote:
Originally Posted by
d_stilgar

This is too cool. Can't wait for a video of it running.

Will there be acclerometers for tilt?
I have a Mot-Ion Adapter & Digital Plunger Kit that will allow for tilt and ball english.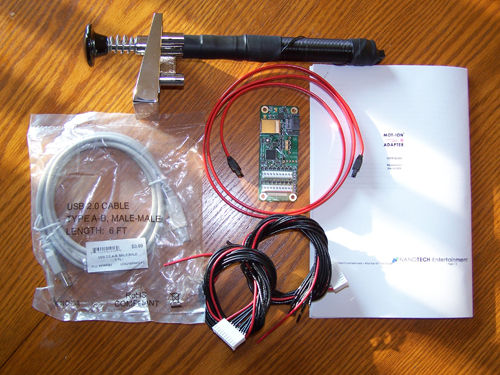 06-16-2012, 07:06 PM
| | | |
| --- | --- | --- |
| Anodized | | |

Re: Project: 'Troy's Pinball' - Arcade Sequel Build
---
The Sapphire sponsored hardware arrived, the PURE Black 990FX socket AM3+ motherboard is shown below. I have been building computers since the late 90's, so I didn't have to look at this motherboard for very long to know that it's top tier with a switchable dual bios, post code readout and built in power and reset buttons, good stuff.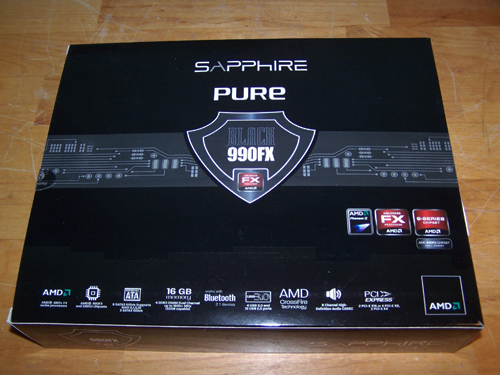 Sapphire also sent a pair of Radeon HD 6870 cards... any fears I had about the hardware being too underpowered to run Virtual Pinball, Future Pinball or HyperPin with every bell and whistle enabled are now history.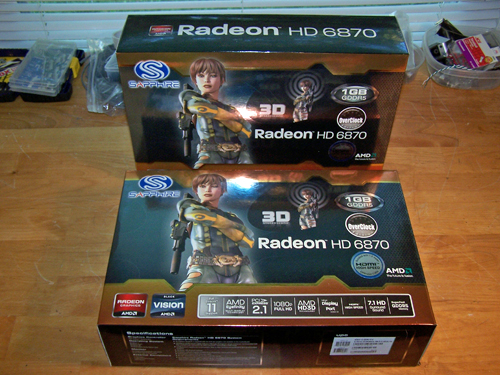 Sapphire is awesome and it would be a crime to hide away the killer hardware powering my pinball table, so I am going to work a window into the side with their logo on the outline, I'll also be building a mirrored enclosure inside the table to showcase the hardware within an optical illusion.

The parts needed to create the mirror illusion are shown below, clockwise from top right is a cut down Lian Li motherboard tray, black plastic mesh, white lazer LED, four 12v white LED strips, 12" x 24" sheet of 1/8" first surface mirror, Alum-angle, 3M heavy duty mounting tape, paper Sapphire template, 6" x 12" two-way mirror, 12" x 36" light diffuser film roll.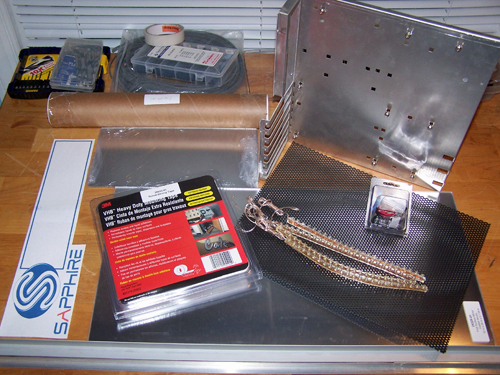 06-25-2012, 12:55 PM
| | | |
| --- | --- | --- |
| Anodized | | |

Re: Project: 'Troy's Pinball' - Arcade Sequel Build
---
The motherboard tray was too large, so I measured things out and then used a Dremel to cut off the excess bit. Clamping down a piece of flat aluminum angle protects the surface and makes the cutting easier by allowing the cutting disk to butt against it, which keeps the edge cleaner and straighter.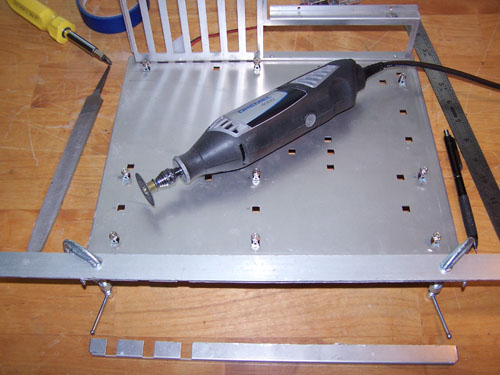 I needed to find the proper location for the motherboard and window, once that was figured out I taped down the window template.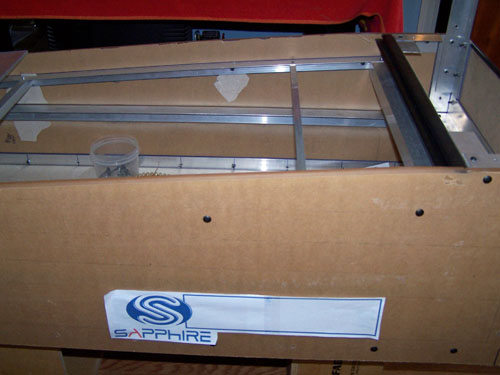 Below shows placement of the motherboard tray, having hardware in hand let me know that there are a few aspects of the mirror illusion design I still need to work out. They are small details and I will figure it out, but until then there is still work to be done on the back box.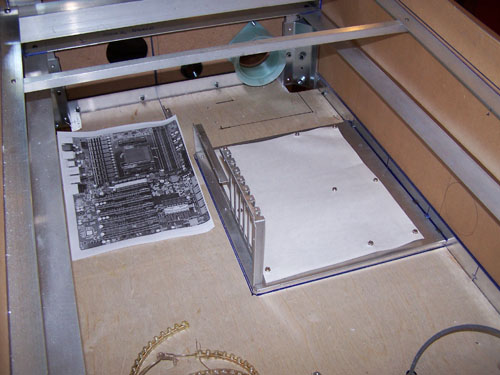 The SMD LED strips that I bought for the sides of the back box were just a bit too long, luckily they can be cut at every third LED (as shown below), so crisis averted.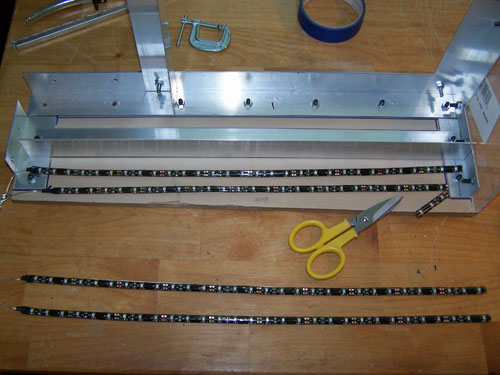 I installed two SMD LED strips onto the left and right side pieces of aluminum angle, I also rivet on support pieces for the 23" LCD monitor and cut 3 1/2" out of the bottoms of the angle to make room for the speakers.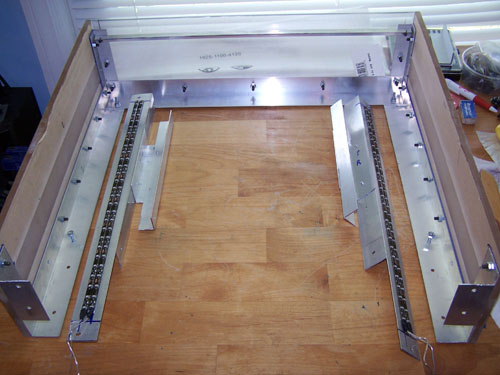 Below is the 23" LCD monitor test fit onto the side support braces, since this monitor isn't VESA mountable it will be held in place with 3M heavy duty mounting tape.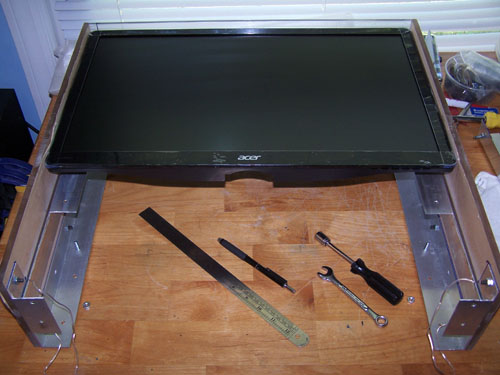 It will also be held in place by an aluminum angle support brace on the bottom, the brace sits just beneath the edge mounted monitor control buttons, so they are all still fully accessible.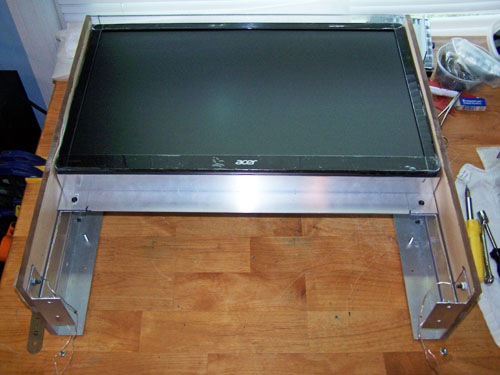 The 16" LCD monitor is VESA compatible, but I almost wish it weren't because 3M mounting tape would have been a lot easier than the home brewed VESA rigging I built for it.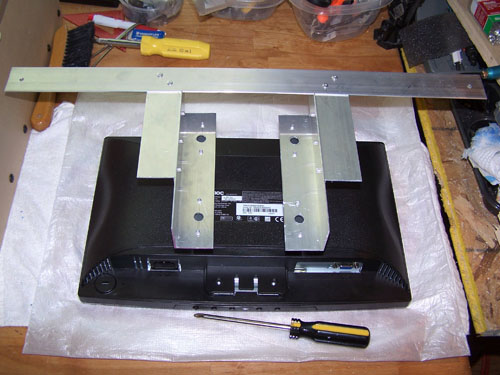 This next picture shows how my Franken-VESA mount attaches to the back box, the four LCD attachment points are actually recycled bits from the 40" HDTV I tore down earlier.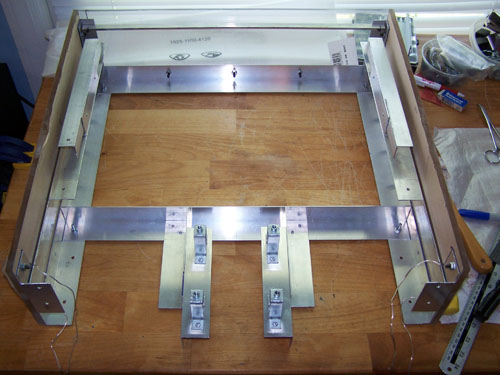 Both monitors are shown test mounted below, since the front of the back box has a tapered edge the important and difficult thing is keeping everything lined up straight and even to the front edge.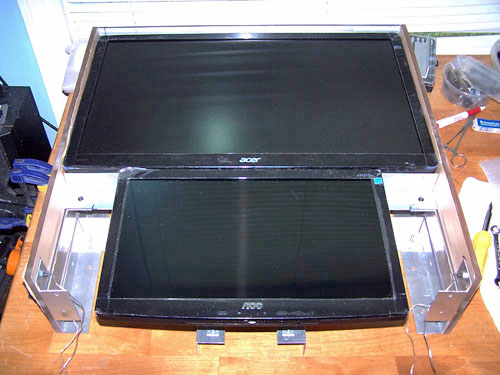 To mount the speakers I cut a piece of aluminum angle slightly smaller than the height of the speaker and then cut a piece of 1/4" acrylic the same length as the alum-angle but slightly wider than the speaker and used two screws to hold it together, it is mounted onto the back box side aluminum angle with four rivets.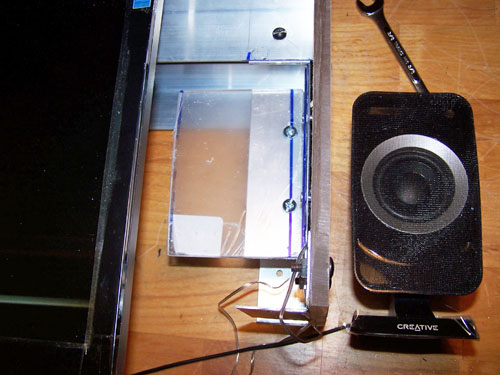 I will either use 3M mounting tape or Weld-on 16 to attach the speakers to the acrylic mounts I made. By cutting the bases off of the speakers I can get more left/right, up/down movement to better center them, unmodified the speakers sit tight to the 16" LCD monitor and level to the front edge as shown below.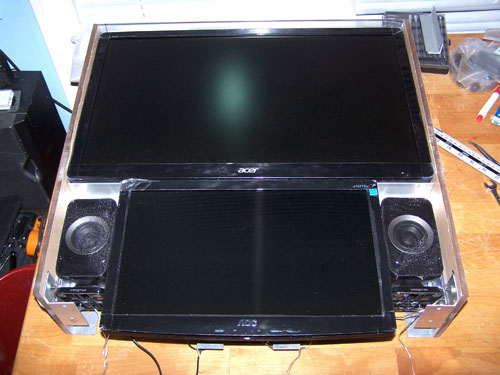 06-27-2012, 07:51 PM
| | | |
| --- | --- | --- |
| Anodized | | |

Re: Project: 'Troy's Pinball' - Arcade Sequel Build
---
I cut a piece of MDF pressboard to fit the back side of the back box, then I measured out placement for two 120mm fans near the top of the panel.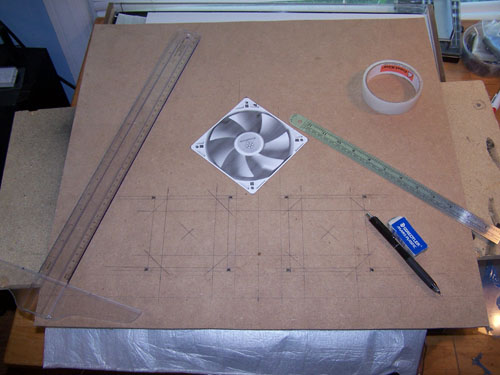 I used a dtremel to cut the holes and then cleaned up the edges with a dremel sanding bit, below shows a fan test fit and the fan controller that still needs modification.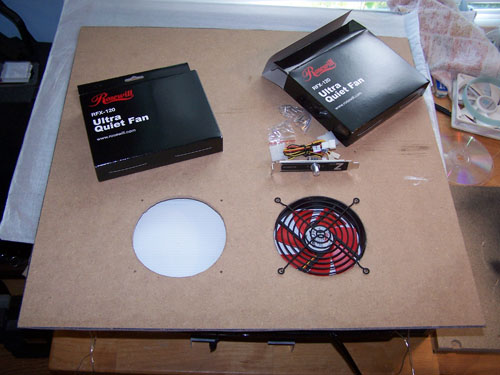 I drilled an 1/4" hole in the pressboard under each of the 120mm fan holes to accommodate the fan control knob posts, the following picture shows the new improved mounting method.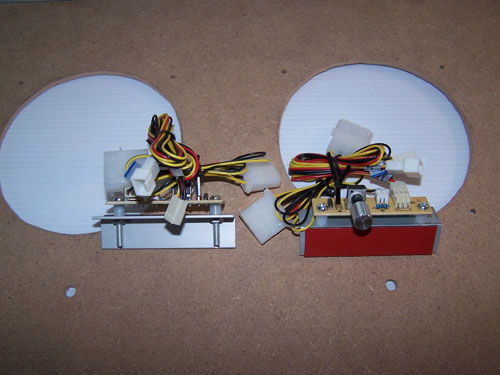 Time to get back working on the Sapphire illusion, the first thing I did was make a mock up to get a better idea of how things will work. I made a design in Sketchup, bought a piece of foam backboard, then measured, cut out and taped together the four panels.
Next the panels are test fit to the motherboard, which looks sweet...
Then the panels get test fit inside the pinball table, which fits sweet...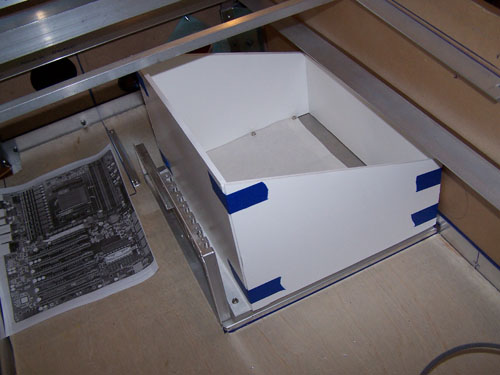 And the panels get test fit to make sure the position of the window decal template is correct, it lines up sweet...
I took my Sapphire window design to Agnew Graphics, a local sign company, the price was reasonable and they did a good job cutting my design fast... and they even gave me a second (mulligan) decal free.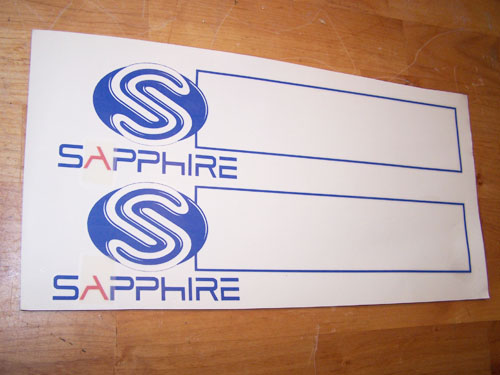 AMD came through as well, the sponsored FX4170 processor arrived via FedEx today and it came housed in a sweet little green case, so big thanks go out to them.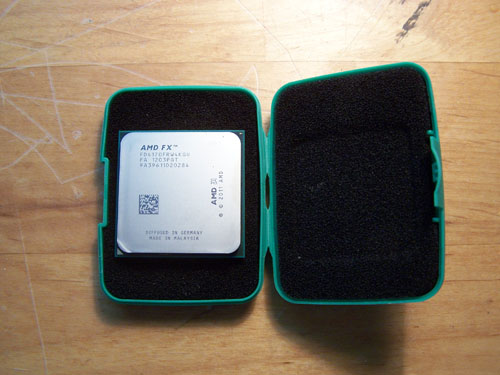 06-28-2012, 01:56 AM
| | | | |
| --- | --- | --- | --- |
| | Its not cool till its watercooled. | | |

Re: Project: 'Troy's Pinball' - Arcade Sequel Build
---
Looking great dude. Gratz on the sponsor gear!
| | |
| --- | --- |
| Posting Rules | |
Powered by vBulletin® Version 3.6.8
Copyright ©2000 - 2013, Jelsoft Enterprises Ltd.
thebestcasescenario.com