Follow Us On
---
Doom3: Project Mars City Worklog
Welcome to the TBCS Community Forums forums.

You are currently viewing our boards as a guest which gives you limited access to view most discussions and access our other features. By joining our free community you will have access to post topics, communicate privately with other members (PM), respond to polls, upload content and access many other special features. Registration is fast, simple and absolutely free so please, join our community today!

If you have any problems with the registration process or your account login, please contact contact us.
| | |
| --- | --- |
| | |

03-03-2005, 05:53 PM
| | | | |
| --- | --- | --- | --- |
| | Client 9 from Outer Space | | |

---
I decided to make two miniature spotlights that will be mounted on the base to illuminate the Doom 3 logo. These little babies will be mounted in the rocky area on either side of the logo and pointed towards the lower half. Completely adjustable as well =)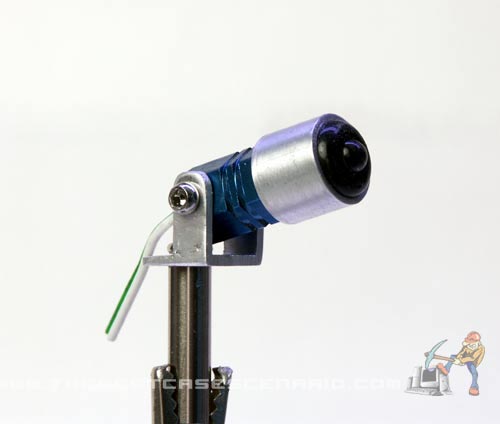 Here is a spotlight broken down:
Its made from an aluminum tire valve cap, a piece of aluminum U channel, steel rod, rubber grommet, aluminum tubing various screws and a 2-pin fan connector as a socket for the LED.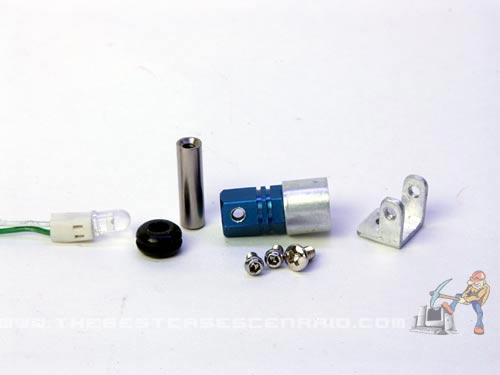 I think with a little tweaking this lighting for the logo will be really sweet. Here are a couple early pics, remember that nothing is painted yet:
Added a little snoot to each light...Seems to focus it better...I like it!...Just about all I can do with it considering the angle of the mounted fixtures. The logo will really pop even more once painted..
Some of you have been waiting to see how the touch screen LCD from
www.earthlcd.com
will be mounted--well here it is!--I started constructing the architectural piece that will house the LCD unit---complete with motorized blast/storm door.
Here is the part during framing. You can see the curved channels that the blast door will ride on when the button is pressed:
The LCD during test fitting:
Here's where it's mounted:
I printed a door on a piece of paper just to give an idea:
Now you see I've started to "skin" the framed piece:

03-03-2005, 05:53 PM
| | | | |
| --- | --- | --- | --- |
| | Client 9 from Outer Space | | |

---
The housing for the LCD touch screen is now more of a module--removable from the case with just a few screws. Much better than mounting the various parts of the LCD inside the case where you cant get to them---we all like easy access to the inside of the case for tweaking and fixing what isnt broke right ?
Here is the unit, I'll explain pic-by-pic. This first shot is were i left it for the night, having created the various mounting plates, brackets and what-not to hold the screens in place. The control panel for the LCD was just a pcb with a single LED and 5 little tactile buttons (power, menu, navigation etc). The buttons wont be visible on the mod, but hidden behimd a panel:
You can see here the small clear acrylic hemispheres I glued onto the microswitches.
Inside the unit, the housing will hold all the LCD parts (see below) as well as the servo and electronics for operating the blast door.:
This is the LCD hold-down plate (in white) and control button hardware:
The inside starts to get a bit more complicated:
The parts for the earth LCD (
www.earthlcd.com
) kit. Controller board, LCD panel, Touch screen (made from glass), function button pcb and the power brick for the two CCFL's:

03-03-2005, 05:54 PM
| | | | |
| --- | --- | --- | --- |
| | Client 9 from Outer Space | | |

---
Powered up the LCD screen to see if i could fry something :p The LCD image is stunning--very crisp--and the colors are sharp and vivid. I couldnt get the touch screen to work on the serial port--will have to call their tech support since there is no documentation with this kit :confused:
The obligatory [H]ard shot:
WHEW!! Ok all the basic engineering and construction on the LCD module/motorized blast door is finally complete. I've completed the roll up door and integrated all the parts of the LCD kit. The next step is to finish up the airbrushing/hand painting and mount the servo unit to operate the blast door.
here is the roll up blast door. It was constructed in segments, with each segment having its own bolt-type hinge, so its very flexible. The bolts are small steel rod inside plastic tubing, with a hing plate. there are 24 hinges in all. Each hinge can fit inside of a dime--so its pretty small. It operates similar to a store-front security gate:
Here you can see how flexible it is. Each segment had to be slightly smaller than the radius of the blast door tracks that it rides on.:
The door is inserted from the bottom of the track:
Here is the door in place. It still needs fine tuning and adjustment, but that will happen when the servo is installed:
Once the parts of the LCD kit are mounted in place, you will get a sense of the how this design works from a structural standpoint:
The section that holds the control panel for the LCD now has a hinged door to hide it:
---
Last edited by Crimson Sky : 09-15-2005 at

03:58 PM

.

03-03-2005, 05:55 PM
| | | | |
| --- | --- | --- | --- |
| | Client 9 from Outer Space | | |

---
Here i'm adding a detail strip to the top of the module. Details were scribed and cut from plastic and then mounted to the strip (in white) The strip is then glued to the top of the module. Creating a detail strip firt makes it easier to add small detail, rather than gluing them directly to the larger module itself. Also if ya screw up, you wont have to scrap glue off of a finished part :
Clamped in place for final test fit:
Then finally glued in place, and airbrushing is started:
Took a break from construction tonight and enjoyed some airbrushing. There is still a degree of weathering i have to do on it, and some drybrushing with silver to expose worn metal. Here is a mock-up of what i have so far:
The best way to hide a hinge is..you guessed it...with another hinge! I needed access to a mounting screw so i made this little flap:

03-03-2005, 05:55 PM
| | | | |
| --- | --- | --- | --- |
| | Client 9 from Outer Space | | |

---
I could NOT get the touch screen to work--i will have to call tech support on Monday :confused: :mad:
here is the UI in it's current state of development. The resolution is incredible, the color amazing--Lothar you'd love it. When the app opens, we get a video sequence of our Mars City hero in action:
Then he stops to open his PDA, and the interface begins--its really an awesome, clean transition--but was too quick for me to capture on camera:
The UI is now up. with icons on the left, they bring up applications, vwebcams, web pages audio files, video files, credits. You can also restart the opening sequence. very nice:
What may not seem like a big update on this project actually took a tremendous ammount of work on my part--in between dealing with other projects/clients I managed to create the final piece that finishes off the front of the case--the molding above and around the airlock door. The design is pulled from the game with a few added touches to make it blend in with the LCD module that lives above it.
This scratchbuilt part had to fit nice and snug with the airlock while allowing it to open smoothly, so many hours of measuring and cutting the styrene sheets was needed to get a tight seam. The decorative panels that were laminated onto it made it so strong that when knocked on it sounds like knuckles on a football helmet--yeesh..very strong indeed.
Once this section is airbrushed and blended in with the rest of the front, it will start to come together. I'll put all the parts together tomorrow and post a pic of the entire case. You'll also notice that i started painting the Martian terrain. I'm waiting on a few bottles of paint before i add the final touches by hand and airbrush.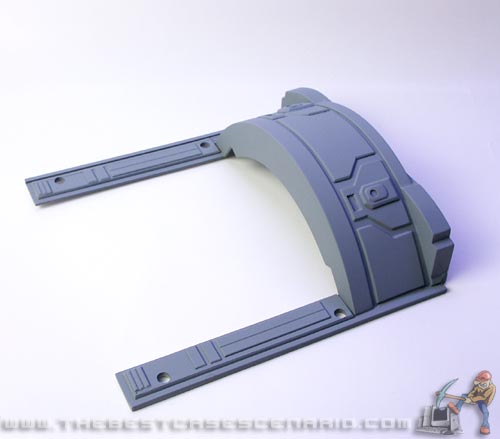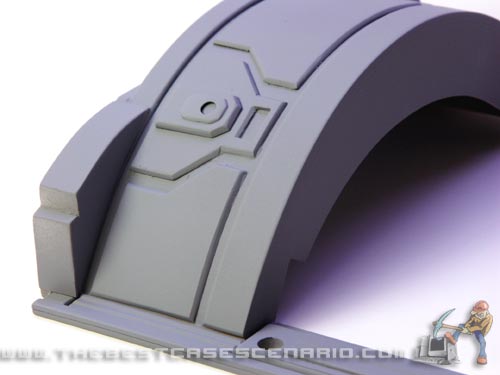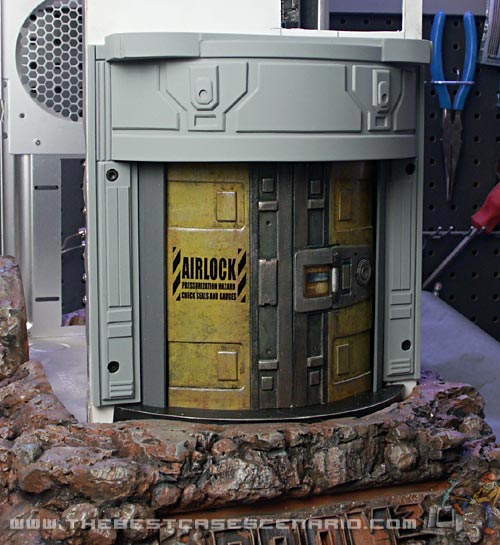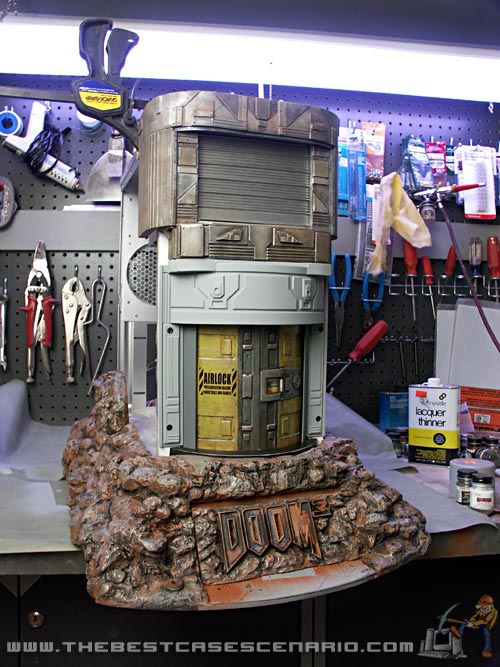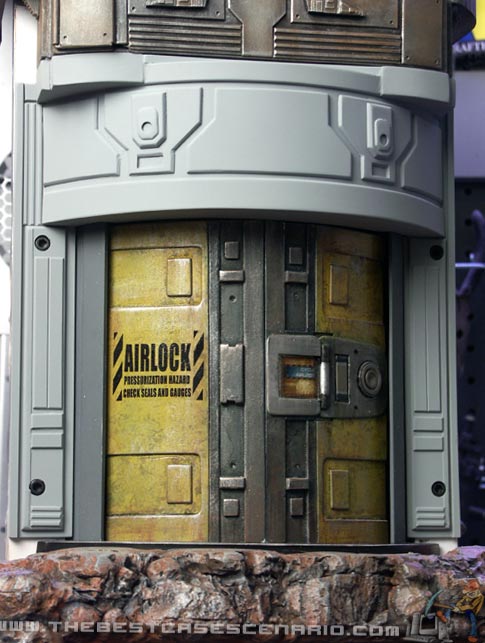 ---
Last edited by Crimson Sky : 09-21-2006 at

10:58 AM

.

03-03-2005, 05:55 PM
| | | | |
| --- | --- | --- | --- |
| | Client 9 from Outer Space | | |

---
In the first pics you'll see the recessed light fixture I made for the airlock crown piece. This will be an 'always on' light even when the comp is powered down. It's basically a housing, frosted acrylic lens and the LED sockets:
Did some airbrushing as well--the front and all the details are really starting to blend together nicely--this should give a good idea of the patina that the entire case will have:
Well it looks like I'll have to do some more work on this video--so I decided to post the images of the platform that will be featured in it. For anyone interested you'll get a good idea of how to work with styrene plastic.
meanwhile, i completed the platform and all that's left to do is fill some tiny seams and paint it to match my theme. I took a lot of elements from the game such as tread plate, square tubing handrails, a set of stairs on the right side and a small circular landing on the left. I can now place some goodies on the platform such as ammo cases, O2 canisters etc. Here are some pics of interest:

03-03-2005, 05:55 PM
| | | | |
| --- | --- | --- | --- |
| | Client 9 from Outer Space | | |

---
My Santa-wife gave this naughty boy an awesome Doom3 ZBoard--Very cool keyboard to go with my project here...I can't wait to try it out
My very best holiday wishes to every member and visitor here on [H]. Have fun, be safe and love one another. Cheers!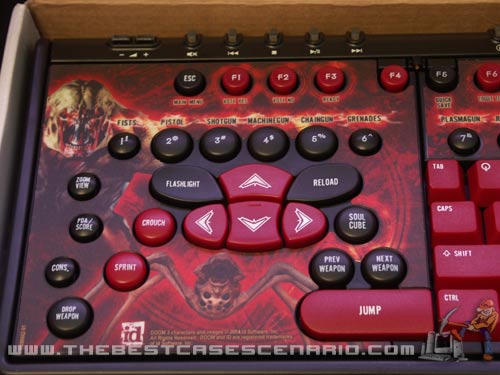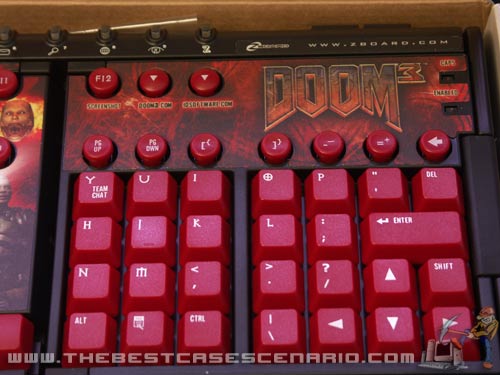 Took a break from video production tonigfht and started painting the platform. First a heavy coat of flat black was airbrushed on to fill in all the deep nooks and crannies. next I started adding some layered texture outlines beginning with dark burnt umber. Then came a gunmetal color followed by dark brown. Highlights were then added with a color called "jet exhaust" (for military models obviously) and after that some rust was sprayed on. A well tuned and maintained airbrush is important for this kind of work...so keep those tools clean!
All these colors form a base coat that becomes very subtle when the hand painting and color washing begins. It all adds to the depth of scale and color that is needed with mostly metalic architecture. I'll be sure to show the progression of hand painting very soon.

03-03-2005, 05:56 PM
| | | | |
| --- | --- | --- | --- |
| | Client 9 from Outer Space | | |

---
Here are a few pics of the scratchbuilt Steam Generator I'm working on at the moment--
The 12v smoke unit has a small fan built in that forces the smoke out of the stack. Well thats not enough for me, so when I build the portion of the feature that connects to the end of the brass pipe, (see below) I'll install a 40mm fan inside to really give the illusion of pressure. Another fan also adds to the volume of smoke that is generated from the unit. This feature at the end of the brass pipe will be a housing of some sort that will have a mesh screen (for letting the steam out, of course!) and red lights inside--I think it will look very Doomish
I still have several hours to work on this, kitbashing and scratchbuilding to integrate the whole thing into the side of the case.
That vent with the mesh on it allows air in for the smoker unit:
In this pic you can see the smoker unit:
Here are some pics to give you an idea of how the side panel with the steam unit will look. This scratchbuilt structure was inspired by several screen shots of Mars City building exteriors.
The large main pipe was built as a whole then cut into two sections. You can see here the ribs that form the shape before it is skinned.:
For the round top of the pipe, I formed it into sections and then filled it with Bondo to create the shape:
In this pic you can see the smoke oil fill-tube poking out of the pipe. This fill port will have a removable wheel valve on it eventually, just to mask it.
This vented area is where the "steam" comes out of. With the red LED's in there, it will be pretty slick:
I mocked up the steam vent with a couple of red LED's (6000MCD each) and shot some video--check it out (56k warning 1.9MB) wmv format.
http://www.thebestcasescenario.com/video/doom-steam.wmv
I havent had much time to work on the Doom3 case because of commitments to client projects , but I have some previously unreleased pics that i will post in the next few days.
Here is a couple shots of two power distribution boxes I made. These will be painted to match the interior of the case theme basicaly.
For this one, I made the front plate of the project box out of clear plexi. I then created a simple graphic in PhotoShop and printed it on a transparency. I then epoxied the graphic on the Plexiglas lid and gave the whole thing about 6 coats of clear acrylic spray paint. Two super bright (7000MCD) LED's were hooked up in parallel for interior lighting. You won't be able to actually see this lighted box unless the case is opened, but i wanted to have a little fun making it.: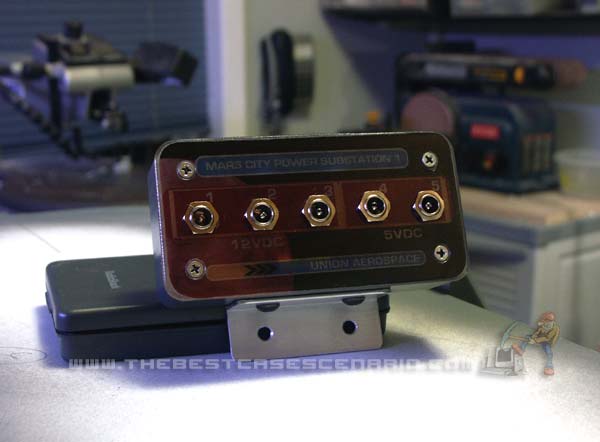 Here I placed it in the case just to get a little darkness for the photo:

03-13-2005, 09:03 PM
| | | | |
| --- | --- | --- | --- |
| | Client 9 from Outer Space | | |

---
It's becoming obvious that the single 120mm rad was not going to be enough cooling for the AMD FX55 and twin 6800 Ultras that will be used for this project--My roof section has now become a cooling tower. The Black Ice XtremeII Radiator should be a better solution for cooling--I may even look into Danger Den's heater core. The PSU will have to be pushed back and outside the case a few inches, but I'll make sure to do some model building and make it blend right back into the case.

03-13-2005, 09:04 PM
| | | | |
| --- | --- | --- | --- |
| | Client 9 from Outer Space | | |

---
IT'S ALIVE!!!
I appreciate everyone being patient while I take care of some other projects---I've been itching to get some work done on D3 myself!
Well here is the latest update...While the airlock was cool...i was pretty much "meh" about the LCD control panel--and I think a few of you out there were as well..so I went and carved out that LCD panel area and installed a tiny light box--with an LED. I then went and made an inkjet transparaency of the airlock LCD from a screen grab--I also enhanced the image with some saturation (since it's the size of a postage stamp!) and sharpening.
I then used a little spray adhesive to mount this inject transparency (there were like 6 images on the sheet in case I screwed up cutting them out) onto a sheet of white paper. After cutting it out, I mounted it on that little plastic light box I made and coated it in 5minute epoxy to create a lens.Here's some pics:
---
Last edited by Crimson Sky : 10-05-2005 at

03:03 PM

.
| | |
| --- | --- |
| | |
| | |
| --- | --- |
| Posting Rules | |
Powered by vBulletin® Version 3.6.8
Copyright ©2000 - 2013, Jelsoft Enterprises Ltd.
thebestcasescenario.com