Follow Us On
---
Review: Skull Candy Full Metal Jackets
Welcome to the TBCS Community Forums forums.

You are currently viewing our boards as a guest which gives you limited access to view most discussions and access our other features. By joining our free community you will have access to post topics, communicate privately with other members (PM), respond to polls, upload content and access many other special features. Registration is fast, simple and absolutely free so please, join our community today!

If you have any problems with the registration process or your account login, please contact contact us.


07-24-2009, 11:51 PM
| | | | |
| --- | --- | --- | --- |
| | I came, I saw, I conquered | | |

Review: Skull Candy Full Metal Jackets
---

For some reason I seem to go through pairs of ear buds like most people go through toothpaste. I can't seem to keep a good pair for more than three months. After reading
scar~face's
review, and realizing I have an innate ability to kill headphones, I decided to buy a pair of Skullcandy SC-FMJ/
9mm.
After some time, the left ear bud stopped working. Thanks to Skullcandy'sfantastic warranty, all I had to do was send in the jack to the earbuds, and a letter explaining what happened. Within two weeksI received a package in the mail and to my surprise, I got an upgrade. Enter 11mm "Full Metal Jackets" (model number
FMJ/11mm/MacRed
) and a chance for me to write my first review!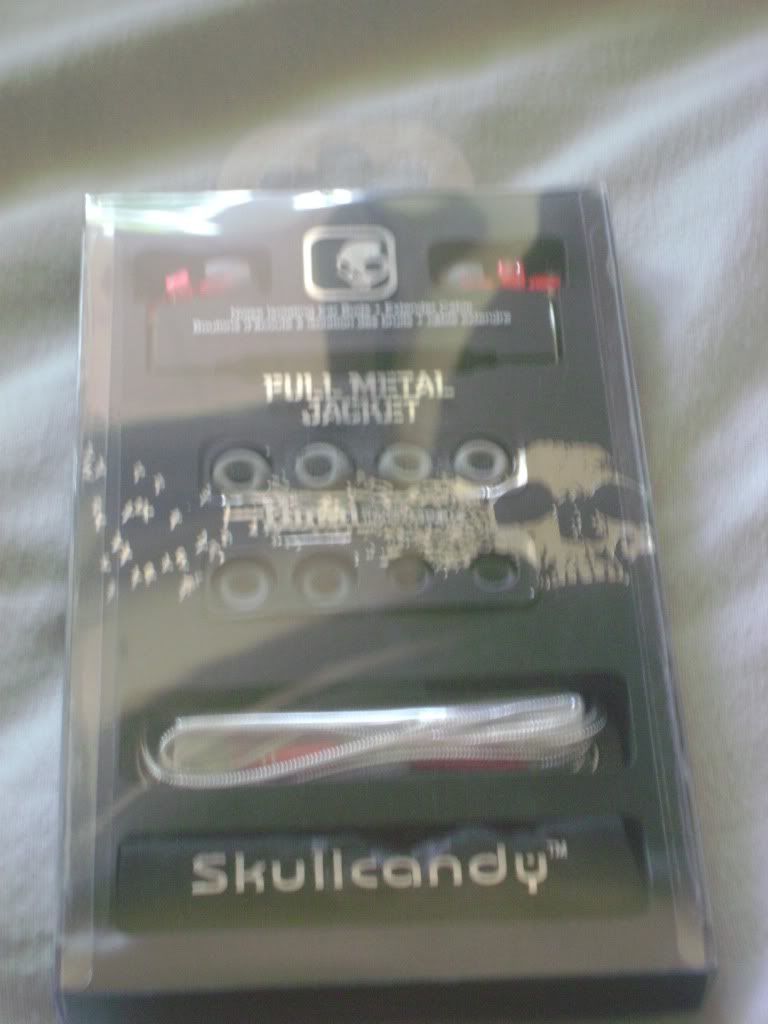 Super simple packaging! Can't go wrong with that. All you have to do is simply slip open the top and the formed foam part comes right out.
First thing I notice is the carefully designed package. Everything laid out in a symmetrical manner that shows off the contents without being flamboyant. Once I got everything out, I see the simplistic approach continued throughout. No gaudy stickers and other subtle advertisements to put on my Ipod. Nice, they aren't trying to kill the environment by wasting all that material.
After being pulled out of the plastic.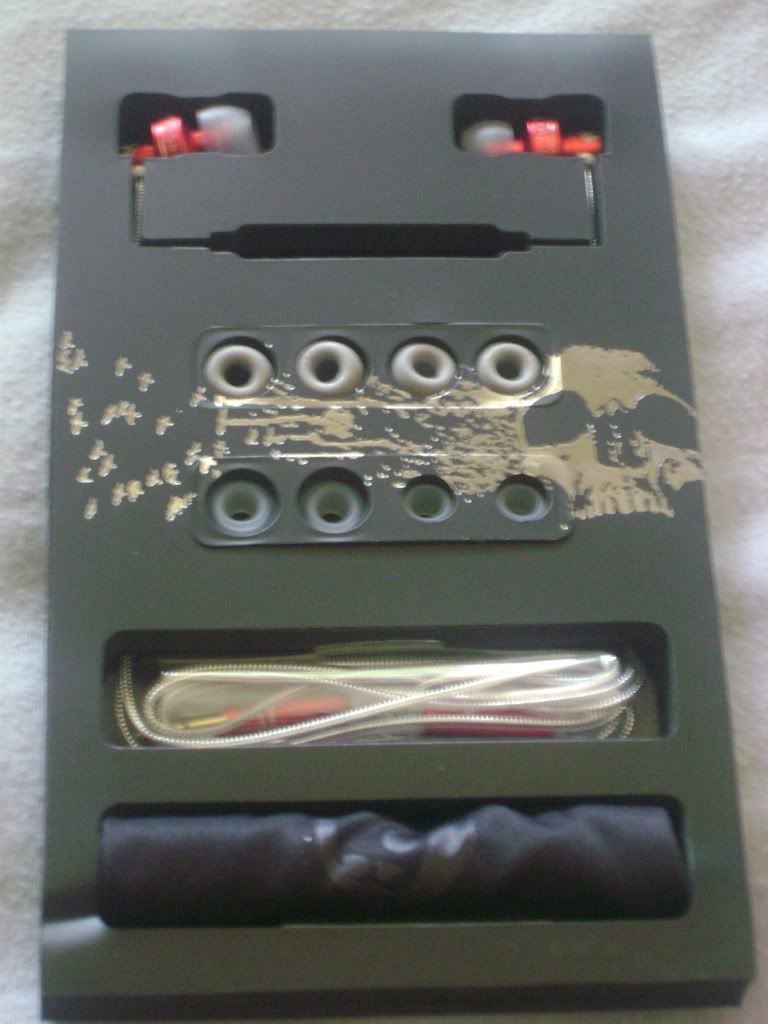 Now to the good stuff, the ear buds themselves. Now, it doesn't look like they have a lot to them, but this is definitely a case of 'more than meets the eye.'
One sexy shot of the ear buds.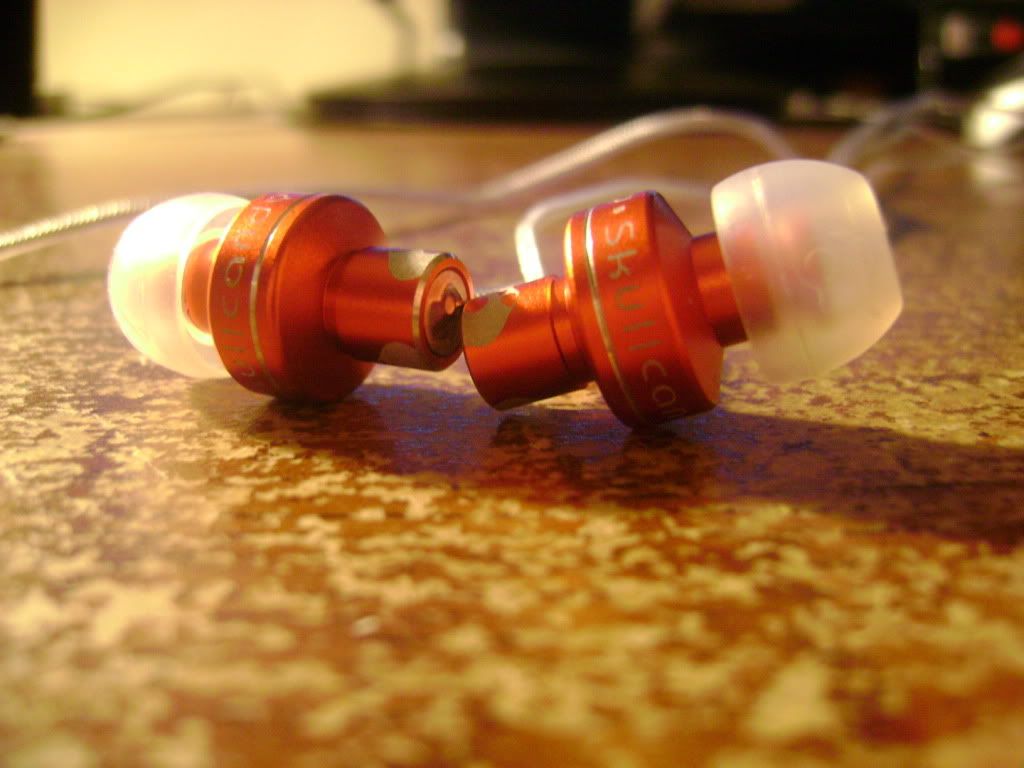 The package includes a nice cotton cloth pouch to keep the ear buds clean and safe.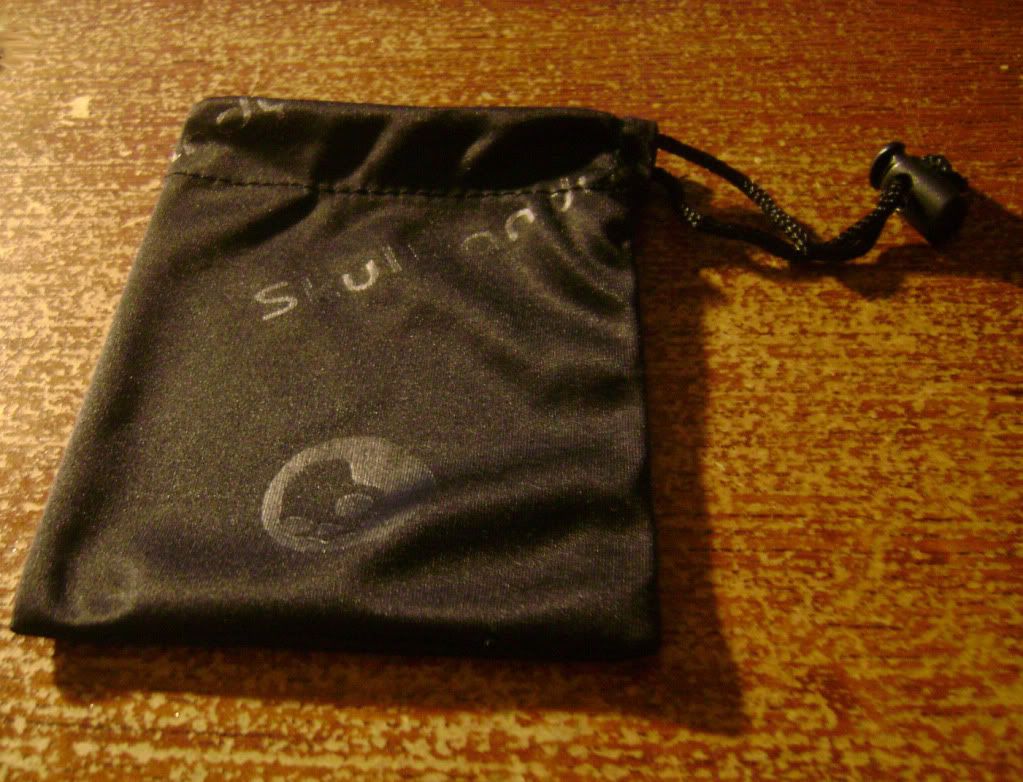 An awesome feature with these ear buds are the detachable rubber tips that fit in your ear. They supply you with three different sizes for any ear. Skullcandy also includes memory foam tips that really help with the noise canceling, and are very comfortable for long listening periods.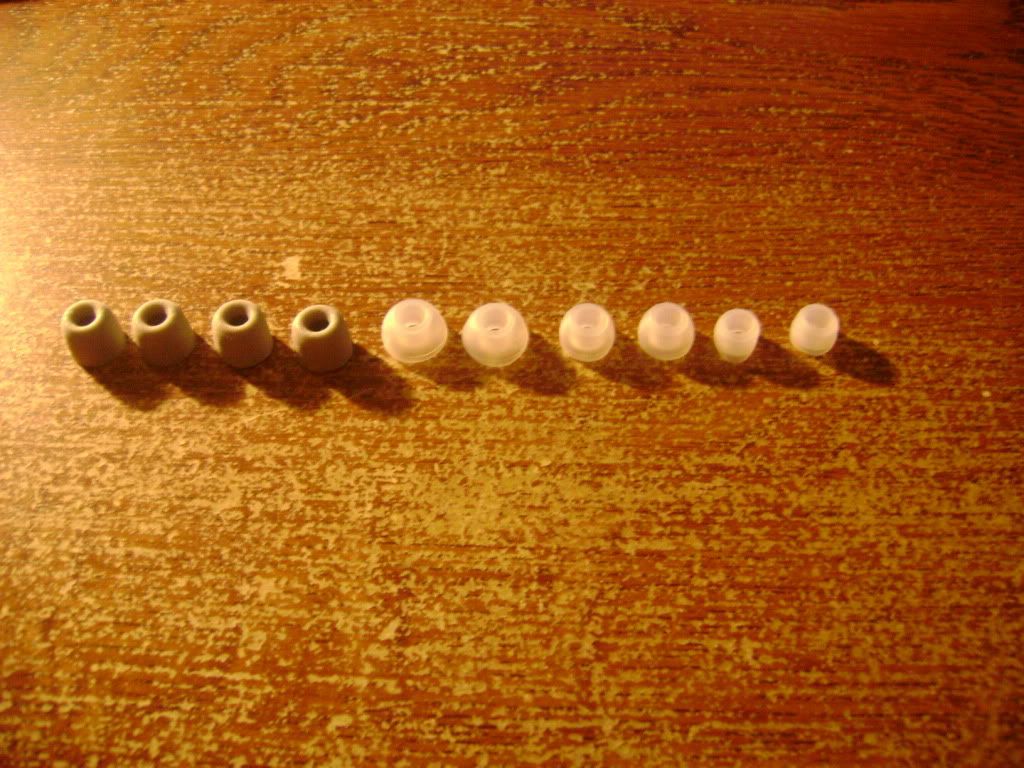 The FMJ's cable is short, which would be nice if you use your Ipod on an arm band. It also comes with an extender cable that makes them full length.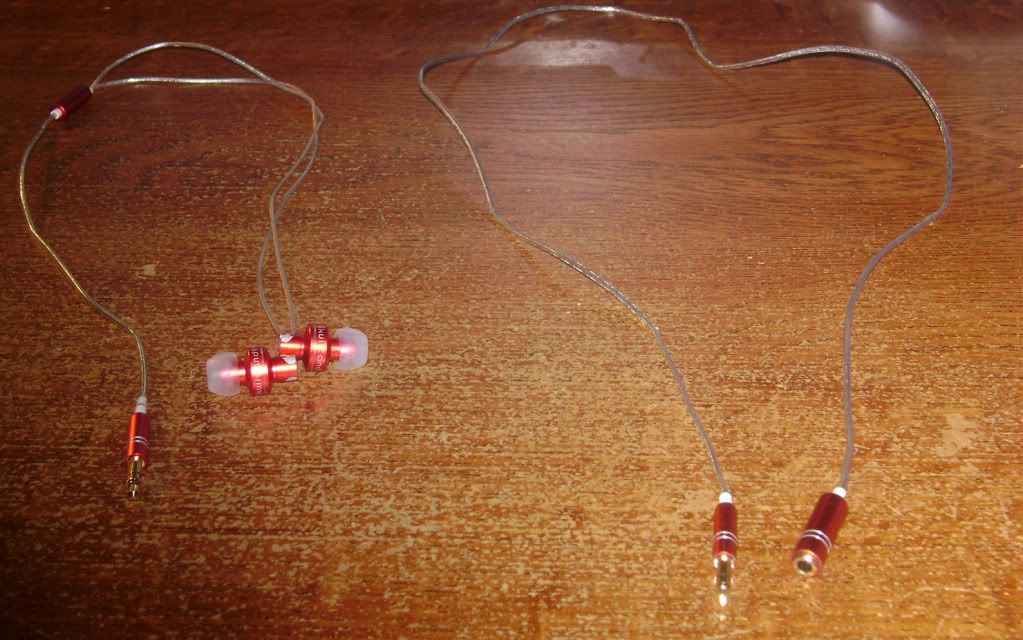 This extension cable also doubles as a quick-disconnect. If you're a skate boarder, or if you are just a klutz like me, this is a wonderful addition. In the event they get caught on something, the quick-disconnect will prevent you from breaking the wire. It takes a decent pull to get the plug undone, so you don't have to worry about it coming undone on its own.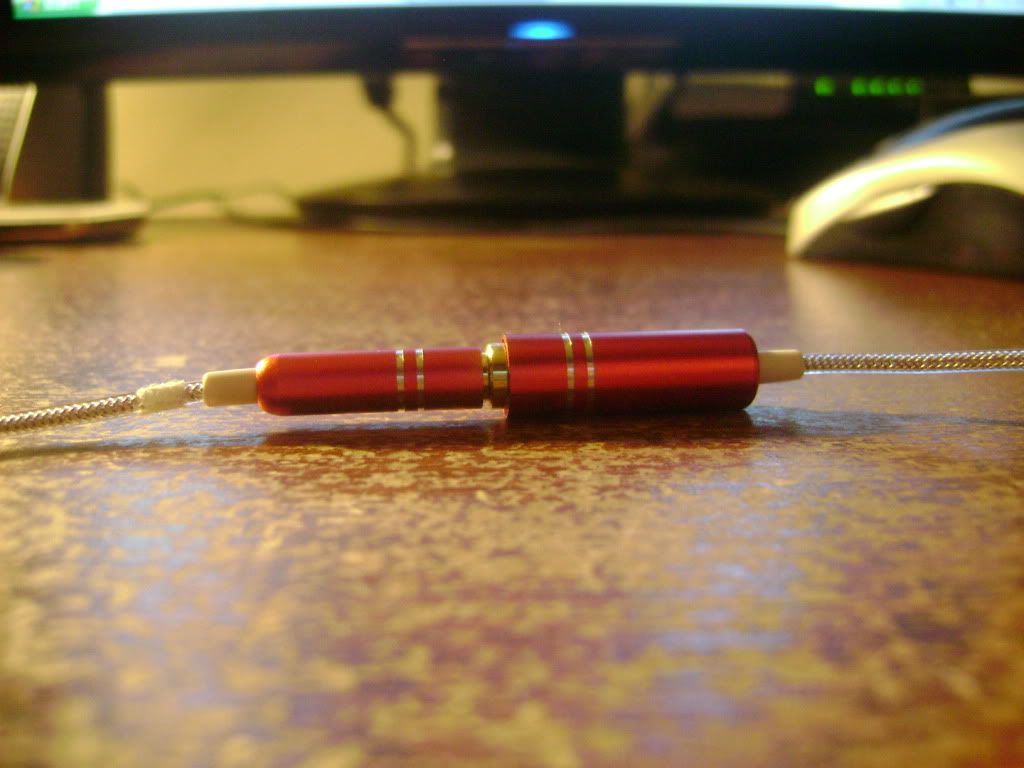 These are some of the best ear buds I have ever used. The sound quality is amazing and the bass response really is fantastic. Sometimes I feel as if I'm in the same room as the band! I listen to a lot of techno, and the sound reproduction was phenomenal. Clear and undistorted, even at high volumes. The foam surrounds offer effective noise cancelling as well as making them extremely comfortable. I've been using them in my living room the whole time I write this review and have yet to take them out because my ears were hurting.
This pair of ear buds does
NOT
have a in line volume controllers.
You can pick up the same pair of FMJ for 69.95 at Skullcandy's website,
Skullcandy.com
.
Skullcandy's description of the Full Metal Jackets is as follows: "Don't give away your smoking jacket just because you own a pair of Skullcandy Full Metal Jacket ear buds. The FMJ's metal housing and well-endowed speakers pump out a furious barrage of armor-piercing decibels that not even Wonder Woman's magical gold wristbands could withstand."
Also from Skullcandy;
"Skullcandy is proud to provide the best product warranty in the industry: if this product should fail in your lifetime, we will replace it at no charge. If the product is damaged by aggressive music listeners sliding down a rail, sliding down the emergency ramp of your aircraft, slammed in your locker, slammed in your car door run over by a car, running into a wall, getting run out of town, mountain biking, road biking, sky diving, beating your boyfriend unmercifully, getting beat down by the man, blown up in an experimentation with flammable substances, or damaged in any other everyday experience, it means you are living your life the way we want our product used! In these, or any other damaging events, we will replace the product for a 50% discount from retail.
Love, Skullcandy."
That is an example of their dedication to customer service, to which I can personally attest to as being fantastic.
The Specs;
Full Metal Jackets
Speaker diameter --> 11mm
Frequency response --> 16Hz-20K Hz
Impedance --> 16 ohms
Max input power --> 5mW
Cable type --> Silver braided (looks just plain awesome)
Cable Length 1.3 M
Plug type --> 3.5mm gold plated
Total weight --> 13g
The Pros;
Good Looking
Great sound quality with nice bass and crisp clear sound quality.
Nice packaging easy to get in to and keeps the ear buds safe.
Cool extender that makes these just a little less prone to getting stuck on something and damaging them.
Very good noise canceling or more noise reduction.
Very comfortable and includes some nice memory foam tips that conform to the ear.
No feedback when moving around like walking, riding bike, etc...
The Cons;
None that I have found so far. Only time will tell if these ear buds will live up to my standards for longevity and durability.
I would highly recommend these headphones. At $70, the price may seem a little steep, but rest assured they are more than worth it. When you stick these in your earholes and get lost in the music you will agree, they are worth every penny!

__________________
Quote:
[Kayin] 7:38 pm: Actually, during a hostile takeover, Satan's left nut and all his crabs beat Satan at the board meeting (he didn't know that his crabs held stock)
and so we're owned by a conglomerate of pubic lice and the left testicle of the Prince of the Powers of the Air.

07-24-2009, 11:58 PM
| | | | |
| --- | --- | --- | --- |
| | WWMD- What Would MacGyver Do? | | |

Re: Review: Skull Candy Full Metal Jackets
---
Looks good man
__________________
My name is Mark Hardware, and I approved this message.
Project; Mark1
(On hold until......)

07-25-2009, 12:26 AM
| | | | |
| --- | --- | --- | --- |
| | Sunshine Flavored Lollipops | | |

Re: Review: Skull Candy Full Metal Jackets
---
I've always loved Skull Candy. They make pretty decent stuff.
__________________
People are stupid; given proper motivation, almost anyone will believe almost anything. Because people are stupid, they will believe a lie because they want to believe it's true, or because they are afraid it might be true. People's heads are full of knowledge, facts, and beliefs, and most of it is false, yet they think it all true. People are stupid; they can only rarely tell the difference between a lie and the truth, and yet they are confident they can, and so are all the easier to fool.

07-28-2009, 04:31 AM
| | | | |
| --- | --- | --- | --- |
| | Project: Elegant-Li | | |

Re: Review: Skull Candy Full Metal Jackets
---
Scullcandy FTW!!! I have the GI cans and am looking to get a pair of these for listening to music on the go. I have used them before and like everything else Skullcandy that I have used it sounds great and is of the highest quality, don't ya just love their warranty statement lol. Nice review mate +rep.
| | |
| --- | --- |
| Posting Rules | |
Powered by vBulletin® Version 3.6.8
Copyright ©2000 - 2013, Jelsoft Enterprises Ltd.
thebestcasescenario.com