Search
Follow Us On
---
By jdbnsn at 2008-02-05 04:29
---
LiquiD Evolves!
TribalOverkill started Liquid Evolution almost a year and a half ago
making killer plexiglass reserviors for various watercooling setups.
Almost 37,000 views later, TO has come a long way with this one. The
reserviors were to be sold to any modders interested in them. The
first res named xPO325r was completed on February 7, 2006, and
completed pictures can be found here.
It features a clear acrylic tube with a wound green helix shape
inside. It also has a hand-made aluminum shield with aluminum
mounting brackets. It has a nice blue and green glow when lit up.
TO's second res for this project was POD254z. The idea for this res
was to have water go up a middle shaft in a fountain effect, and down
the sides. TO started this one out by making a plastic "bubble" out
of plexi with his heat gun. He placed it on top of a tube and added
the middle shaft. Initially things didn't go as planned, but TO made
it work in the end. Finished pictures can be found href="http://thebestcasescenario.com/forum/showpost.php?p=30243&postcount=53">here.
Up next for TO was the third res in the series, hAF534T. TO took a
plexi tube, and cut it in half (length-wise) for this one. After
adding the necessary mounting hardware, he mounted it to a wavy shaped
backing piece to finish it up. He made two of these res'es. Finished
pictures can be found here.
The next res was the sPL932G. This res had 2 ports, one for blue and
one for green coolant. Finished pics can be found href="http://thebestcasescenario.com/forum/showpost.php?p=31359&postcount=72">here.
After that, he started on the rSCB432s. These were all identical
res'es that he made a ton (32) that went to a modder, AC Ryan, and the
rest to Germany, in the style of xPO325r. Next up, xPRZ5331r and
sPT567dr. Instead of a coil running through the res'es, there were
rings. xPRZ5331r had UV green, and the sPT567dr had various "pods" of
coolant mixed about, and finished pictures can be found here,
along with videos. Then started the work on sPI9000z, the CaseJunkies
trophy reservoir. This had 2 plexi tentacles running up the inside,
along with an insane metal shield. Finished and glamor shots can be
found here.
TO started 3 custom orders, these with the plexi tentacles, and mini
propellers at the bottom. TO's last update is here,
and you can see the crazy work with propellers and his mastery with
plexi.
---
Care For A Ride?
One of our newer members, bschott, by who no means is a new to modding in any sense of the word has shown us what he can and has done with his 2003 debut, Christine. Based on the Steven King novel, Christine, he turned an old IBM dual 5 1/4 floppy PC into a 1957 Plymouth fury using the front grill from a 1960's Studebaker hawk. Bschott with the help of his good friend, David Groth, did some really nice metal work on the grill and working head lights. What did it for me though was the hood or bonnet for you Englishmen, feature showing off the engine as it were. This is definitely a mod for the car and pc enthusiasts to drool over. Topping this mod off is the matching hot rod red speakers, and keyboard that make it one sweet ride!


-Spawn-Inc
---
Up, Up, & Away!
What's a modder to do when they're running out of floor space and more equipment is on the way? Build up! Lately, many of our forum users have expressed interest in putting their rigs in racks. Enter floriske.nl. His latest project XIXIV, does just that. Incorporating 4 systems, this one covers all the bases we modders love. Custom cases, water cooling, loads of CCFL's and LED's, UV green acrylic, all housed in a towering custom cabinet. Don't miss out on this one, head on over to the forums to see more.
-SgtM
---
Don't Make Me Angry, You Wouldn't Like Me When I'm Angry
Many years ago, Dr. Bruce Banner fell victim to his own device when his gamma bomb blazed his DNA converting him into Marvel Comics most beloved anti-hero "The Incredible hulk". The Hulk (who's physique was clearly modelled after my own), often finds himself on the wrong side of the law due to his overwhelming urge to destroy his surroundings, ya just gotta respect that in a way. TBCS member "deathstarchris" picked up this inspiration and built one hell of a nice looking PC mod called "MaxPC" complete with motorized Hulky madness! Chris has built this mind-boggling bad boy for MaximumPC magazine and has posted a full motion video worklog and gallery that really show's it's flair. He has also taken a new approach to cable management, props for creativity dude! Don't miss out on the full sized shots of this beauty and many more mods here on TBCS!
quality="high" bgcolor="#000000" width="300" height="300" name="navigation"
align="middle" allowScriptAccess="sameDomain" allowFullScreen="false"
type="application/x-shockwave-flash"
pluginspage="http://www.macromedia.com/go/getflashplayer" />

quality="high" bgcolor="#000000" width="300" height="300"
name="presentation" align="middle" allowScriptAccess="sameDomain"
allowFullScreen="false" type="application/x-shockwave-flash"
pluginspage="http://www.macromedia.com/go/getflashplayer" />
---
Bite My Shiny, Metal Ass!
Welcome to duty! I am very pleased to bring you the final product of Danthegeek's valiant effort to turn an old army cooler into a mod worthy of a medal of valor. Dan came to us around a year ago with this idea and has recently finished what I consider to be a full metal triumph, the Battlefield 2 L.A.N. PC Mod. Dan decked this battle-can out with military style switches, mood lighting, and a paint job that assures it would be lost in the jungle. He also cut some seams and built a swiveling front bay door to stealth the hardware within. But aside from all this cool stuff, and the fact that it's based off of my favorite game is the remote detonator-power switch! Yes! He actually broke down a garage door opener and made his own wireless power button modelled beautifully after the C4 explosive detonator from BF2's special forces kit! You the man Dan, and we loved watching this project come to life!!!
---
Project NLM
Our friend from Denmark "jegerjon" has completed his whoop-ass case mod called Nano Lan Monster with spectacular results. Aside from the fact that he spells his name just like mine, other cool attributes include that fact that he is 16 and already nailed an extremely popular mod with a smashing worklog, his mod sports a peltier driven beer cooler (you heard me correctly), and he uses words like "Uber Nitzel". Jon has been a welcome addition to our coummunity and we are certainly looking forward to more exciting projects on the horizon!
---
Bite My Shiny, Metal Ass!
Bender Bending Rodrigez from Tijuana, Mexico is the lovable cook for the Planet Express Shipping company founded by Professor Hubert J. Farnsworth. He has a 6 year old body and a 1063 year old head, both of which are made of 30% iron, 40% zinc, 40% titanium, 40% dolomite, and unknown quanitity of osmium, and a 0.04% nickel impurity. He quit his job bending girders to prepare nauseating meals for his chums at the shipping company though his ultimate goal in life is to become a man-bot folk singer who "kills all humans". One of our new members, DaVo, has built a shining tribute to Matt Groening's robot character from Futurama that doesn't disappoint. DaVo hails from Madrid, Spain and is a member of the Planet Express Klan modders. He dropped by to share his first mod with us and we're so glad he did because many of us are Futurama fanatics. The Bender Mod sports an MDF base with lots of cool colored plexi, fans, sheet metal, and was built with that emotion I understand is called love. Bender is a liquid cooled case with a can of Mom's Old-Fashioned Robot Oil for a reservoir and also has a webcam cleverly mounted in his man-tenna. This fully functional PC mod is sure to strike a tone in the hearts of modders and Futurama buffs alike. Welcome DaVo and thanks for sharing!
---
We Be Moddin'
---
I'll take things that start with the letter "E" for 600
Most epiphanies are experienced during rushes of endorphins, hmmm.... I'd like to welcome Dae Ja Voo to the TBCS scene who hails from South Africa and brought with him some awesome projects to display. Years ago, Dae Ja Voo was flipping through a copy of CustomPC Mag and his eyes met with the famous and stunning Orac3 mod built by Peter Dickison, and so Dae Ja was hooked. In tribute to his inspiration, he and his modding apprentice Jack produced his first and very impressive case mod called Epiphany. Epiphany is based off of Orac3 with some variations that you'll love, but maintaining that shiny shower hose goodness of the original. If that weren't enough, he's also begun his latest mod called Endorphin (yes, he owns a dictionary). Endorphin is an original mod of a Shuttle XPC SN26P sporting lots of red plexi and cool gadgetry, you owe it to yourself to visit this worklog.

In other news, our Dutch friend Franklin was kind enough to put together an excellent tutorial on how to make custom fiberglass forms, great pics and demos and he plans to add more as he moves along with the ultra cool scratch built casemod "Evolutionary"
.
New to TBCS? Live in the world? Add yourself to the TBCS world Frappr Map and join the legions of independent artists worldwide that makes up this lively community.
---
Mods, Mods, and More Mods
---
TBCS Has Been Made
The Maker's Faire was a triumphant success! CrimsonSky, Airbozo, and myself had fun setting up the display mods and did they ever shine. Lots of folks came by and were mesmerized by Doom 3's motorized doors, eerie effects, and smoky steam vents. Project Nighthawk drew it's fair share of on-lookers as well and we had plenty on our hands keeping a friendly rotation at the controls of the triple monitor setup while people played Microsoft Flight Simulator IV. The Microsoft Makers were a delightful group of young professionals and we were treated very well, can't wait until next year!
The forums have been energized with activity lately, we have been seeing lots of new faces and plenty of new projects springing up. One new addition to the TBCS team is Omega. We recently recruited Omega to spear-head the new TBCS Modcast Project, details of which will be revealed at a later date. Welcome aboard Omega!
The Mod Gallery is filled with a huge variety of one-of-a-kind mods including some classics and the most recent builds, it's a great place to get inspired. Below are are few examples of what's on display, worth while reading material!
Don't forget about the Modder's Challenge #3: Project Vandal-Proof PC, time is running out and you still have a good shot if you enter a good idea soon. The deadline has been extended to allow some of our member's time to finish final exams so you now have until June 15th 11:59PM GMT. Get to it!
---
Mods Away!
Ladies and gentlemen, boys and girls, step right up! Be the first to bear witness to the awe-inspiring, death-defying, chills and thrills that is CrimsonSky's creations! That's right everyone, our favorite mods will be out of Crimson's basement and on display for all to see at the Maker's Faire in San Mateo Bay area next weekend and all who are able are encouraged to attend. This is gonna be fun too! CrimsonSky has been hard at work carefully packing the Doom3: Project Mars City and Project Nighthawk Mods to ready them for shipment to Cali. In between sessions of duct-taping and sweeping up packing peanuts, he decided to build a stage for the Doom3 mod to sit on for proper elevation and better display. Any old thing will do, just six sides and slap on a coat of paint right? Wrong! Suffering a relapse of his "can't help myself from building bad-assed creations" condition (usually preceeded by the shakes), CrimsonSky turned out this beautiful and well suited stage to match his mod. And it doubles as a storage cabinet while he's away from the booth. Nice work, man!
Don't forget to work on your entry for the Modder's Challenge #3:Project Vandal-Proof PC. You have 19 days left to get your idea ready for submission and your name in the Modder's Challenge Conqueror's Club (it's quite exclusive). If you have just woken up from a cryo-nap and are unaware of the current Modder's Challenge, click here to read the details, there is still plenty of time to claim your fame.
Pseudo-newcomer "filimon" has been dazzling us lately with his die-cast stainless steel creations, he has already finished a stainless steel mouse mod and a stainless fan mod on display in our new Completed Mod Gallery Peripherals section. But now he is working on his latest and greatest build, Project:"Ctrl-Alt-Delete". This one will blow your mind, so don't miss out on this cryptic and creative worklog coming of age as we speak! Great job once again filimon!
---
---
Planes, Trains, & Intergalactic Spaceships
Now I know Boddaker is no stranger to you, he is the guy who had recently brought us the Mystique2 mod as well as several other excellent works. His latest project, The Battlestar Galactica Mod is living up to his repuation and is coming along stellar! He does not limit his creations to computing however, take a moment and check out some of his larger than life work on his webite BodsMods.com Great work once again Boddaker!
Last up but definately not least is a story of legacy, of lineage, of family pride, and of a father & son modding team that is making most of us look weak! You are going to love the work coming from our young friend "Nerdy" who happens to be the son of an also new but well-known member "Wannabemodder" (Geez guys, who's pickin' your screen-names?). While his father has been toiling away at replicating CrimsonSky's Doom3 Blastdoor project using the same mechanics as in the original, young Nerdy decided to re-design the actuator using an old H.O. scale train engine and a strip of track!!! The force is strong with this one... So please drop in and check out Nerdy's project Blast Door LCD Screen Mod Jr. and cheer him on while you're there, you won't be disappointed in what these two have been up to!
---
Creations-A-Plenty
There is so much going on in the forums lately, I wish I had time to tell you more. I would however like to showcase a few projects that have been scoring plenty of well deserved attention lately starting with the Blast Door Project which is based on the blast door from Crimson Sky's Doom3 mod and replicated by the TBCS member "Wannabemodder" who's screen-name is quite the misnomer. He has recently gotten to the stage at which he has a working blast door to display for our amazement and has even been so kind as to post two videos of his masterpiece in action, Woot!
video of blast door mounted in case
video of stand-alone blast door module
This next one is off the hook! Our new friend "danthegeek" who evidently shares my obsession with Battlefield 2 has been working on his project Battlefield 2 L.A.N. PC and wanted to find a way to remote-start his computer (lazy ass!). So his solution was to build a working, wireless, remote button designed to look just like the detonator control for C4 explosives carried by the special forces class in BF2! He also posted an excellent tutorial on how to build your own remote power device, damn cool idea bro!
Now this last project is a story of perseverance and an unwillingness to submit when the chips are down. Our friend "Phalen" from Cape Town South Africa started this hella-cool mod "BSG-Cylon Raider" based off of the series Battlestar Gallactica (I'm guessing she's a fan) way back in June of 06'. Well her mod which was being fashioned out of a large chunk of foam to be later cast in fiberglass took a tumble and suffered moderate structural damage, but she looked adversity straight in the eye and reached for a can of polyfiller restoring the model to it's former glory. Then, as if the forces of darkness had regrouped to strike another blow, her project was sabotaged by her modding cat who had evidently fallen under the spell of some evil influence and the feline clawed the the thing to pieces! Oh the humoddity! But did that stop our hero Phalen? Hell no, she recently revived her project by asking the gents over at modelhead.com to re-cast the structure so she can get back to what's important in life, modding. Long story short (too late), I highly recommend you drop in and take a gander at Phalen's work as you will be very impressed with what she's done already. Welcome back Phalen!!!
---
Modding Education
We are proud to bring to you the first online display of King Tut's treasure! The pharoah? Hell no, even better! The king of airbrushing tutorials, Commando has been dropping one after another of his awesome how-to's giving insight into his extreme airbrushing skills. As one of our treasured members Commando has been sharing some great tips on how to get your airbrush to work some magic. We have an ever-expanding library of tutorials posted in the Tips, Tricks, and Tutorials section on countless subjects including painting, metalworking, electronics, bondo basics, and many more. We welcome you to come in and learn something new, and if you have something to contribute then don't hesitate to spread the knowledge as we are always on the lookout for new ideas and talent. And if airbrushing is your interest, then check out Commando's lessons on:
-Tricked Out Tribal Flames
-Airbrushing Flames
-Simulating A Carbon-Fiber Effect
-Digital Camoflauge Effect
-Weathered Metal Effects
-Easy Rivets
And to be sure, there will be more to come. Commando has his own website where he displays all of the work and holds forum discussions based completely on airbrushing, you should check it out also! Thanks for the contributions Commando, and same to everyone else who has shared their knowledge with the rest of the modding community!


---
Our Other Dutch Master
Last week we showcased _ferry_'s pimped out project which is headed for the Dutch Casemod Championship, but we would be remiss if we didn't also throw the thumbs up at our other Dutch friend Franklin. Franklin dropped in rather quietly one day and posted a completed pic of his first casemod "AlumaxX" which triggered a cascade of requests from us to see his full worklog (see it here). He is now working
on his next masterpiece "Evolutionary" which is shaping up nicely. It is a scratch-build case which features an aluminum frame, RC-shocks, fiberglass molding, and lots of sponsors. Although Franklin will
not be entering this sweet rig in the Dutch Championship, there is a large audience of wide-eyed on-lookers here in the forums. Drop in and check out this Dutch Master's worklog and cheer him on!
Also not to be overlooked is one damn fine metallic mouse make-over. Our new friend Filimon dropped in to show us what can become of a simple Microsoft IntelliMouse Optical when you replace over 90% of it with custom cast stainless steel skin. This mouse gots mo' bling than
50 cent's grill and displays some serious metalworking skill. You gotta check this out! (click below)
---
We Brought Our Wooden Shoes
Our friend _ferry_ from the Netherlands has returned, put "Project Alien Hospital" on hold and begun a new
project "Chemical Industrial" which he is entering in the Dutch Casemod Championship! We have already seen plenty of intriguing design
and craftsmanship from _ferry_ in both projects, so I invite you to dive in and check out the action as it unfolds. Let's all wish him luck in
his competition and watch this Dutch dude do his thang!
---
Smooth Moves
Welcome one and all to thebestcasescenario.com! This website is called home by many creative artists, builders, and technology
enthusiasts alike. For those of you whom may be unfamiliar, it is my distinct pleasure to introduce the founder/owner of this
site; Paul Capello (AKA Crimson Sky). Paul has been on the pioneering edge of computer modding for almost as long as it's been
on the map and has created some of the most celebrated and original computer mods in the business. Although some of these works
have been on display with our forums and webpage, Paul has recently been releasing some very exciting video footage of his
dynamic creations for us to get an up-close and personal view of how these things work.


Among the mods taking the stage; yours,
mine, and everyone else's single favorite computer in existance, DOOM 3-Project Mars City!!! Along with the video footage, he has
expanded his gallery with some beautiful photographs of his entire mod-folio including some old worklog (in-progress) footage for
some of his earlier builds. There are many extremely skilled modders both inside and outside of this forum's community who have
earned their place in the spotlight for outstanding work and creativity and they deserve their credit as well. But today I'd like
showcase one of the dudes who helped bring the art of computer modding to all of us and inspired us to never be satisfied with the
ordinary. So with that in mind, click below and enjoy a tour of the Crimson Sky Collection!
---
Featured Worklog
It moves...It blinks...It speaks...It Rules! If you are new here, you may not know of "it".
If you are a TBCS member and know of "it", you surely can't believe "it". Of course I'm speaking of the
long term project of a dental lab technician who has some serious Franken-skills. Willettfx has been oooo'ing
and ahhh'ing us for a couple of years now while he has been building his animatronic project: MonsterMod, and it's
coming together in a breathtaking way. His project features life-like motion of a scratch built monster
skull by over 20 servos controlled by his computer software. His software coordinates the eye movements
to appear so realistic you'll lose your mind! He also dubbs voice overs in creepy growling tones complete with
servo controlled lip movements to match. The skin is molded from his own scuplted masterpiece and he is now adding
the color and punched hair follicles. Willettfx has been so kind as to post many teaser vids of his creature in action
throughout his worklog which are clipped from his How-to DVD he plans to release when the project is complete. I'm telling
you, this project has something for everyone so drop in and say hello to the Mad Scientist himself.
---
Bang Your Head!
Bang Your Head...Metal Health Will Drive You Mad! Okay, if you recognize those lyrics you may feel as
old as I do and for that I'm sorry. But while we're headbangin', let's take a look at another metal maniac.
Introducing JRSCAcura from Ontario, Canada! JR has been giving his old Dell XPS 600 a facelift that Mad Max
would be proud of in his project: Heavy Metal (Goodbye plastic), I approve JR, I approve! You should drop in
and take a look at those pimped out fan-boxes he built from stainless steel, they rock! Keep up the fine work
JR!
In other news, the TGS contest for best PC repair horror story has come to an end and a winner has prevailed!
Congratulations to isunktheship for his rather unusual and highly entertaining tale about a troublesome wabbit
named "Cheerios". Click below to read the side-splitting story.
---
It's Our World Now
One of the things that makes TBCS such a interesting place is the fact that modders from all over the world
gather here to share their work. In fact if you haven't already, you should add your name to the "FRAPPR" world
map and see just how many neighbors you have. Today I'd like to give you the skinny on two fellas reigning
from Brazil and have both been giving us some great updates in their worklogs. First we have Pedro who is
building his "Water Alien Rebirth" project. He's had some great ideas and put tremendous effort into his mod
and I think you'll enjoy checking out his worklog.
Next up is Rodrigo. He has some mad dremel skills and is putting them to use on his project "The Tribal's Case".
You are gonna love what he has done with the place. Great job to both of you and we always want to hear from our
brothers and sisters around the world and see what they can do!
Don't forget that the "TGS Contest"
ends on Feb. 16th at 5:31PM Eastern Time USA so if you have a tale to tell, get in on the action!
---
One Hot January
Commando is turning up the heat on his new project "The Green Ghost" featured above along with his "Hot Rod Mouse". He has been dazzling many of us with his airbrushing skills and was kind enough to share his experiences with us when I asked. Here is what he had to say;
"I've been airbrushing on and off again for around 2 years. I just recently bought a new airbrush and started getting back into it. I really have to give credit to the guys at this board for the great links and suggestions that took my mediocre painting to the next level. The clearcoat is really where you make your money and I never could get it right until I stumbled upon one of the great painting tutorials on this board by crazybillybob. I finally was able to start to see that great automotive like finish.
I'm currently using an Iwata Eclipse CS airbrush and a 3 gallon 1hp compressor by Craftsman. I use Duplicolor Enamel spray paint for my primer and base colors. I use both Createx and Auto Air airbrush paints for the airbrush work. I use Duplicolor Clear Enamel for the clearcoat. I really enjoy hanging out at this board and and having people interested in your work is always awesome."
Thanks for the info and good luck with the rest of your project! Also, big thanks to sgtm for letting me borrow his "burning text" for the header of this post, I couldn't pass it up! Another thing that I want to mention is that Dave has been asking for everyone who has a completed worklog to please send him a link via private message so he can start filling up our gallery. Keep up the great work everyone, cheers!
---
New Year Hi-Resolution
Ah Yeah, January is already smokin' out some great new mods and modders. These worklogs are showing great potential and new ideas are springing up constantly. Liquid is evolving in Tribal's workshop, this man promised to knock your socks off and he always keeps his promises. Drop by and watch his new reservoirs in video action! (Warning! Viewing Tribaloverkill's Liquidevolution videos for prolonged periods of time can lead to seizures, salivation, envy, and smashing your face up against your monitor, you have been warned.)
Another new hero is making a name for himself here as well, fir3b4ll has been in the modding scene for a while but recently we've been getting some great 3D mock-ups from him and his worklog "ut2k7" is an impressive themed mod based on Unreal Tournament 2007. The 3D mock-up in his first post is so realistic, I thought it was a finished mod for the longest time, you gotta check this out.
Now for some trivia, below is a photo of a custom made linear actuator mechanism designed to open a tambour (same concept as a garage door) type door. It was built using the motor from a CD-ROM drive; name the TBCS modder who built this device then click the image to see if you're right.
---
Happy New Year Modders!
---
Artistic Health Assesment
First off I have to say Happy Birthday to our Great Scot friend DaveW!!! Hope it's a good one buddy. You may not be aware of how much work Dave is doing on our website to spice up the environment, but you will see when he's done with everything that he is making an wonderful contribution to help keep our community alive and inspired. 3 Cheers for Dave!
Be my guest and take this handy personality assesment tool and discover how inclined you are to an exciting career in computer modding. It's very simple, answer each multiple choice question and when you're done tally 1 point for each "A", 2 points for each "B", etc, that you have chosen. Add the total and click the "Results" link at the bottom to see if you have what it takes. Good luck!
1. You've just finished a huge meal at Sizzlin' Steaks and you're stuffed. Just one more trip to the buffet line for desert, you choose...

A) Just 1 scoop of vanilla please!

B) Two scoops of swirl and a tablespoon of sprinkles!

C) One large bowl of no less than 2 types of iced cream, a piece of carrot cake, 2 brownies, and a barf-bag!

D) One large plate (unless the trays look half clean) of every type of iced cream and topping available. On top of that, a layer of brownies/M&M's/Skittles grouted with whipped cream (plus 2 hits in the mouth) in a beautiful mosaic pattern. This layer features your best rendition of the Mona Lisa sketched in hot fudge.
2. You are between paychecks and money is tight. You are living exclusively on oatmeal and ramen noodles. You recently noticed that your computer is running a bit hot. You...

A) Just shut down the computer and call Geek Squad when you get caught up on the bills.

B) Remove all the side panels on your computer and direct a series of fans at the case to blow off the excess heat.

C) Have hacked 2 garden hoses to pieces and along with 3 rolls of duct tape built a rudimentary watercooling system from the kitchen faucet that drains out onto the patio.

D) You have already completed B & C as well as sent dozens of emails to MIT's physics dept as well as Los Alamos Natl. Lab in New Mexico requesting any information regarding recent breakthroughs in thermal conductivity or the availablity of "reactor coolant".
3. Your neighbor has just one-up'ed you again by buying a new, bright-red computer with orange flame stickers on the case. For a dignified answer to this obvious instigation you will need…

A) Your neighbor's permission to play Worlds of Warcraft on his new computer.

B) The entry code to your neighbor's home security system.

C) To take out another credit card to buy the most bad-ass gaming rig that your creditors will approve.

D) A beize-stock case, 2 gallons of Bondo, an acetylene torch, rivet gun, drill press, bench grinder, jig-saw, Dremel, special order automotive paint, 3000 LED's, 60ft of shrink-tube, and 2 weeks of paid vacation.


---
We're Making An Impression
I have seen the signs of a charged modding community lately, and I love it! There have been some new projects springing up
as well as some older mods coming back to life. It's a very exciting time we are experiencing here in the forums and it is going to
get even more exciting very soon. If you haven't already you should check out the
"Community PC" idea that chedabob has proposed
which has taken on a life of it's own. Thus far it consists of donated parts and community brainstorming and will be built by our
very own Crimson_Sky!!! Take a look and see if there is something you can contribute as it's an idea for everyone to build on. If
you are new here and want to find out what this is all about then you should just jump right in and start cruising the forums to see
some of the great work being done. This is a great place to learn about the artistic side of what modding is, to get ideas of what
to do with your computer to jazz it up, or just meet like minded folks who enjoy discussing modding. And unless you are new, you no
doubt know the name "Tribaloverkill", well guess who's back in the saddle?
That's right! Tribal has been busy working on some custom parts for a large order, but now that he is nearly finished he will be
finishing up some of the Liquid Evolution ideas as well as the famous
"Blackout" and he says he has new new stuff coming soon so stay
tuned! If you haven't seen any of his work, you owe it to yourself to see this very inspiring artist at work. Check it out!
---
Happy Holidays Modders!
'Twas a month before Christmas and all through the house, no component looked standard, no keyboard or mouse;

"ESIX" etched a window for the first time with care, where once it was boring now his logo is there.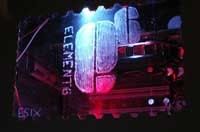 The modders were nestled all snug in their beds, while paint chips and Bondo flaked off of their heads;

Now Slug Toy and I will be telling the story, of the case modder's antics, ideas, and glory.

It was Dave who shouted out, "What's this non-modding chatter?", the case crackers bored? I must find the matter;

Away from the Chatterbox I clicked like a flash, slipped over to worklogs and flipped through the stash.

The screen resolution of my Dell LCD, made the shots in the worklogs delightful to see;

When what to my wondering eyes could be better? Than FyreKnight's sweet scratch-built ""V" for Vendetta."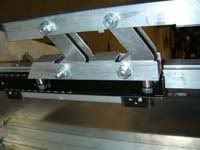 Next over to Mod Talk to see what they're using, I'm clicking so fast that my fingers are bruising;

Wow, decals! Wow, shrinktube! Wow, spraypaint and cathodes! On, styrene! On, Bondo! On, plexi and servos!

Then I snuck down the page with inquisitive prowess, and I glanced all about through the Works In Progress;

Seeing thread after thread my eyes did there find, like elves making toys, modders slave to the grind!

There's Airbozo's "Bubble Gum Mod" just getting goin', and jreffy's "Project Savage" where some red liquids flowin'.
Well this can be said, and said without stutter, that TBCS modders can build like no other;

With Dremels in-hand and duct tape nearby, you'll show us the limits reach well past the sky.

Now I must take my leave and get me some rest, and dream of this scenario, these cases, the best;

So to all the enthusiasts and friends that are dear, Merry Christmas to you and have a Happy New Year!
---
More Power!
TBCS has been drawing some new faces lately, and one of those new faces is drawing some extra amps! We are happy to welcome slytherock to the forums who brought with him his innovative project "Double
PSU" for us to admire. Video editing takes a lot of storage, and stacks of
hard drives take lots of juice. Sly's solution was befitting of a modder, take
two power supplies and squeeze them into one shiny box! We approve! (WARNING:
This is dangerous! Opening up a power supply is one of the few ways you can
get hurt badly while modding your computer so do not attempt.)
And if that weren't enough, maybe some grade A modeling would strike your fancy. _ferry_, another newcomer has
been doing some incredible work on his

Project Alien Hospital which is starting to look eerily cool! A recent
update portrays some fantastic detail work and genuine creativity (our favorite
'round here). Great job to both of you and to everyone out there who is putting
a little of themselves into what they do, and welcome home!
Powered by vBulletin® Version 3.6.8
Copyright ©2000 - 2013, Jelsoft Enterprises Ltd.
thebestcasescenario.com