Follow Us On
---
Review: Logitech G25 USB Racing Wheel
Welcome to the TBCS Community Forums forums.

You are currently viewing our boards as a guest which gives you limited access to view most discussions and access our other features. By joining our free community you will have access to post topics, communicate privately with other members (PM), respond to polls, upload content and access many other special features. Registration is fast, simple and absolutely free so please, join our community today!

If you have any problems with the registration process or your account login, please contact contact us.


05-30-2008, 01:58 AM
| | | | |
| --- | --- | --- | --- |
| | I mod everything I touch. | | |

Review: Logitech G25 USB Racing Wheel
---
I got the Logitech G25 Racing wheel today, and have been using it non-stop for about 8 hours now, heres my review:
Logitech G25 USB Racing Wheel Review
Purchase:
I purchased it from
Tigerdirect for $228
(+$18 in Shipping). The G25 usually goes for around $250-$300.
Specs:
-Stainless Steel Wheel, Paddle Shifters and Pedals
-6 Gear H-Pattern & Sequential Shifter with Clutch
-Real Leather-wrapped 11" Wheel
-12 Buttons (includes 2 Paddle Shifters) and D-Pad
-900° Steering
-Variable Pedal Resistances
-Dual Motor Force Feedback
-Desk clamps on Wheel Unit and Shifter Unit
-Carpet grip on Pedal Unit
-Compatible with PC, PS2 & PS3
-USB Interface
Unpacking:
When I got it in the mail from Tigerdirect it not only came in a very large box filled with "popcorn", but it also came inside another box (aside from the product box). Obviously this had gotten here without any damage. The outside of the box is your typical high-end green-and-black Logitech design.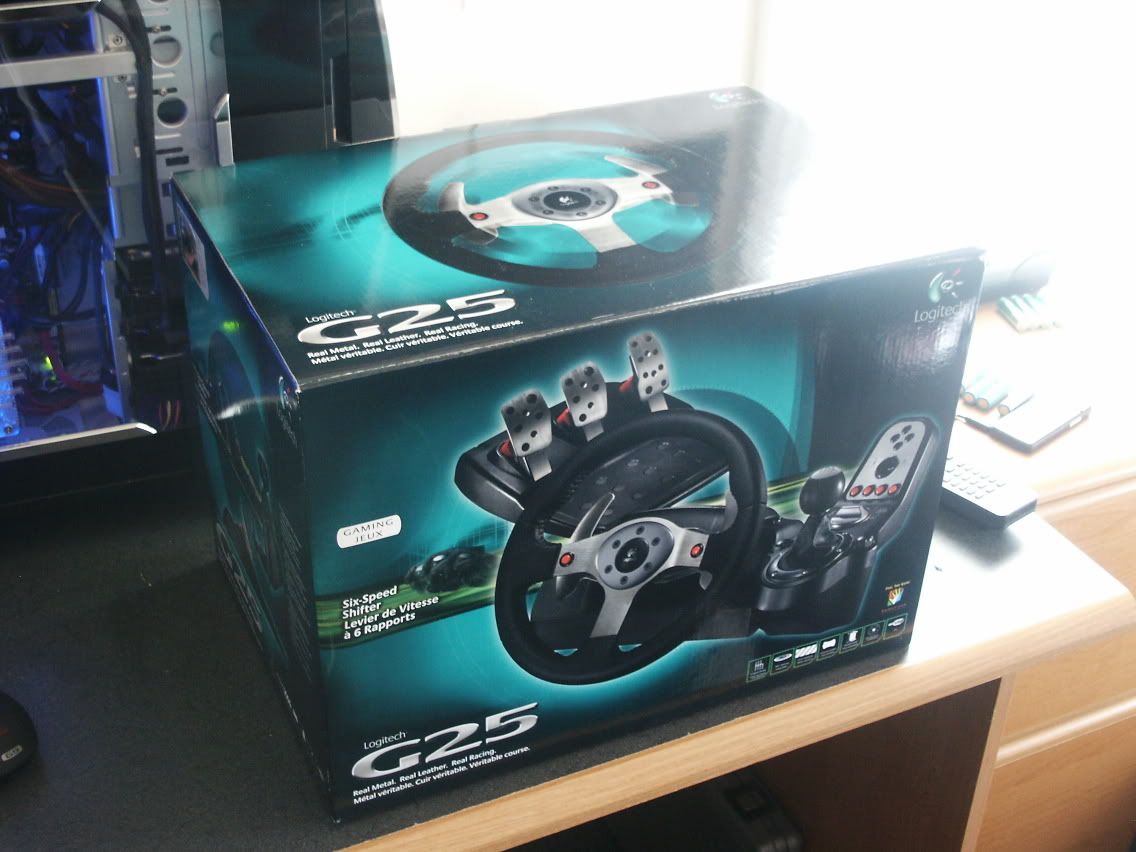 The front lists the main features while the back goes into a more detailed description of the wheel.
Opening the box you'll find everything compartmentalized. I was in such a hurry to get everything set up that I forgot to take a picture with everything in the box. Just so you know how it looks here is a picture from another review.
Each item is individually wrapped in plastic.
Contents:
In the box you'll find the Wheel, Shifter, Pedals, AC Adapter and a packet with the manual and a few discs.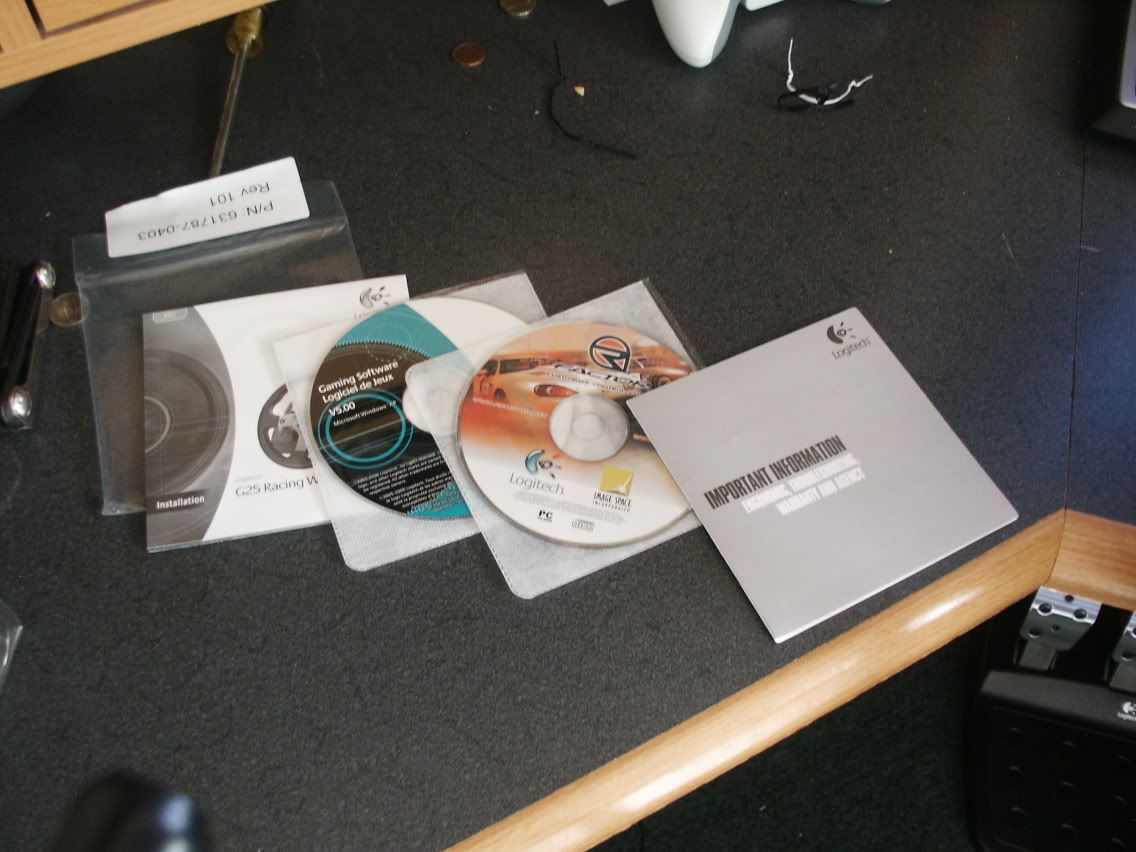 Sadly, Logitech doesn't include Windows Vista drivers on the CD, so I threw it aside and downloaded the latest drivers off of their site. Also included here is a trial version of rFactor, a simulation-style racing game.
The Wheel:
The very first thing I noticed when removing the wheel was the strong smell of real leather.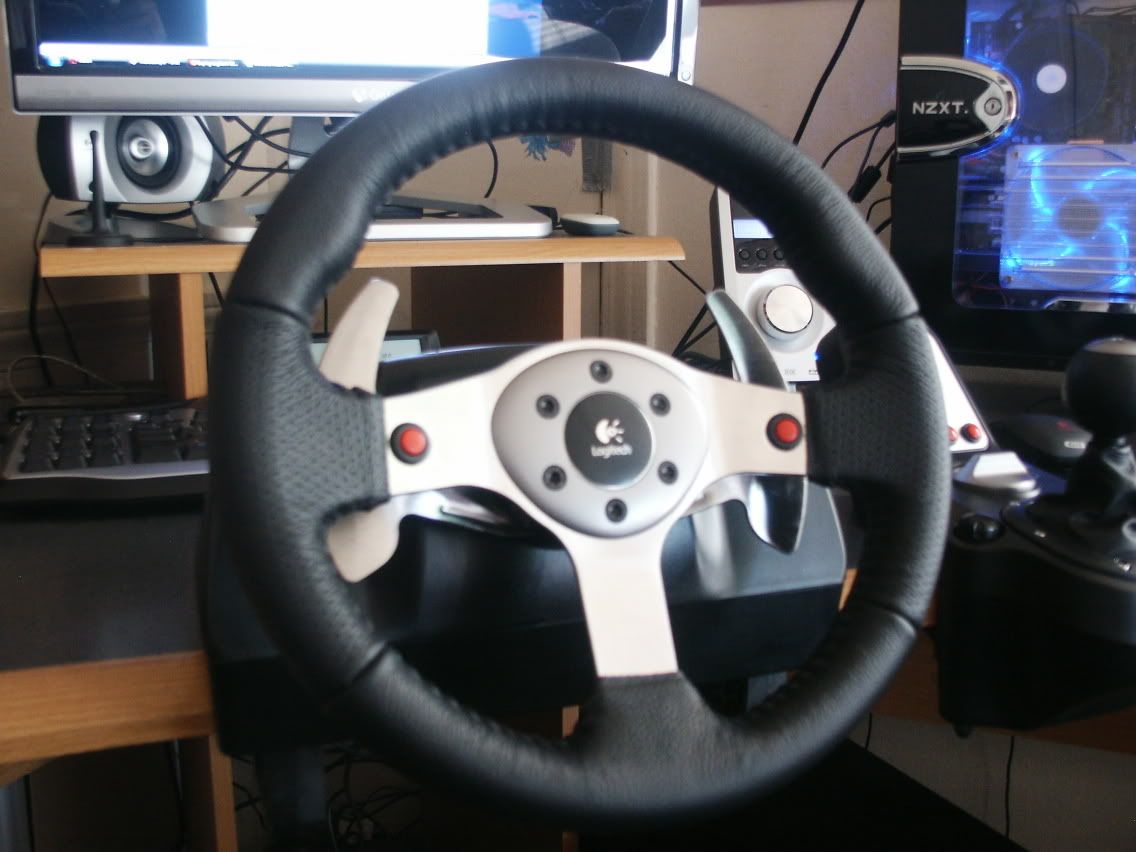 Yeah thats right; this Racing wheel is wrapped in hand-stitched leather. But that is only the first place you'll find high build quality on this wheel. You will notice that the wheel, along with the paddle-shifters are made out of stainless steel. The second thing I personally noticed was the size of the wheel. This was my only real disappointment with the G25. Though, at 11", the G25 is on par with most racing wheels I was expecting a full-size or near full-size wheel, and I feel that either those would have made this a 100% perfect product.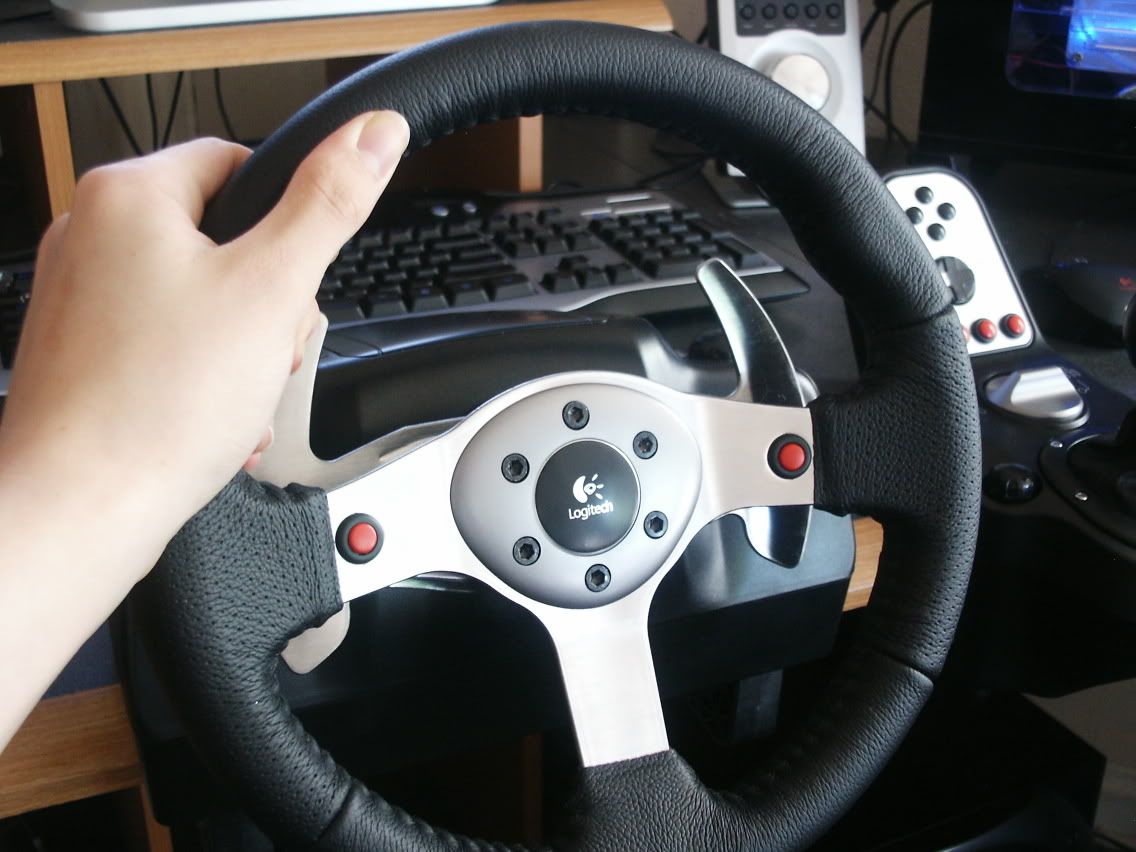 On the wheel frame you'll find two red buttons. It can be noted that the wheel is mounted using a standard 6-bolt mount, so modders out there can attach their own wheels to this system. The body of the wheel unit houses the "brains" of the unit and the dual-motor force feedback system. The body is made out of high-quality black plastic and has a car-front-bumper design on the front (back?) of the wheel. On the underside you'll find the USB, Shifter, Pedal and AC connections.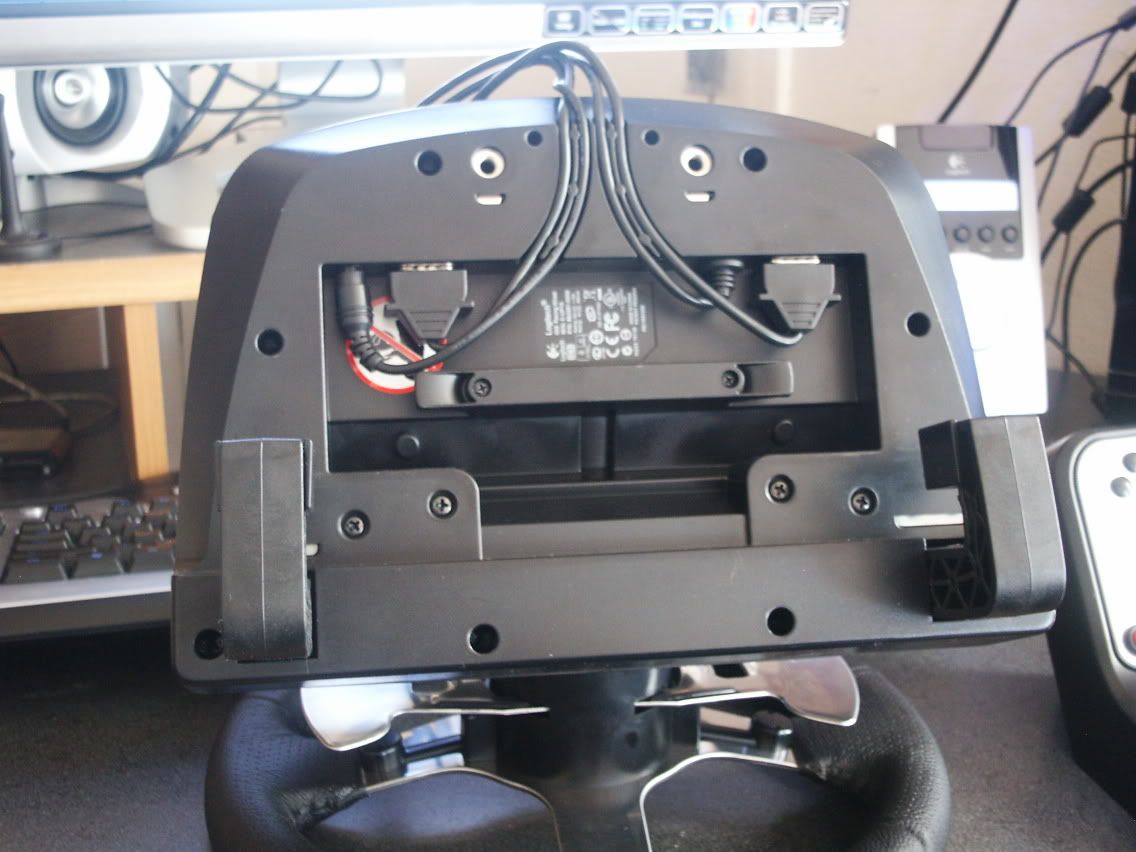 Logitech chose to put cable-grooves on the bottom to allow the unit to rest flush with the desk surface. You may also notice that there is a hook to wrap your excess wire around. The Shifter and Pedals use a serial cable to connect to the main unit, more on that in "Setup". Here on the bottom, you can find the mounting clamps, also more on these in "Setup".
The Pedals continue the trend of top build quality with the stainless steel pedal frames and high-quality plastic body.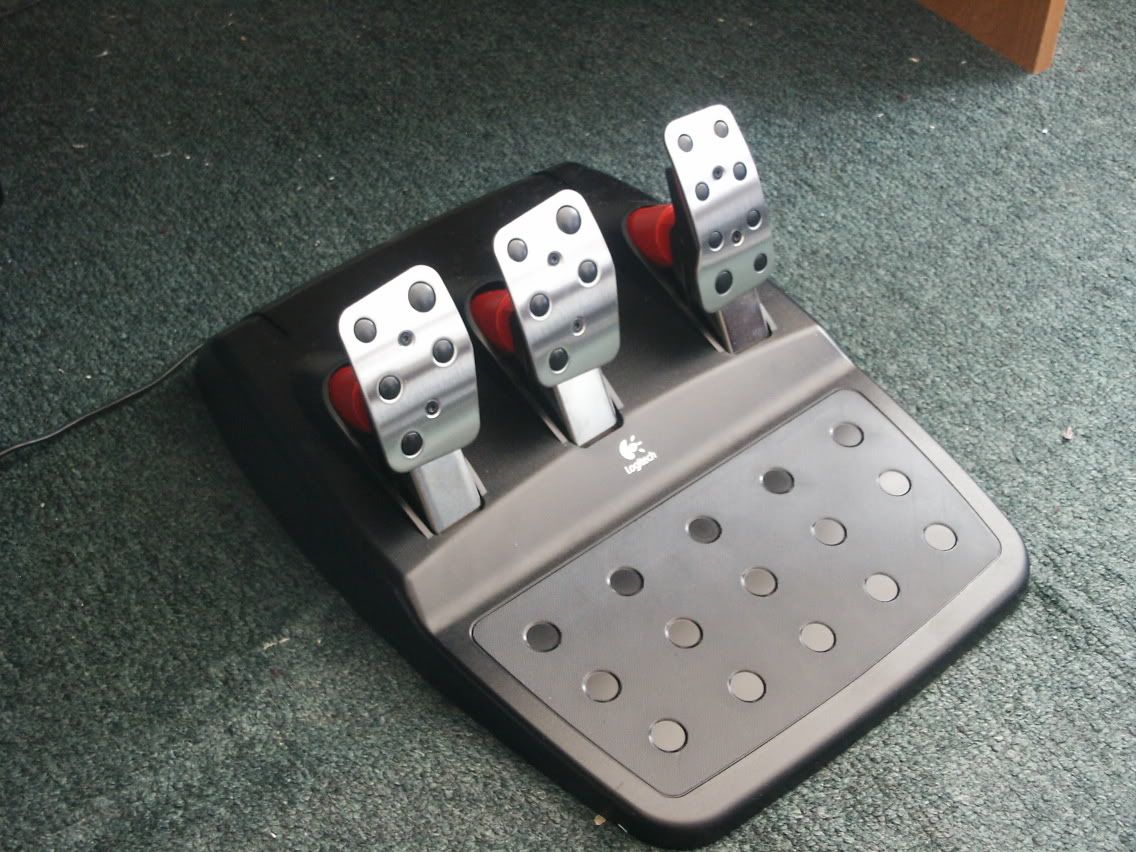 Like a real car, each pedal has varying degrees of resistance: The Gas has the least, the brake has the most and the clutch is somewhere in between. The area where you rest your heel is textured and guarantees they will not slip. On the underside you'll find the rubber feet and carpet grip. The carpet grip is simply a grid of pins that will grab onto the carpet and hold the unit in place. It will retract for hard floors, and is deployed with the release of a latch. Here is an animation: (also stolen from another review :p)
The last main part is the shifter unit. This is the most noticeable and important difference between the G25 and your standard racing wheel. The shifter of course, follows suit with the other two parts and is comprised of stainless steel (shifter rod), leather (shifter boot and knob), and high quality plastic.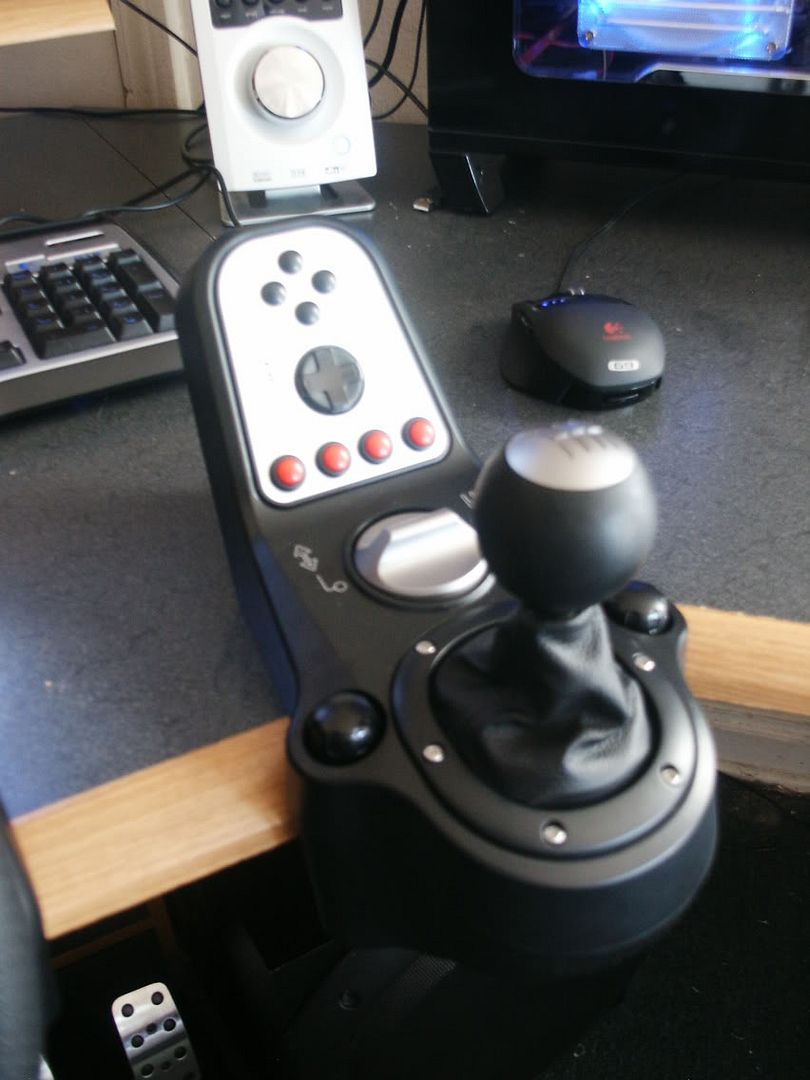 There are 8 buttons and a d-pad found on the shifter. In addition there is a dial which (when the knob is pressed down) allows you to change the shifting mode between H-Pattern and Sequential.
When in H-Pattern it shifts in, well, an H-Pattern like your typical manual car. And also like a real car your press the knob down and shift into 6th position to go in reverse. When in sequential the shifter simply moves up and down more like a drag racing car. To shift into reverse you press down on the knob and shift down. Sadly support for the H-Pattern shifter is limited. Each position on the shifter acts as its own button, so your game will require a separate assignment for each gear. Over on the bottom you'll find the shifter's clamps. They are exactly like the wheel clamps except there is an additional clamp that you screw on.
Logitech has overlooked very few features on this system. So much so that they have even included bolt holes for mounting the G25 onto a racing frame or similar setup.
Setup
Setting up the G25 was very straight forward. The first order of business was connecting everything up. The Pedals and Shifter each connect using serial cable connections. To avoid confusion Logitech made the Shifter connection Male-Female and the Pedal connection Female-Male. Unless you connect them together
, you can't make a mistake when hooking these up. After wrapping up the extra wire and routing them in the grooves I mounted the wheel on the desk. I placed the wheel on the desk and proceeded to tighten the clamps. After the clamps are tightened you press down the knobs to lock them in place. It can be noted that the edge of my desk is rounded not square, so this mechanism didn't work 100%; strong movement on the wheel could loosen it from the desk. Mind you, this only on my desk, I am very sure this system works perfectly fine on normal desks. Next I mounted the shifter unit, a process which was also very straight forward. Lastly being on a carpet, I deployed the carpet grabber on the pedal unit. Here the G25 setup in all of its glory: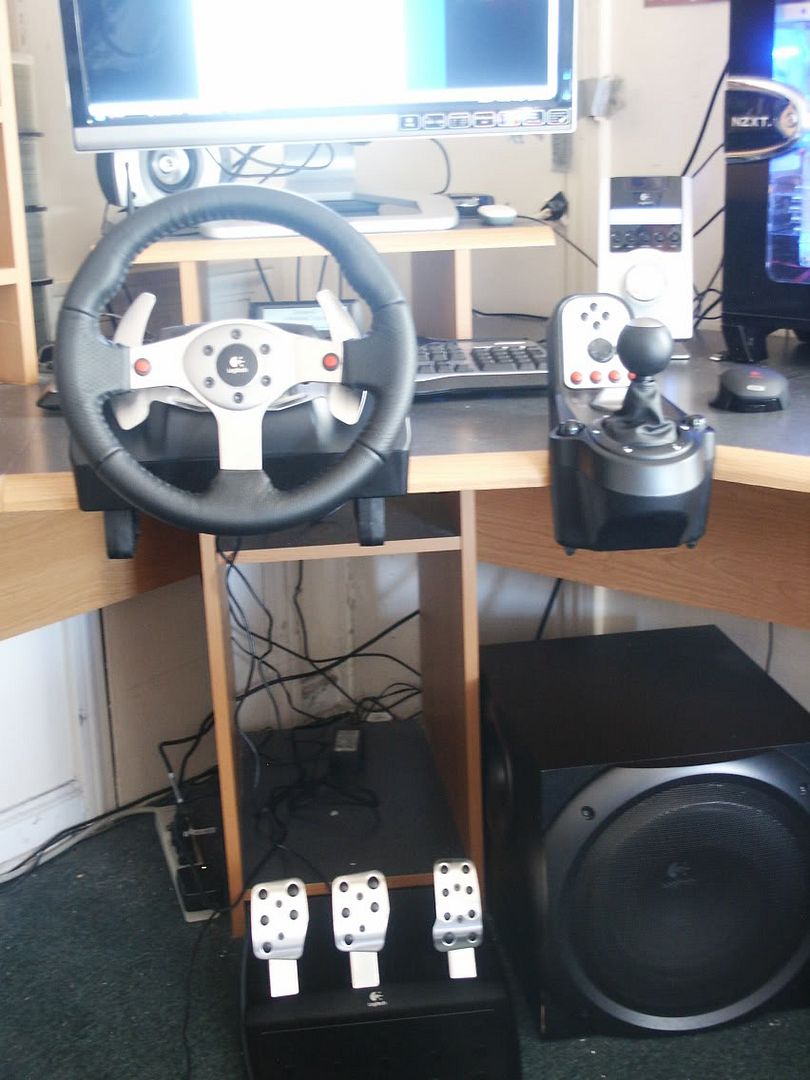 Software
The included configuration software is much like the G15 configuration. It allows you to change the device specific settings along with creating game-specific profiles included wheel settings and button configurations. From the main screen you can re-assign all of the buttons:
In the device configuration menu you can change the rotation degrees, levels of force-feedback and centering-spring power. The centering spring setting changes how easy it is to turn the wheel away from the neutral position and how easily the wheel returns to the neutral position on its own.
In the Windows controller configuration window you can see all of the wheel's buttons and axes.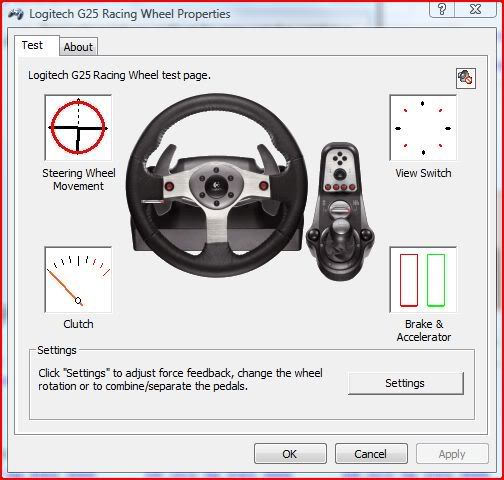 05-30-2008, 01:58 AM
| | | | |
| --- | --- | --- | --- |
| | I mod everything I touch. | | |

Re: Review: Logitech G25 USB Racing Wheel
---
Performance/Use
To test out the G25 I tried out 3 games; Test Drive Unlimited, Need for Speed Most Wanted and the Grid Demo. As soon as I went in Test Drive Unlimited, the wheel was recognized, though I still had to configure the button layout. I found that I had plenty of buttons for all of the functions, but this was where I really noticed that theres no E-Brake on the G25! This is no big deal to me personally but I'm kinda suprised that they didn't include one, based on what I've seen so far. Anyway, I got the 6-Speed Gearbox setup (TDU is one of the few games supporting it), and got to driving. Since I was new to this I tried it out on a Nissan Skyline and just drove around instead of doing a race. I already encounter my first problem; I'm terrible at manual! Despite my failure I was able to evaluate the experience. Shifting, though it doesn't feel
exactly
like a real car is very fluid. I had no problems shifting through gears whatsoever. The steering however had me worried. There was no resistance at all, the wheel nearly spun freely and it didn't feel right. In addition, hitting objects or curbs felt extremely amplified and often tore the wheel out of my hand, turning a bad crash or simple mistake into a fatal-ones. Though this is a negative, it does show how strong the motors on the wheel really are. I tried it out like this for a while, and eventually could not stand it anymore. I went into the TDU Options and
lowered
the force feedback to about 20%. Finally that felt right. However, the steering was still weak, it was very loose and the wheel did not return to a neutral position by itself when the car moved forward. Since there was no visible setting in-game, I went to the Logitech configuration panel. Thank god, they have that. I turn it up to 40% and life was good. Now the driving felt right: the wheel had resistance based on speed and returned to it's neutral position if I let go of the wheel and drove forward. Now that it wasn't breaking my hands, I could really appreciate the quality of the force feedback mechanism on the G25. It works very, very well and the feedback feels realistic. In fact the feedback is so detailed that you can feel the car under or oversteer or begin to loose traction. Its an advantage really. I know realised how much more accurate my driving was compared to when I was on the Xbox 360 Controller. Light turns are smooth and complicated maneuvers like weaving in and out of cars was a breeze, instead of a jerky crash and burn affair with the joystick.
Well after all that fun in Test Drive Unlimited I moved onto the Grid demo. This unlike Test Drive, really required no fine-tuning, which is suprising considering it is more of a simulation-type game. I set the buttons and was off. Everything worked the way it should. Turning was smooth and the Force-feedback was responsive. Overall a huge improvement over the Xbox 360 controller I had been previously using. Sadly the Grid demo didn't support the H-Pattern Shifter so I set the Shifter to sequential and used it like that.
Need for Speed Most Wanted was the last game I tried this wheel out on. Like Grid, it doesnt support the H-Pattern so I was once again stuck with Sequential (but that isn't a huge deal). Need for Speed was also greatly improved, and brought a new dimension of enjoyment into it. Overall the experience was just the same as with TDU and Grid.
This whole time I was gaming, I was very comfortable using the wheel, shifter and pedals (despite my terrible layout). I am still a little disappointed with the size of the wheel but I am quickly getting over it. Turning the wheel, shifting and pressing on the pedals were all extremely solid and realistic. Using this wheel had honestly made my games more enjoyable, and has allowed my to use more advanced driving techniques.
[b]Conclusions[b]
Despite a few "hiccups" in getting started, I don't think I could have enjoyed a racing wheel anymore. The build quality of the system is amazing, and it is an absolute joy to use. As far as peripherals have gone this probably the closest to instant gratification I've ever gotten. Though it has a hefty price tag, it is worth every penny. Logitech obviously put a lot of thought into the design and features of the G25, and have rewarded themselves with a top-notch product. If you are into any racing game that is more advanced than say, Mario Kart
, then I would highly recommend the G25 to you.
Pros:
-Amazing Build Quality
-Realistic Racing Experience
-Shifter is awesome
-Powerful
and
detailed force-feedback

Cons:
-May be too small of a wheel for some
-Requires a bit of adjustment
-Clamp system isn't quite perfect

Ease of Use: 9
Build Quality: 10
Performance: 10
Software: 9
Overall: 9.5
-Indybird

05-30-2008, 03:38 PM
| | | | |
| --- | --- | --- | --- |
| | Overclocking Guru | | |

Re: Review: Logitech G25 USB Racing Wheel
---
Wow, Nice review. +REP

I may have to pick one of these up, I broke my last wheel...
__________________
Quote:
Originally Posted by
Lothair

I guess it's just widely used and has had some of the best people in the world work on it, costing a ridiculous amount of money, for no actual reason. :/
Have you checked out the front page lately?
Projects:
Moe's Tavern
| Sponsored by:
Mimo Monitors
,
Crucial
,
Thermaltake
Book Of Knowledge

05-30-2008, 04:00 PM
| | | |
| --- | --- | --- |
| Is awesome | | |

Re: Review: Logitech G25 USB Racing Wheel
---
Nice. I love that wheel.
__________________
You love my sig.
| | |
| --- | --- |
| Posting Rules | |
Powered by vBulletin® Version 3.6.8
Copyright ©2000 - 2013, Jelsoft Enterprises Ltd.
thebestcasescenario.com