Follow Us On
---
iTouch Box Coil Gun
Welcome to the TBCS Community Forums forums.

You are currently viewing our boards as a guest which gives you limited access to view most discussions and access our other features. By joining our free community you will have access to post topics, communicate privately with other members (PM), respond to polls, upload content and access many other special features. Registration is fast, simple and absolutely free so please, join our community today!

If you have any problems with the registration process or your account login, please contact contact us.
| | |
| --- | --- |
| | |

03-21-2009, 02:32 PM
| | | | |
| --- | --- | --- | --- |
| | If you can't hack it, you don't own it! | | |

iTouch Box Coil Gun (Updated 4-28-09)
---
I have always wanted to make one of these. We made crude liner actuator motors in high school electronics class but they had a fixed level of travel. Then about a year ago I was googling random things and came across a coil gun site. So I started researching and came up with a prototype that utilized 15 330v 80uF photo flash capacitors. This new Capacitor bank will contain 30 of those same capacitors. This will give me a stored energy value of 330v 2400uf. That's 100 Joules of stored energy if I got my maths right. Its no where near the energy that some people push through a coil to launch a projectile but I should be able to send an 8p nail with the head cut off through a soda can. That will be fine by me as I am not looking for something deadly , but rather a novelty to show off to other geeky friends.
This is where the warnings come into play. This capacitor bank stores enough electrical energy to kill you. If you short the leads from the capacitor bank with a screw driver the result will be a huge plasma spark , loud pop, and the wires welded to the screw driver. The flash is just as dangerous as the arch from a welding electrode so do no look at it with bare eyes. Unless you have experience with high voltage you should avoid trying this at home. I take no responsibility for you causing injury or death to your self.
So now its time for some photos..
The box my iTouch came in. The top is covered in blue tape and put to the side to prevent scratching.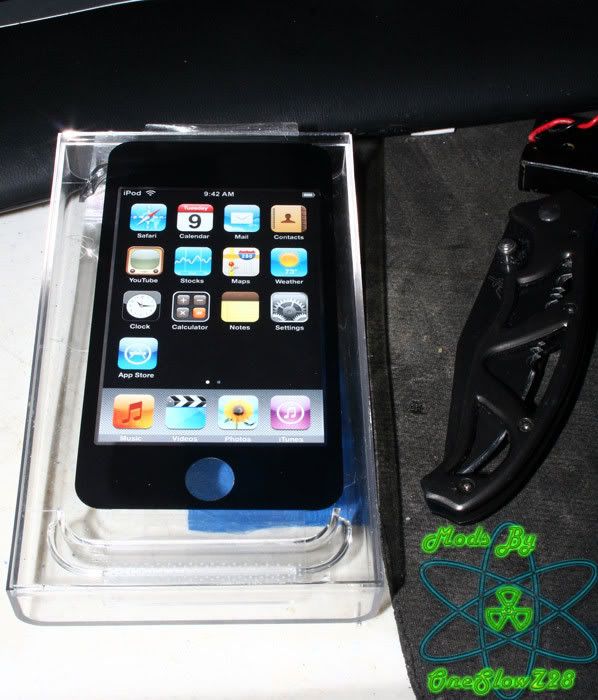 1/3 of my capacitor bank. Its made from 330v 80uf photo flash capacitors I salvaged from used disposable cameras. For a working voltage ofXXXX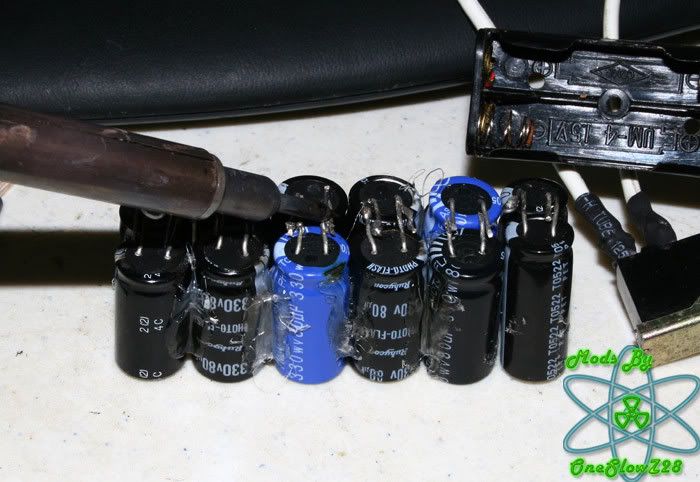 A close up of 1/3 of the bank.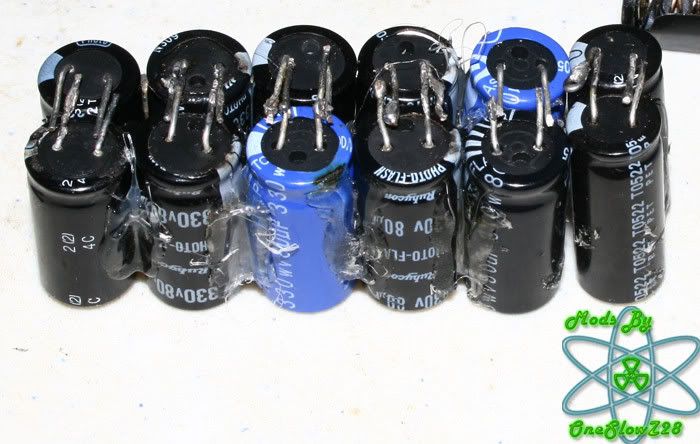 I will be using the power switch out of an old HP case that was at least 10 years old. Its rated for 15 amps and will not be welded shut from the high voltage surge that will flow through it during firing. I will be powering the charging circuit with 2AAA batteries.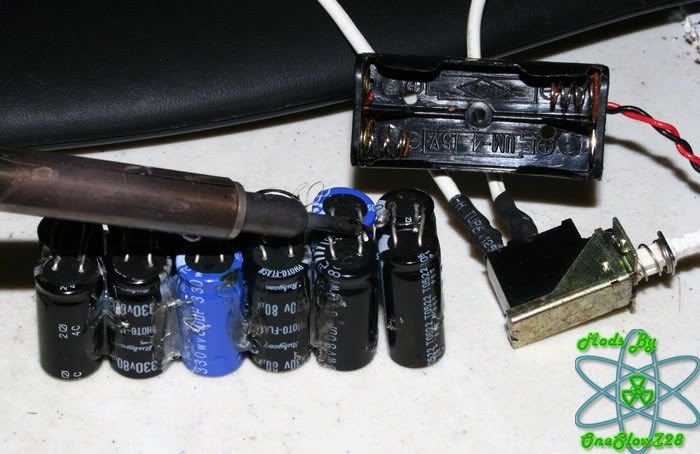 Top of the charging circuit. Also salvaged from a disposable camera. The LED will light up with the bank is fully charged. Notice that I removed the xeon flash tube as well as the capacitor. The 2 white wires are: 1 is for the switch to make the bank charge. The other will be the lead wires that will actually feed the capacitors.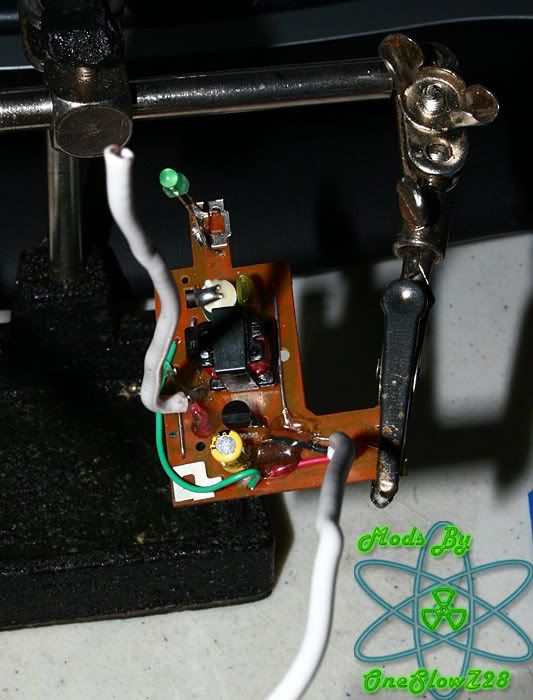 The bottom of the charging circuit. The soldering looks a tad crappy but I will make it look better when I get a new tip for my Iron.
That's it for today. I will try to have more posted tomorrow. Thanks for looking and please comment.

03-21-2009, 07:30 PM
| | | | |
| --- | --- | --- | --- |
| | Spam Sniper | | |

Re: iTouch Box Coil Gun
---
Cool project. Can't wait to see more. +rep
__________________
Rick

XBOX controller mod
-
Sub to me on YouTube
XBOX controller mod
-
Set your text on fire!
-
Photoshop carbon fiber
-
Fun with LEDs
Airbrushing Tips

03-22-2009, 09:42 PM
| | | | |
| --- | --- | --- | --- |
| | If you can't hack it, you don't own it! | | |

Re: iTouch Box Coil Gun
---
Got a little more work done on the project today. After test fitting everything I realized that I will only be able to fit 20 of the 330v 80uF caps into the box. This will mean a loss of 800uF but I think I can compensate for that with the coil. You will notice that the charging board is a different one. I accidentally managed to lift a pad while re-soldering the wires for the charge switch. So I found a suitable replacement. Unfortunately I fried this board because I was not smart enough to realize that it was powered by a small 1v off sized battery and the magic smoke came out when I hooked the 2 AAA to it. To solve this problem in the future I will be re-wiring the batter holder to run the batteries in parallel.
Ok pic time.
I wanted a way to experiment with different coils to get the maximum distance and power out of it. Digging through my junk box I found a set of binding post. These should work nice.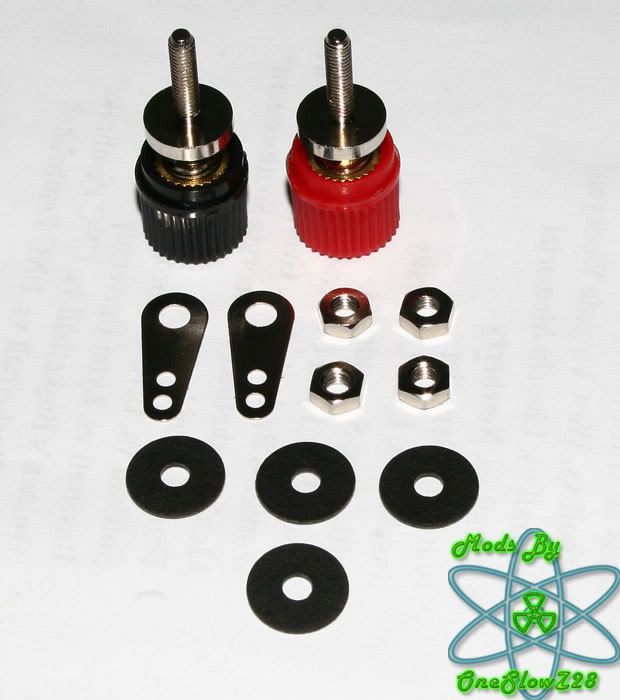 Now where should they be mounted? To make the lid easy to remove to fix or change things I decided that the edge of the lower half would be perfect.
Holes drilled and ready for mounting.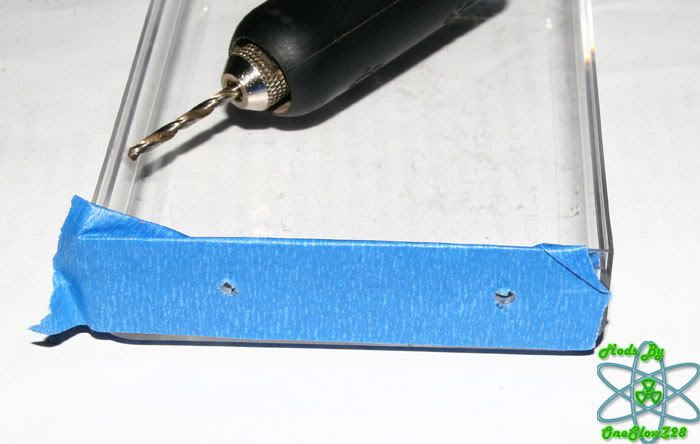 Mounted.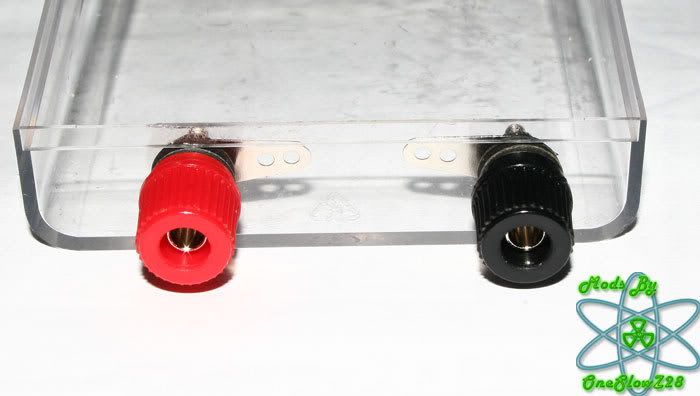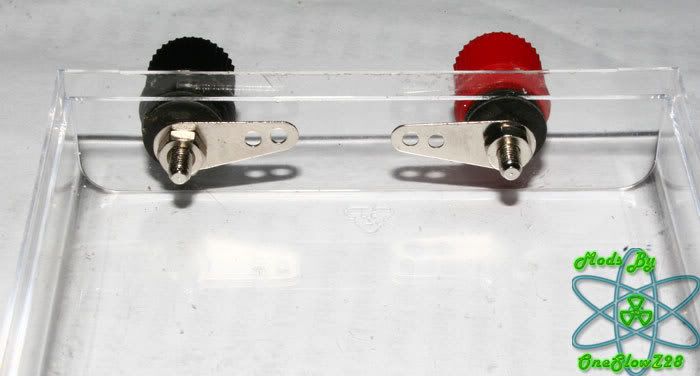 With that finished I began wiring the coil pack up.
Finished with the long bridges and working on the short ones.
Finished with the first coil pack. I am 5 capacitors short from being able to complete this pack. These specific sized capacitors are found in Fuji Silver disposable cameras. I will make a trip to wal-mart this week and see if the photo lab has any used ones I can have. Last time I did this they gave me 3 bags full of cameras.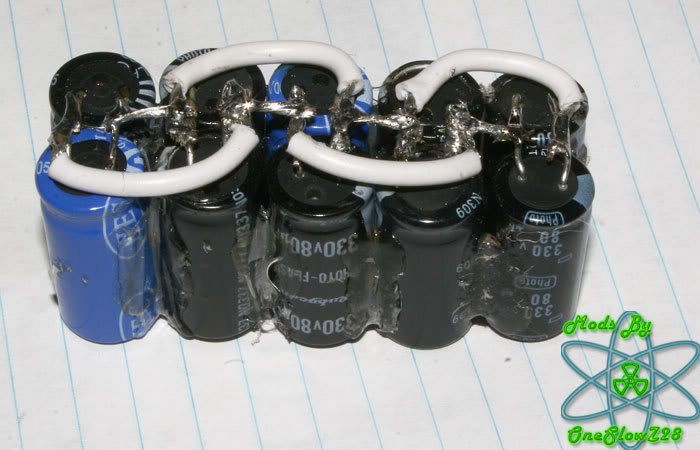 Test fitting things. Looks like everything is going to fit just fine.
another angle.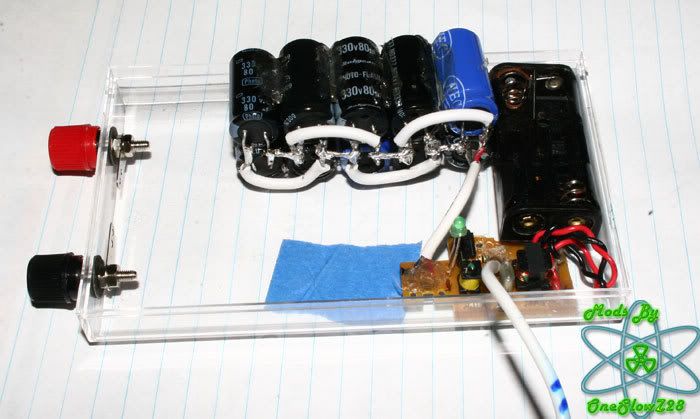 Soldering the lugs on for connecting the caps to the binding post.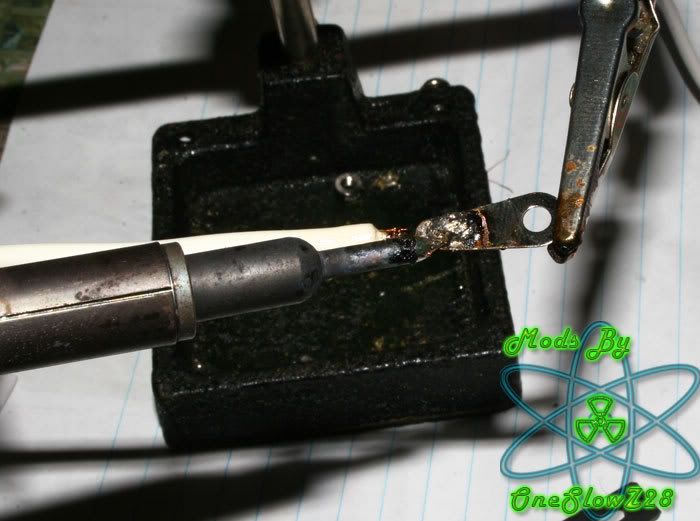 Something every modder should have on the bench. I buy these at harbor freight for $3 every few months when they go on sale. I usually pick up 3-4 boxes of them because I hate using electrical tape.
And the goods inside.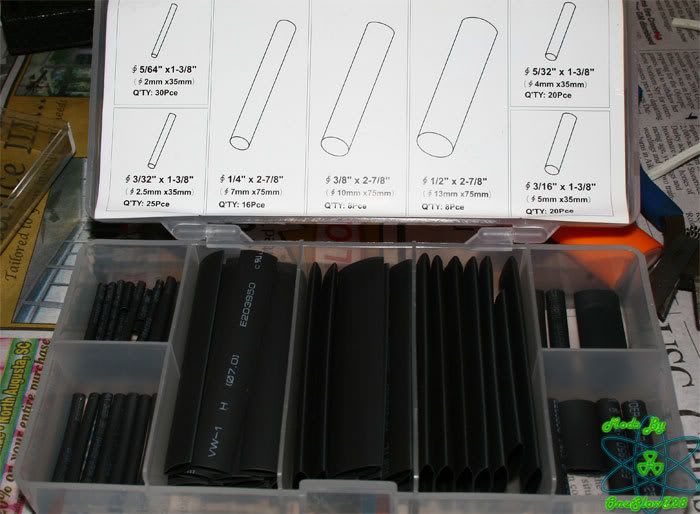 Heat shrink on and ready to heat.
The finished product.
I stopped there for the day because I had a few steaks to throw on the grill and some basketball to watch while throwing back a few of the finest barley and hopps that Sam Adams has to offer.

03-22-2009, 10:22 PM
| | | | |
| --- | --- | --- | --- |
| | Retrosmith | | |

Re: iTouch Box Coil Gun
---
Words fail, I shudder to think how often you've been zapped to get the experience to try this.
A long time ago, my physics teacher showed us video he had gotten from a student's father. This particular father worked for the DoD. The video showed a rail gun that was yards long (memory fails). What I do remember was that it was accelerating what looked like an 3/4" acrylic plug and burning through a half inch aluminum plate.
Can't wait to see how this works but cripes, be careful.

03-22-2009, 10:39 PM
| | | | |
| --- | --- | --- | --- |
| | If you can't hack it, you don't own it! | | |

Re: iTouch Box Coil Gun
---
Rail guns and coil guns are 2 different animals. A coil gun uses electromagnetic pulses to propel a projectile. There is no exposed arc or plasma or anything to shock yourself on. They are silent (if designed right) and do have recoil but not much. A rail gun is very dangerous due to the velocities involved as well as the danger of shock, fire, and hazardous fumes from vaporized aluminum.

I have taken a few hits from a single fully charged 330v 80uF cap. It hurts and makes you think twice about doing it again. The last time I got zapped was from a 400v 180uF cap and it left a nice blister and my finger twitched for 3 days. I have not and hope to never take a hit from the full pack. I take every measure possible to prevent accidental shock when the caps are charged. I can not stress enough the dangers involved with high voltage capacitors. They can and will store the charge for years even if they are removed from the board and tossed in the trash. If any thing conductive shorts the leads it will discharge all of that stored energy in less than 1/1000 of a second and if the cap is large enough (rating not physical size)it can kill you. So please only attempt this if you are trained or have had experience with high voltages. My grandfather built ham radios and all sorts of high voltage gizmos from Tesla coils that made 4 foot sparks to vandegraff machines that would store millions of volts. I grew up with this stuff and was properly trained to handle high voltage.

03-23-2009, 02:17 AM
| | | | |
| --- | --- | --- | --- |
| | A big old Tease Apparently | | |

Re: iTouch Box Coil Gun
---
gunna be cool... me and my friends have been thinking of this one for ages... couldnt bring ourselfs to spend like 60 bucks on cameras tho
im very interested

03-23-2009, 01:13 PM
| | | | |
| --- | --- | --- | --- |
| | Resident 100HP water-cannon operator | | |

Re: iTouch Box Coil Gun
---
this looks neat

__________________
Arctic Cat
*
Maximum Security
*
Cribbage Board
*
Rockin Case
*
Armor Redux
Tempest SXR
*
Power House
*
Red Comet
*
ICHIWZ
*
Acrylic Headphone Hook
Continuing sponsorship support from PCBoard.ca

03-23-2009, 05:33 PM
| | | | |
| --- | --- | --- | --- |
| | Local laser guy! | | |

Re: iTouch Box Coil Gun
---
I've been wanting to make a Coil Gun fr some time now. This is by far my favorite one:
http://www.gausspistol.com/
Can't wait to see this up and running!
-CollinstheClown
__________________

| | |
| --- | --- |
| Posting Rules | |
Powered by vBulletin® Version 3.6.8
Copyright ©2000 - 2013, Jelsoft Enterprises Ltd.
thebestcasescenario.com