Follow Us On
---
The TIP-3000
Welcome to the TBCS Community Forums forums.

You are currently viewing our boards as a guest which gives you limited access to view most discussions and access our other features. By joining our free community you will have access to post topics, communicate privately with other members (PM), respond to polls, upload content and access many other special features. Registration is fast, simple and absolutely free so please, join our community today!

If you have any problems with the registration process or your account login, please contact contact us.

03-18-2006, 03:49 PM
| | | | |
| --- | --- | --- | --- |
| | Paradox Sausage | | |

The TIP-3000
---
-----------------------------------------------------------------------------------------------------
Here's some photos of my finished computer. If you want to see how i made it, then the whole worklog is here, from start to finish. Enjoy!
-Dave
-----------------------------------------------------------------------------------------------------
Right! Itís time for me to get down to posting some of my work. Iím sure forum regulars have noticed me hovering around, offering advice, giving my opinion, but never actually seeming to do any real work.
Well, here we go. Because of uni and my job I rarely have time to get down to doing anything creative, and spend a lot of my time on trains and so forth talking about doing it more than actually making something. When I joined these forums, I didnít really know much about the world of modding, or about the world of electronics. Since then Iíve been inspired by a million amazing mods, and now itís my turn, hopefully, to inspire someone else.
My mod project is no small undertaking. It involves modding 2 cases and then a lot of hardware hacking and so forth in order to make a gaming computer and a mini-server, both of which can control a variety of different things around my home. Theyíll be attached to a wireless network running 3 other computers, and the theory is that at the end of the day Iíll have power over pretty much everything from a single chair.
Sounds ambitious for a first time mod? Well, it is bit, but i have a plan. First, Iíve set up a dingy workbench in my cellar. Iíve borrowed and bought a cheap set of tools, and Iíve studied electronics. Having not done anything practical, this is my first 'real' foray into the world of computer modding, and I plan to document it well for all to see.
My Dingy Cellar.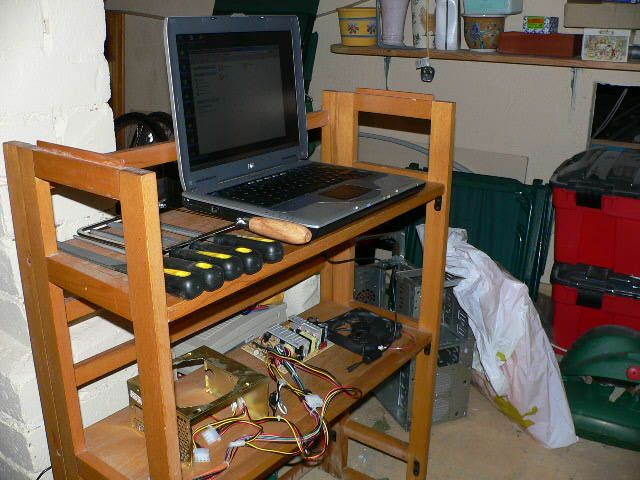 My Shelves and laptop.
So how do I plan to do this? Iíll to keep it simple:
Stage 1 : Gaming Box
A Modded box for my hardware.
Stage 2: Fallout Mini-server
A miniserver with a Fallout themed mod.
Stage 3: Integration
The final goal. Wiring, signal amplifiers, constructing KMV switches-the nasty shizeny.
Youíre looking at Stage 1, the gaming box. As itís my spring break, I want to get as much done as I possibly can, because the next big chance I get is going to be 2 months away after my exams.
My case naked...microwaves, look away now! Televisions, cover your IR ports! Shocking 010101 Rated stuff here!
My aims here, are hopefully to make a decent mod with the basic tools available to me, and to learn techniques with an easy mod that I can carry on to stage 2. Iím also making a website based on this mod, which is part of my assessed coursework. Itís due in 3 weeks time, so Iíll be making the website along with the case (I doubt Iíll get the whole case finished in 3 weeks, but if you donít aim high, youíll never hit it!) for which Iíll need 3 suckersÖerm I mean helpful forum peeps
to look at and help fill in a questionnaire. (Bleh)
Iíve started off stage 1 with a PSU mod, the PSU being the only piece that Iím certain about at the moment. Iím still drawing up the plans for the rest, but Iím not sure how much each part will cost and therefore how much I can get done.
The PSU mod consists of putting some Orange LEDs inside, feeding off the 5volt always on wire. First, I took apart the PSU, and removed the chipboard and the switch. Then I de-soldered the switches, and removed them. Using a permanent marker, I drew up my plans for the box, and using my cheap knock off dremmel I set to work hacking it to pieces. Remember Kids, old man says always wear eye protection! Iím a sucker for safety, they say. But theyíre blind now, so haha.
The first cut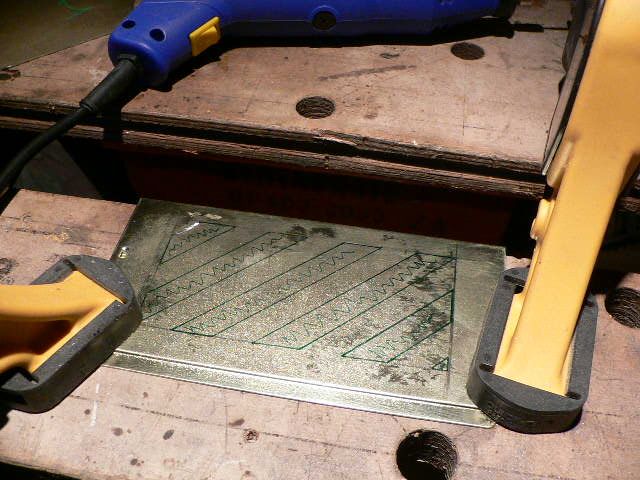 The pattern on the side of the PSU. This will be visible through the window.
Back on track! (Gee, I can really talk!) I was well into the first part, and hacking away through my second part, when my cheap dremmel knock off decided it didn't like me enough to keep working. This is probably the first time ever a cutting disk has lasted longer than the drill. Grr!!! So i tried fixing it with some foil but the foil got destroyed by either temp. or vibrations and came out as poweder. So don't try and use foil to make a dremel bit fit into a dremel knock off. Does anyone have any ideas about how to get those stickers off the damn metal? It leaves behind a damn mess that not even sanding seems to get rid off. Anyway, i filed down the edges of what i had done, and those came out allright.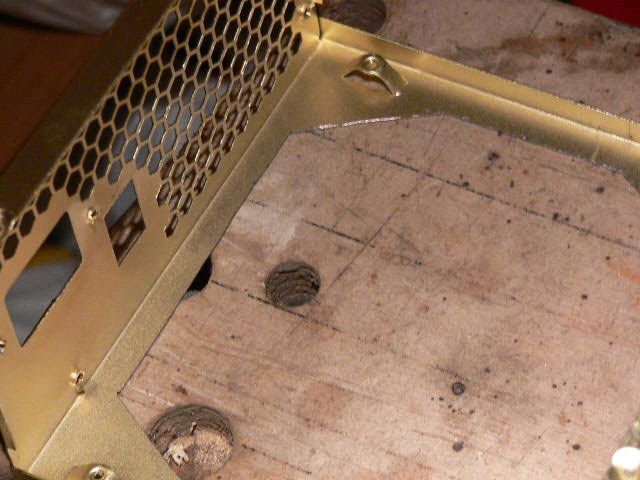 Now that I have this part sorted out, I want to get into my plans for the rest of the case. The inards of my case are getting painted orange with gloss, and all outer bodywork with matt black. Thereís a theme of orange LEDís throughout, with Orange Perspex and black mesh helping to add tone. At the front, Iím trying to veer away from the standard lights and dials type of feedback, and instead go for something less practical and moreÖorganic you could say? Iíll post my plans later (Iím still in the cellar. Itís cold down here, but we Scotsmen are hardy folks
). I need to contact someone who gave a quote for the panels for both of the cases, the Fallout and the Gaming case. Iím just trying to work out if I can save money and work by just using what Iíve got here. Iíve acquired some flat side panels, and if I can get my hands on some Bondo, I reccon I could simply use that and then not have to worry too much about anything else. Iíll have to go to B&Q and have a look.
Right, thatís enough for now. Iíve not said everything that I wanted to say but it looks like Iíll be here all night as it is. So Iím posting this and then getting to work on my website, and Iíll next get some modding done on Monday. By that point, Iím hoping to have my drawn plans finished, and Iíll be posting them. I also hope to have removed any remaining stickery stuff.
-Dave
__________________
Quote:
Originally Posted by jdbnsn
Ideas are just knowledge soaked in alcohol.
Quote:
Originally Posted by jdbnsn
Did I just get in a Volvo? Volvo's don't have guns!

03-22-2006, 11:52 AM
| | | | |
| --- | --- | --- | --- |
| | Paradox Sausage | | |

Re: Integration Project: Stage 1
---
Sorry it's taken a while to update this page. I've been busy prepping the work are for some photographs, which i'll post later on today. I went out and bought a new dremel, thus finally answering the age old question of dremel vs. knock off; dremel every time.
I think there's some nail polish remover kicking about. I'll try that: thanks tybrenis for the pointers.
Was looking into Bondo today! Apparently, Bondo ships to over 100 countries. But, it would appear, not to us. It's no biggie, i'll get a susbstitute; auto body filler aught to do the job i think but not having used this stuff before, i'll need to do extra research. I think i need to buy hardener and filler, and then i can saw it, sand it, whatever without a worry.
I just e-mailed the guy my plans. I suspect that i'm going to end up paying through the nose for the parts that i want. I'm posting the plans for some of the stuff just now so you can see what i'm thinking at the moment. I can probably get some of the cuts done myself with a hole saw or the dremel; but the vents are probably going to be on maybe 10mm metal, so doing that with a dremel is out of the question. (if you think otherwise, let me know!)
First up is the vents. Sorry these images are large in size, it's probably going to muck up the whole thread.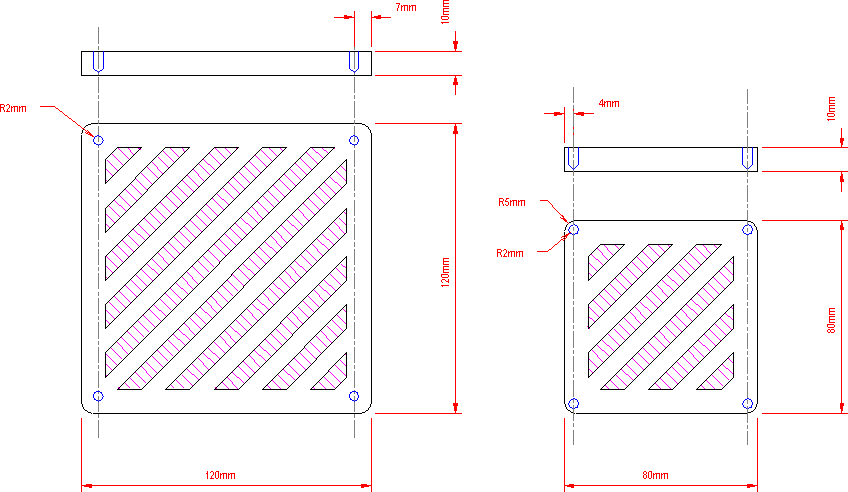 So there will be 4 of these, 2 of each size. This is where the money is going to go i guess. I havn't got the quotes back yet, but im expecting them tommorow. These will be painted orange in the final cut. I have akasa amber case fans to go behind them; it should cast a nice effect. They're not exactly airflow efficient, but when you're talking about 6+ case fans, at the end of the day a poor airflow efficiency won't make a big difference and i won't need to compromise on aesthetics.
This is the plans for the front of the fallout case. I'l be buying it like this and fabricating it myself.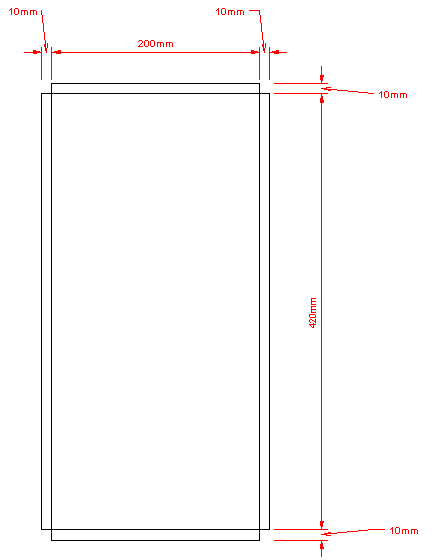 The same applies for the top.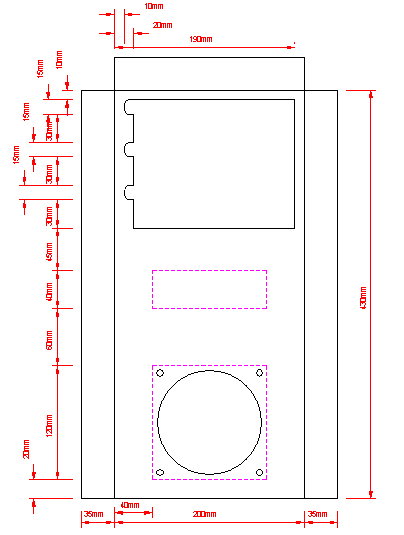 This is a pretty piss-poor image, but it gives you a general idea of what it is that i'm going to be doing. The drives will be built into the facade. The whole front section will be able to open up like a door. The massive fan at the front will suck air out of the case, and a side fan will suck air in over the graphics card. The air passes over the HD on it's way out, which is cooled with 2 fans. A massive 120mm fan sucks air onto the zalman cooler, and this air is then sucked out through a rear exhaust and a blowhole in the top. All the fans i've bought are of the so-called 'silent' variety, and my PSU has a 120mm silent fan in there as well. It works out at:
2*120mm case fans.
4*80mm case fans.
1*double fan akasa HDD cooler
1*120mm PSU cooler
1*Zalman 'big flower' 120mm CPU cooler.
All the fans are supposed to be quiet, but i doubt that all of them together will be anything close. So i've been working on an affordable way to silence the fans...and it is kiddie foam! Foam paper, bright orange, and only 75p a sheet. Should keep vibrations to a minimum. My chief concern is that it will melt, but i think i'm safe from that.
Anyway! That's enough for now. I've got to get back to work. Got a lot to do. I'm going for a week break on Sunday, so don't panic when i disapear for a while. I havn't hacked my arms off in a freak dremel accident.
Anyway, thanks for the feedback, i'll keep you posted
-Dave
__________________
Quote:
Originally Posted by jdbnsn
Ideas are just knowledge soaked in alcohol.
Quote:
Originally Posted by jdbnsn
Did I just get in a Volvo? Volvo's don't have guns!

03-24-2006, 06:19 PM
| | | | |
| --- | --- | --- | --- |
| | Paradox Sausage | | |

Re: Integration Project: Stage 1
---
Well, i said to the guy that i didn't want to spend too much on the parts, and he didn't even bother giving me a quote for the vents-he said they'd cost too much. So i was up all night trying to find a way around this problem, when i decided that what might work is if i made the vents from metal, sprayed them orange, and then cut out some 'stands' out of perspex to add the thickeness. This would have the added bonus of looking pretty sweet i think. I'd need to find a nice nut and bolt assembly to put the whole thing together now, and it would need to work with everything else...plus i need to find the mesh...

Anyway, the guy quoted me £46 for the 3 parts, and i think most of the money's away on the the front panel. The original quote was about £25 without fabrication-just folds-so i'll get them to make the parts without the fabrication, and maybe ask for an easier metal to work with (aluminium). They quoted me on 1.2mm zintek, which is zinc coated steel apparently. It sounds like a bitch to have to cut, any feedback on this would be appreciated. I know that it's zinc coated to prevent rust-but if i cut it, then it qould pretty much destroy this property, so merhaps the 1.3mm mild steel i was offered at the start would be easier. If i can afford it, i'll just get aluminium, it would be easiest to work with i think. Anyway, i'll keep you posted. I'll be away for a week from sunday, so if it goes all quiet on the eastern front (compared to America at least) you know why...i deserve the break anyway!

-Dave
__________________
Quote:
Originally Posted by jdbnsn
Ideas are just knowledge soaked in alcohol.
Quote:
Originally Posted by jdbnsn
Did I just get in a Volvo? Volvo's don't have guns!

04-06-2006, 08:10 PM
| | | | |
| --- | --- | --- | --- |
| | Paradox Sausage | | |

Re: Integration Project: Stage 1
---
Answer time!
Quote:
I was wondering why these parts have to be made of metal?
The case is made of a variety of materials, and in the end, the mixture of materials is going to be pretty important. There's a sort of 'pecking order' where it's metal, going into mesh, going into plexi. Then Matt Black is my major colour, and Gloss Orange is my minor.
I'll try and answer any questions at the top off each worklog, so feel free to ask away whatever you want-but i'll batch process them so don't expect instant answers. If you have a small question or request, PM me.
Worklog time!
Ok, so first off, a nice pic of my new dremel and associated parts.
Quite nice, no? Right! Now onto business. I had a new front panel, a top panel, and the front panel for Stage 2's Fallout box all cut and folded out of that zintec stuff at 1.2mm. I really, really owe it to the nice guys at
Howarth Swichgear
for all they've done for me. First off, they made my parts perfectly. Absolutely perfectly-
in one day
. Not only that, but when i went to visit them, they gave me some mesh and aluminium scraps for free, and then they showed me around the factory where they make everything, and do powder coating, etc. On top off all this they gave me a 'student rate', so the whole thing came to £25.20, so the very least i can do in return is wing a little promotion their way. They ship all over the UK, so if you want something cut, these guys are absolutely great.
Anyway, I haven't got a photo of my parts, and that's boring anyway, so straight onto work! I drew out the cuttings for my side panel here.
I just drew this in pencil, then i went over it with a CD marker pen. Some sugar soap removed most of the pencil, so the lines won't confuse me when i cut this bitch. Then, to get a look and feel, i placed the fans on to see how it looks.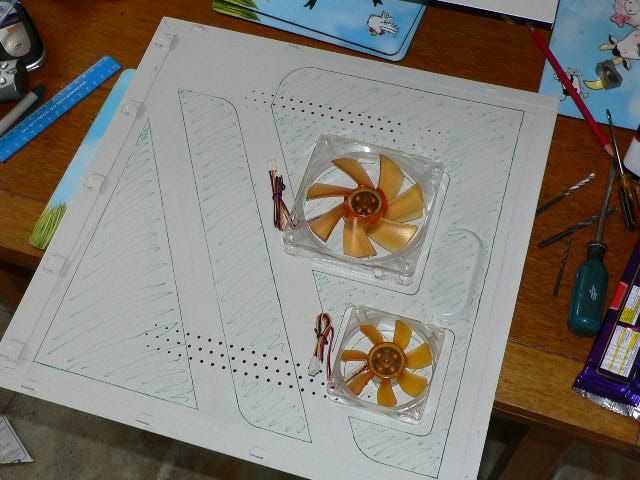 I did another similar thing on the top. To draw out my plans, i use set squares, compasses, different pencils, etc. If you want to know the techniques for drawing something, like curved corner, just ask and i'll cover it next time.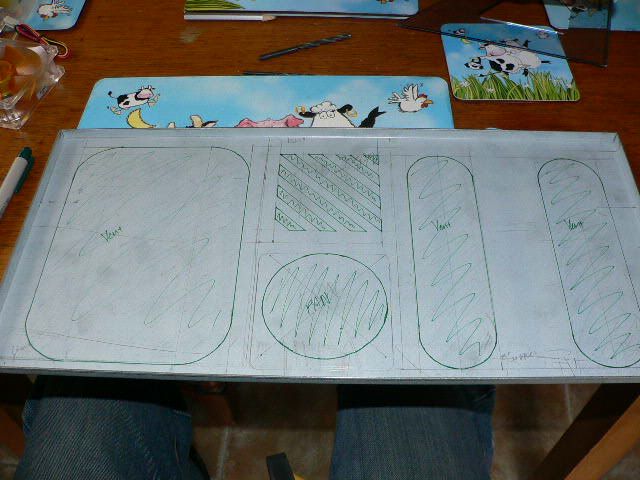 Now to make my vents! Like I said, the nice guys at Howarth Switchgear already cut the aluminium to the right size for me, so all I had to do was mark it. It drew the pattern on in pencil, and covered it with CD marker. Then, as I wanted to make sure that the fan holes were perfect, I took a drill bit and used it to mark the soft aluminium beneath. (see the picture) When this was done, i marked the dots in with the marker. Hopefully this will produce a nice set of holes for the screws.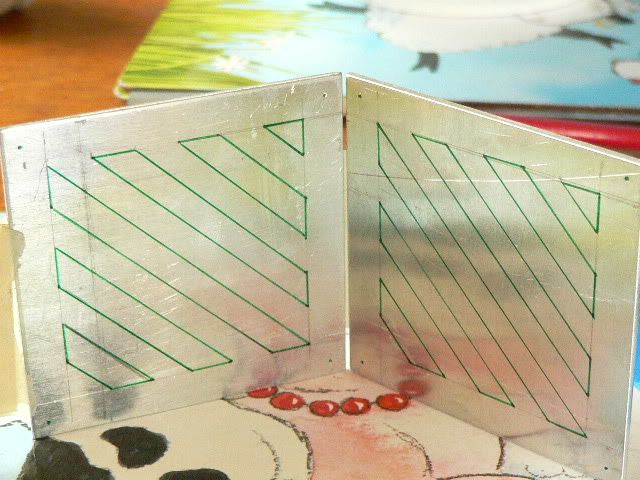 Please ignore my mother's terrible taste in tableware. I was hoping to 'accidentally' destroy those hideous placemats, but no such luck.
Anyway, that's all for now; these photos are actually out of date, but i can't get the rest of my photos yet because i left my USB lead in Edinburgh last week. I had to do all sorts of tricks to get these ones!
I had an accident today as well; i was cutting perspex when my goggles steamed up. I put them on my head when i stopped drilling to inspect my work; then i immediately forgot i had done so, and continued drilling. Pretty much instantly i got an eyeful of melted perspex. So let this be a major lesson to all of you!
I've got enough material for a couple more posts, but I'll spread them out for a while; I mean, you don't really want to see a photo off every cut, right? That's why they skip all the actually work in Pimp my Ride, though in this case, it's Pimp my Rig. Calling it that makes my mates laugh, I don't really see why...
Oh, and I'm trying to come up with a logo to go with this. I was thinking something related to danger, something that screams out "This computer can and will kick your ass if you mess with it". As there's a pseudo-industrial theme to the case, i was thinking of something along the lines of warning signs, if anyone can think of a particularly interesting one; i'd love for anyone with too much free time to sketch some ideas to try and inspire me. Technical drawing i can do, but appart from that, i'm crap with the art.
I'll probably start a worklog for Stage 3 at some point soon, allthough as very little of that is actually related to computers i don't know how well it will be received. It's about making the desk, lighting, external comms, audio, etc. from this lovely chair of mine
Sounds good, yes, but does it really belong on a side for case modding? (Crimson, would love for you to give me the go ahead here...if you don't i'm probably going to assume you're not too happy, in which case i'll start a Stage 3 worklog with another host and leave a link to it here when 1&2 are complete. Won't be in any way offended if you think it's too far off topic for these boards.)
Well dudes, i'm off for the night. As usual, it's 1:10, and here i am. I really need to get a life, eh? I'm laying into getting this done as hard as i can: my exams are only a month away, and i'd like stage 1 complete within the next week, and i'll be hopefully a 1/3 of the way through stage 3 at that point. That's where i start to work on Stage 2. Catch you later!
-Dave
__________________
Quote:
Originally Posted by jdbnsn
Ideas are just knowledge soaked in alcohol.
Quote:
Originally Posted by jdbnsn
Did I just get in a Volvo? Volvo's don't have guns!

04-07-2006, 12:40 AM

Re: Integration Project: Stage 1
---
Right on, glad to see you're getting some progress done! Looks really good so far, can't wait to see what you do with it all.
I'll see if I can come up with something for the logo for you, if you want/ I did a little searching around and found a couple images - sort of a mix between the "three triangle" fallout sign with the "Vault 13 Gear" in the center, maybe a hint of "Biohazard" looking tribal thorns coming off of it. See the pictures below, you'll figure it out.
What do you think?

04-07-2006, 06:28 AM
| | | | |
| --- | --- | --- | --- |
| | Paradox Sausage | | |

Re: Integration Project: Stage 1
---
Quote:
Originally Posted by GUI
Tat is going to be awesome, especially the top. Sorry that it's a bit off topic, but in your first post you said you lacked time because of your unicycle? If so, are you on unicyclist.com?
Umm...I meant Uni as in University. I do cycle, but i'm not a unicyclist. I didn't ven know there was a unicuclist community, but hey, i guess most people don't know there's a case mod community.
Thanks for those images Rankenphile, those are the sort of things i was thinking about; the biohazard one probably wouldn't fit in with the whole theme of the mod, but the other images have set me thinking...i'll have to get some practice in at etching as well...well, i'll let you know. Looks like today's free after all, so i'm off to the cellar! I'm nearly finished cutting out the side panel, so i'll hopefully post some pics tonight. Going to break out the bondo as well and give that stuff a try.
EDIT: Found this...this would be pretty damn funny...
-Dave
__________________
Quote:
Originally Posted by jdbnsn
Ideas are just knowledge soaked in alcohol.
Quote:
Originally Posted by jdbnsn
Did I just get in a Volvo? Volvo's don't have guns!

04-07-2006, 06:37 AM
| | | | |
| --- | --- | --- | --- |
| | SOB Fettler | | |

Re: Integration Project: Stage 1
---
try looking at the oxidizing agent symbol
Edit: found one

04-07-2006, 06:48 PM
| | | | |
| --- | --- | --- | --- |
| | Paradox Sausage | | |

Re: Integration Project: Stage 1
---
Worklog Time!
I spent most of the day working away at Stage 3 of this project, which I haven't yet posted because I'm not sure if it belongs here. Still waiting on the go ahead for that-but for now, I'll update Stage 1 with the little bit that got done over the last couple of days.
First up, is that PSU mod. The holes are all cut, as is the Perspex and Mesh, and all I need to do now is 'Bondo' the mesh (I'm using a UK auto filler called Chemical Metal, but I'll just call it bondo for ease), sand it, and prep it for painting.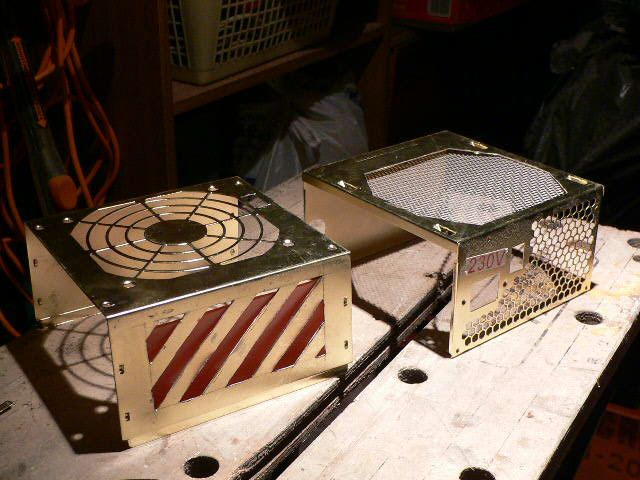 I'm going to be sanding that piece of Perspex to give it a sort of frosted look, and some orange LED's are going to be glued in behind it to give it a nice orange glow. The whole box will be painted black. I don't expect to spend too long working on this part, so this will be finished soon enough. These photos are mock-ups, nothing is attached yet. But my edges came out pretty well, all things considering-dremeled them with diamond reinforced cutting discs, then used a square file and a wire brush (with the dremel) to clean up my edges. They look not too bad; I'm hoping the rest come out like that too.
I also started on the side panel, but it got too late to finish it off. New neighbours moved in today and I don't want to give them the wrong impression. As you can see, all that measuring crap paid off, and everything fits without a hitch. The yellow tub to the left is that chemical metal I mentioned earlier; I'll let you know if it's any good when I actually use it. I want to group everything, so I'm trying to get all my dremeling done at the same time, and then all the bondo-ing, painting, and finally electronics. Although in the case of the PSU the electronics will be brought forward a little.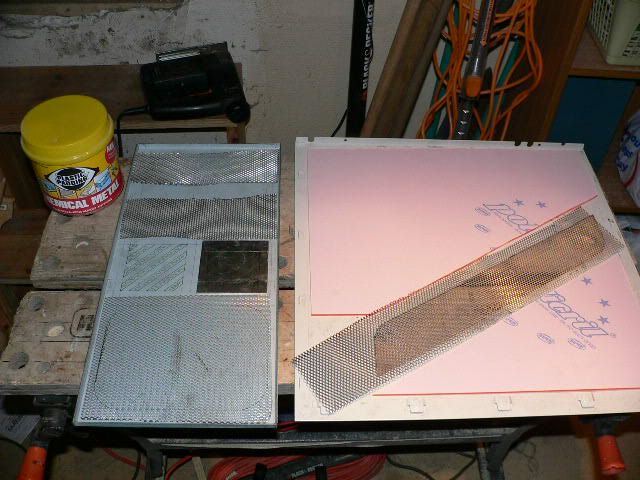 Also, here's a photo of how the mesh looks from the outside. Looks pretty sweet; much better than I thought it was going to look.
On another note, I started working with the Zintec crap-avoid it if you can. It's heavy as hell and a standard cutting blade can only cut 5cm of metal before needing replaced. It's even managed to blacken one of my diamond blades, and I've only cut about 12cm of the stuff. I'm going to get a metal blade for the jigsaw in order to cut this I think. I have a metal blade kicking around but I suspect it to be off inferior quality, so I'll make a trip to the DIY store first chance I get.
That's all for now folks, thanks for the inspiration guys-might go for a 'high-voltage' lightning symbol on one side of the case, and I'm damn temped to steal that domino sign and put it on the other side…
-Dave
__________________
Quote:
Originally Posted by jdbnsn
Ideas are just knowledge soaked in alcohol.
Quote:
Originally Posted by jdbnsn
Did I just get in a Volvo? Volvo's don't have guns!

04-14-2006, 07:46 PM
| | | | |
| --- | --- | --- | --- |
| | Paradox Sausage | | |

Re: Integration Project: Stage 1
---
Worklog Time!
This may be my last worklog entry for a couple of weeks; I'm going to be very busy with University and exams. So an update on progress for now!
First, Crimson's all for the Integration project being held on the site,
so I'm going to start a stage 3 worklog if you want to check that out too; to find out just what the hell this is all about.
Ok, last time, I'd cut out one hole to see how things were going. Well, today, my last cutting disk
Holder
broke, I can't remember what they're called. Anyway, not to be beaten, I pulled out the jigsaw, and shoved in a metal bit. Then, I oiled the blade, and got to work.
I have to say, the jigsaw is the way to go for cutting this steel. It made sort work of everything; it made the cuts accurately and with a minimum of mess. Although the cross-hatch pattern needs to be finished off with a huge amount of filling, I'm damn pleased with the results. Then, I took out the 4mm drill bit I just bought and got to work drilling holes for all the screws. I was very pleased with the results, especially on the top of the case.
Then I pushed my luck. I figured I'd try the 400watt jigsaw on the pathetic pressed steel of the side panel. At first, things went well, but as soon as I tried to get a curve in, the whole thing went nipples-up. The jigsaw severely buckled the metal in a lot of places, and because of this, I had to cut miles way from my guidelines. Not only that, but the metal got distorted and moved my fan holes by about 1mm each-so I had to 'widen' each hole in order to get the screws in. Which sucked. I tried the fan in, then measured up my plastic. I drilled the holes for the fan and then bolted the whole thing together with some nuts and bolts that I bought on the cheap; they're not much to look at but they'll do for now until I can find something that's nicer to look at.
Anyway, this is a very preliminary 'Work In Progress' shot, so you can see where this is going to go. I haven't figured out how to cut the aluminium yet, at the minute I'm thinking a mixture of cutting discs and coping saw action. Suggestions welcome.
I also went out the other day and bought some analogue meters; as I haven't even finished planning the front end yet I'll leave that for the next update. Needless to say, they look sweet, and really fit in with everything else that I want to put into this case.
Well, that's all for now; comments are welcome, as are suggestions about how to beat the side panel back into shape.
-Dave
__________________
Quote:
Originally Posted by jdbnsn
Ideas are just knowledge soaked in alcohol.
Quote:
Originally Posted by jdbnsn
Did I just get in a Volvo? Volvo's don't have guns!

04-22-2006, 09:26 PM
| | | | |
| --- | --- | --- | --- |
| | Paradox Sausage | | |

Re: Integration Project: Stage 1
---
Worklog Time!
Ok, so although I wasnít planning to do any more work for a while, I ended up working too hard and getting some stuff done early. As it was a particularly nice day I decided to go out and do some crazy ass work!
First, I tackled the problem of the damnable buckled metal. My Dad lent me a cobblerís hammer and a rubber mallet. These tools proved invaluable. After 15 minutes of beating that panel, (only 5 minutes of which were really necessary
) I had the thing flat as a pancake. But, the metal being as thin as it is, itís probably just going to buckle later anyway; weíll see if Iíll need to scrap it or not later.
Not only that, but I bought a teeny tiny file and using it, I managed to tidy up that god awful mess that was on the top of the computer. Itís not too bad a job, although itís not entirely finished yet-Iíll get a medium sized file next time Iím out near Billís tool store. Oh, if youíre a Glasgow modder (unlikely, but possibleÖ) then you WILL want to go to Bills. Theyíre more than cheap; they make their own tools. Also, theyíre the only official Dremel stockist for about 40 miles.
Anyway, whatís next? It was getting dark, and I didnít want to use the power tools in poor light; so I figured that hey, that Ďliquid metalí bondo-wannabe takes 10 mins to dry. It wonít be dark for another hour at least, so why not? Unfortunately, I got the mixture wrong; I used about 1/3 as much hardener as I should have used because of a stupid miss-measurement. Well, needless to say, it took all damn night for the stuff to dry, and I had very low hopes for it in the morning, because most of it was simple dripping out of the holes I was trying to fillÖand this is what I woke up to.
All I can say is that I was extremely surprised: I was expecting to have to do all this crap again. But it seemed fine, so I whipped out the dremel and took away most of the excess before switching to rough wet and dry paper in order to smooth it out. Iím leaving the medium and light paper for the painting prep work, and just using the heavy to smooth the metal filler.
As a product, this stuff isnít too bad. Itís difficult to use but it doesnít smell all that bad. Also, I can easily say that Itís tough as nails; on the tin itís got a picture of a broken propeller, as if saying it can be used to fix that. I donít case whether thatís true or not; my case wonít be rotating at 3000RPM, unless you take into account the spinning of the planet and all that crap. Anyway, this is the rather nice result here.
Itís been a custom on these boards for a while now that each mod will have a mascot. This is usually the form of the fabled
Mod-kitty
. Well, Iím going to go one better.
6 eggs
. Yup, thatís right. 6 eggs! Iím incubating 6 eggs. At least 2 are a type of chicken, and 3 are a type of duck. Which type of chicken and duck, who knows? Whatís in the mystery 6th egg? I built this incubator out of scrap the other day, and Iím pretty proud of it. It keeps the eggs at a fairly constant temperature and humidity, and allows plenty of oxygen to get to them. As I built the incubator, and will probably look after any hatchlings for the first week of their life, Iím taking the privilege of naming a few. Any NICE ideas are welcome, but donít get too worked up. Thereís a small chance these are even fertile, never mind the chance that an idiot like me can hatch them.
Well anyway, thatís all for now guys, Iím off to work soon so Iíll catch you later.
-Dave
__________________
Quote:
Originally Posted by jdbnsn
Ideas are just knowledge soaked in alcohol.
Quote:
Originally Posted by jdbnsn
Did I just get in a Volvo? Volvo's don't have guns!
| | |
| --- | --- |
| Posting Rules | |
Powered by vBulletin® Version 3.6.8
Copyright ©2000 - 2013, Jelsoft Enterprises Ltd.
thebestcasescenario.com